Sun, March 9, 2014
Hey guys! I'm mid-move right now and feel like I am so far from catching up on life, the blog, EVERYTHING. Just in case I go MIA for a few days, you know what's happening.
I obviously don't have a ton of reading time right now, but I did leave a nice stack of books unpacked from my boxes. Pretty please help me decide which to read first — I am so scattered right now, I can't decide for myself:
What do you think? They all sound FANTASTIC!
Thu, March 6, 2014
Half Bad
By Sally Green
Publication date: March 4, 2014
Viking Juvenile, 416 pages
Source: Publisher
A stunning, magical debut. An international sensation.

In modern-day England, witches live alongside humans: White witches, who are good; Black witches, who are evil; and fifteen-year-old Nathan, who is both. Nathan's father is the world's most powerful and cruel Black witch, and his mother is dead. He is hunted from all sides. Trapped in a cage, beaten and handcuffed, Nathan must escape before his sixteenth birthday, at which point he will receive three gifts from his father and come into his own as a witch—or else he will die. But how can Nathan find his father when his every action is tracked, when there is no one safe to trust—not even family, not even the girl he loves?

In the tradition of Patrick Ness and Markus Zusak, Half Bad is a gripping tale of alienation and the indomitable will to survive, a story that will grab hold of you and not let go until the very last page.

— Goodreads.com description
This book is not for the thin-skinned.
It's been a few weeks since I read Half Bad and when I think back on it one word comes to mind: Torture.
It's tough, you guys. Nathan is beaten, bloodied, mentally ripped apart and kicked while he's down. And it's not an easy thing to read.
But what I liked about Half Bad is all the moral issues that raises. What makes someone "good" or "bad"? Sally Green looks at all the shades of gray in between right and wrong, and I love that it got me feeling and got me thinking.
This book got a ton of hype in the book world — a huge bidding war, tons of foreign rights and the movie rights sold right away — and I see why. The writing is gorgeous and different. Plus, MAGIC. Who doesn't love witch books? Well, I adore them, and this is no exception.
Is it an all-time favorite? Probably not, because the last bit of the book fell a little flat and the romance wasn't built up as much as you know I always want. Still, I'm very impressed by Green's debut and can't wait to read more.
Recommended for fans of Samantha Shannon, Jessica Spotswood, Laini Taylor and Leigh Bardugo!
Wed, March 5, 2014
For those of you who don't know, last night I was lucky enough to attend the Chicago premiere of the new movie Divergent, based on the books we all know and love!
How did I get tickets? Sheer luck. Seriously. My friend Heidi found the notice as soon as it went up, and she, Tara, Ashlee all jumped on it before the event "sold out" within minutes.
The evening started out with a lot of waiting in line. Thankfully we came prepared:
We got moved into the theater and lucked out again by getting spots right along the red carpet.
Mayor Rahm Emanuel came down the carpet first, shaking our hands and high-fiving us and generally chiding us for not doing the Polar Plunge this week with Jimmy Fallon. Then the actress who plays Molly came too.
First up was Veronica Roth herself. Here she is recognizing Heidi and getting psyched she came out:
Next up? ANSEL ELGORT.
HAHA a little blurry.
Anyhoo, for those of you who don't know, Ansel (Caleb in this movie) is also playing Gus in the upcoming The Fault in Our Stars movie. And, to be honest, I wasn't too pumped about that. Past tense.
I used to work for a major TV talk show here in Chicago, and we saw a lot of celebs come and go. People used to ask me what they were like, and I used to say "they look expensive." There's just something about certain people the oozes star quality. That's what it felt like to meet Ansel.
He was so handsome in person (and I never thought that previously!), his suit was impeccable, his cheekbones stunning, and he looked me right in the eye when he talked to me. I sound swoony, but I was impressed. Oh, and when someone in the crowd yelled "Okay," he yelled it right back. He's got the TFiOS thing down pat already!
Here he is getting interviewed.
Speaking of eye contact: Shailene Woodley, aka Tris.
She also looked me directly in the eye and talked to me for a bit, asked me questions. That so impressed me — she was genuinely friendly. I was a bit tongue-tied honestly, but she was a natural at handling the crowd!
Oh, and she was surprisingly tall. I'm 5'7″ 1/2 and we were all struck by how tall she was. Oh, and gorgeous of course.
Here she is with her leading man, Mr. Theo James.
And here I am with him.
AHHH FOUR! This part was all a bit of a blur. I will leave it at that lovely image.
Veronica, Shailene and Ansel all signed my book, which was double cool.
Pure insanity. After that nonsense was over (turns out I have a low tolerance for screaming tweens), it was movie time!
WOW. You guys, I can't think of a YA movie adaptation I so thoroughly enjoyed, other than the Hunger Games movies. After all the bombs lately, we really needed that.
The chemistry was amazing, the acting impressive, the action explosive…I really have nothing but good things to say about it. Phew, right?
A nice bonus for me as a Chicagoan was that the city was a gorgeous backdrop. A lot of movies pretend to be set in Chicago but totally fail in terms of botching the geography and culture. Sure, it was bombed-out Chicago, but it totally nailed it.
Okay, this is probably full of typos and some of the pictures are cray, but I am throwing this together before work so please forgive me and just rewatch the trailer to pump yourself up. The movie comes out March 21!
PS: HOW CRAZY WAS LAST NIGHT?
Tue, March 4, 2014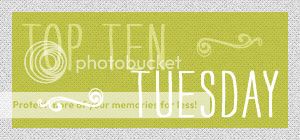 It's Top 10 Tuesday (hosted at The Broke and the Bookish) and the topic is:
Top 10 Popular Authors I've Never Read
Sticking with YA or YA-ish on this on!
OMG THIS LIST WAS HARD FOR ME. But here are 10 authors I've just never gotten around to reading. Now, recommendations? Any of these I am absolutely missing out by not having read? Which of their books specifically? Thanks, guys!
Mon, March 3, 2014
Hung Up
By Kristen Tracy
Publication date: March 4, 2014
Simon Pulse, 288 pages
Source: Publisher
Can you fall in love with a voice? This witty romance, told entirely through phone calls, chronicles the tale of a wrong number gone right.

It all started with a wrong number. The voicemails Lucy left on James's phone were meant for someone else—someone who used to have James's digits. But then when James finally answers and the two start to talk, a unique bond forms between the two teens.

Gradually Lucy and James begin to understand each other on a deeper level than anyone else in their lives. But when James wants to meet in person, Lucy is strangely resistant. And when her secret is revealed, he'll understand why…

— Goodreads.com description
I started this book on a whim on the train home from work and had it read by bedtime. And I definitely cooked dinner, watched some TV and such in between. Seriously, I started and finished in just two quick sittings!
Hung Up by Kristen Tracy pleasantly surprised me.
The entire story is told in dialogue: Lucy and James's conversations and voicemails over the phone. At first, it bugged the heck out of me. But as we got to know the two of them more, Lucy and James were so good together that I was sucked in.
Now, of course, real teenagers talking nothing like the characters in Hung Up. Their comebacks and topics were so razor sharp and fun to read…but not remotely believable.
Still, if you want a quickie read, something cute and simple and entertaining that will take your mind off of things for a few hours, this one will absolutely do the trick.