Thu, December 12, 2013
Going Rogue
By Robin Benway
Publication date: Jan. 14, 2014
Walker Children's, 320 pages
Source: Publisher
Being permanently based in a local New York City high school as an undercover operative has its moments, good and bad, for 16-year-old safecracker Maggie Silver. Pros: More quality time with her former mark-turned-boyfriend Jesse Oliver and insanely cool best friend, Roux. Getting to spend quality time with her semi-retired and international spy honorary uncle, Angelo. Cons: High school and the accompanying cliques, bad lunches, and frustratingly simple locker combinations. But when Maggie's parents are falsely accused of stealing priceless gold coins, Maggie uses her safecracking skills to try and clear their names. Too bad it only serves to put her and everyone she loves in danger. Maggie and her "new team" flee to Paris where they must come up with a plan to defeat their former allies.

— Goodreads.com description
Anyone who is dying to get their hands on the next Ally Carter Heist Society book — like me! — will absolutely need to check out this lovely series from Robin Benway.
Going Rogue is the sequel to Also Known As (check out my review here), a fun and smart book about a teenage girl who happens to be an master lock-cracker and who comes from a family of secret agents. In this sequel, her friends are in on the action and her parents' employers are acting fishy.
There's plenty of action, romance, intrigue and international travel. Adventure lovers will gobble this series up. I adore it!
PS: If you haven't read Robin Benway's Audrey, Wait! you must! Click here to see my review of that one.
Wed, December 11, 2013
Pivot Point
By Kasie West
Publication date: Feb. 12, 2013
HarperTeen, 343 pages
Source: From my friend April
Knowing the outcome doesn't always make a choice easier . . .

Addison Coleman's life is one big "What if?" As a Searcher, whenever Addie is faced with a choice, she can look into the future and see both outcomes. It's the ultimate insurance plan against disaster. Or so she thought. When Addie's parents ambush her with the news of their divorce, she has to pick who she wants to live with—her father, who is leaving the paranormal compound to live among the "Norms," or her mother, who is staying in the life Addie has always known. Addie loves her life just as it is, so her answer should be easy. One Search six weeks into the future proves it's not.

In one potential future, Addie is adjusting to life outside the Compound as the new girl in a Norm high school where she meets Trevor, a cute, sensitive artist who understands her. In the other path, Addie is being pursued by the hottest guy in school—but she never wanted to be a quarterback's girlfriend. When Addie's father is asked to consult on a murder in the Compound, she's unwittingly drawn into a dangerous game that threatens everything she holds dear. With love and loss in both lives, it all comes down to which reality she's willing to live through . . . and who she can't live without.

— Goodreads.com description
I saw a flurry of people recommending Pivot Point to my friend Jamie on Facebook over Thanksgiving, which encouraged me to dig it out from my to-read pile. Man, why did I wait so long to read this book? It was so good!
Chapters flipflop between two realities for Addie after her parents' divorce — one if she chooses to stay with her mom in her paranormal community and one if she chooses to stay with her dad in the "normal" world. The decision gets tougher and trickier as the chapters go on, and I loved the ambiguity of it all.
In the end, she makes a very rough choice and we're all left DYING to get our hands on the sequel, Split Second which comes out in February. I cannot wait!
I loved the friendship and romance in this story, but mostly was intrigued by Addie's strength and the paranormal elements at play. If you haven't read this one yet, you'll definitely want to pick it up before the sequel comes out.
Mon, December 9, 2013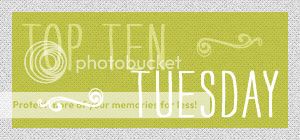 It's Top 10 Tuesday (hosted at The Broke and the Bookish) and the topic is:
Top 10 Books on My Winter Reading List
Sorting by publication date, here are the next 10 soon-to-be published books I hope to read:
Dec. 21 – Taste of Darkness by Maria V. Snyder (Healer #3)
Dec. 26 – Control by Lydia Kang
Jan. 7 – Afterparty by Ann Redisch Stampler
Jan. 7 – Erased by Jennifer Rush (Altered #2)
Jan. 7 – No One Else Can Have You by Kathleen Hale
Jan. 8 – Into the Still Blue by Veronica Rossi (Under the Never Sky #3)
Jan. 21 – Avalon by Mindee Arnett
Jan. 28 – Uninvited by Sophie Jordan
Jan. 28 – Cruel Beauty by Rosamund Hodge
Tied for the last spot because they all come out on the same day:
Feb. 11 – All That Glows by Ryan Graudin
Feb. 11 – Lady Thief by A.C. Gaughen
Feb. 11 – White Space by Ilsa J. Bick
Mon, December 9, 2013
Ahh, 2013! It's my fourth year participating in my friend Jamie's end-of-year survey at The Perpetual Page-Turner.
Visit Jamie to get the full scoop on the survey, plus check out my previous years' posts:
2012 | 2011 | 2010 Books & 2010 Blogging.
the books
1. Best Book You Read in 2013?
Jessica Darling's It List #1: The (Totally Not) Guaranteed Guide to Popularity, Prettiness & Perfection by Megan McCafferty (My review)
Don't even pretend like you're surprised.
2. Book You Were Excited About & Thought You Were Going to Love More But Didn't?
Invisibility by Andrea Cremer and David Levithan (My review)
It's about invisibility, it's about romance and it's by David Levithan. It had all the makings of a book I'd love, but it just didn't work for me.
3. Most Surprising (in a Good Way!) Book of 2013?
The 5th Wave by Rick Yancey (My review)
I've always loved apocalypse books, but I guess I thought I was over them. NOPE. I wasn't. This book blew me away.
4. Book You Read in 2013 That You Recommended to People Most in 2013?
Eleanor and Park by Rainbow Rowell (My review)
I thought it was beautifully written, emotionally moving — just a stunning story.
5. Best Series You Discovered in 2013?
Finnikin of the Rock by Melina Marchetta (My review)
I've loved Melina Marchetta for years, so I don't know what took me so long to read this series. I fell in love with it and gobbled up all three books back-to-back.
6. Favorite New Author You Discovered in 2013?
Going Vintage by Lindsey Leavitt (My review)
Sean Griswold's Head by Lindsey Leavitt (My review)
Lindsey Leavitt was new to me this year, and I really enjoyed her fun, quick reads. Definitely looking forward to her 2014 book Chapel Wars.
7. Best Book That Was Out of Your Comfort Zone or a New Genre to You?
The Book Thief by Markus Zusak (My review)
Narrated by death? About the Holocaust? Blahhh. It took me years to read this book, and I'm so sorry I waited. It was beautiful.
8. Most thrilling, unputdownable book in 2013?
The Indigo Spell by Richelle Mead (My review)
Yeah! I love the Bloodlines books and basically need to read them in a single sitting. I can't take the suspense!!!
9. Book You Read in 2013 That You Are Most Likely to Reread Next Year?
Crown of Midnight by Sarah J. Maas (My review)
I adore this fantasy series and am already dying for the next book. I'll definitely have to reread this one before the next one comes out!
10. Favorite Cover of a Book You Read in 2013?
Wild Awake by Hilary T. Smith (My review)
Such a cool cover, and it really matches the frenetic energy of this book.
11. Most Memorable Character in 2013?
Oh man, it's a tossup between Eleanor from Eleanor & Park, Willem from Just One Year and Sydney from The Indigo Spell and The Fiery Heart.
12. Most Beautifully Written Book Read in 2013?
Unravel Me by Tahereh Mafi (My review)
Aghh, as an Anti-Warner person, this pains me. But I really think Tahereh Mafi's writing is engaging and different and interesting to read.
13. Book That Had the Greatest Impact on You in 2013?
Just One Year by Gayle Forman (My review)
I'm still thinking about this book. It really made me question my own assumptions. I made a lot of judgments about Willem in Just One Day, and Gayle really turned them upside-down for me in sharing his story. It reminded me to live in the moment, to fight for what I want, to get to know people instead of judging them and so much more. It stuck with me.
14. Book You Can't Believe You Waited Until 2013 to Finally Read?
Live Through This by Mindi Scott (My review)
I kept meaning to read this and meaning to read this…and then my friend Ginger let me borrow it…and then it sat on my shelf a few months. Anyway! I finally read it and was really affected by it. I thought it was a heartbreaking and powerful story.
15. Favorite Passage/Quote from a Book You Read in 2013?
OMG I failed on updating my favorite quotes on Goodreads this year and now my highlights on my Kindle are mysteriously not working so I'm going to pick one that gave me goosebumps from a recent read: "Centrum permanebit." — The Fiery Heart
16. Shortest & Longest Book You Read in 2013?
Clockwork Princess by Cassandra Clare for longest. And shortest…hmmm. Hard to tell because I read so many in my Kindle these days!
17. Book That Had a Scene in It That Had You Reeling and Dying to Talk to Somebody About It? (a WTF moment, an epic revelation, a steamy kiss, etc. etc.) Be careful of spoilers!
I don't think ANYONE could read Allegiant without immediately needing to discuss it with someone. Anyone! It was too hard to process on my own. (My review)
18. Favorite Relationship from a Book You Read in 2013 (be it romantic, friendship, etc).
Romance: June & Day in Champion by Marie Lu (My review)
Friendship: Rose & Roza in Rose Under Fire by Elizabeth Wein (My review)
Familial: Jude & her dad in The Book of Broken Hearts by Sarah Ockler (My review)
19. Favorite Book You Read in 2013 from an Author You've Read Previously
Heartbeat by Elizabeth Scott
Oooh I haven't even reviewed this one yet but it was all dark and twisty but still romantic like you'd want form EScott. I liked it a lot. I think you guys will enjoy it!
20. Best Book You Read in 2013 That You Read Based SOLELY on a Recommendation from Somebody Else
Second Chance Summer by Morgan Matson (My review)
I thought this one would be too raw and difficult for me given a few things that happened personally in the past year, but it turned out to be just what I needed. I have friends like Ginger & Jamie to thank for that!
21. Genre You Read the Most From in 2013?
I'm definitely pro-contemporary this year. And adult historical romances have been my guilty pleasure!
22. Newest Fictional Crush from a Book You Read in 2013?
These Broken Stars by Amie Kaufman and Meagan Spooner (My review)
Loooved this whole book, but especially Tarver.
23. Best 2013 Debut You Read?
The Bone Season by Samantha Shannon (My review)
This new series was really cool, different, quirky – I loved it. Plus, forbidden romance omgggg.
24. Most Vivid World/Imagery in a Book You Read in 2013?
Across a Star-Swept Sea by Diana Peterfreund (My review)
25. Book That Was the Most Fun to Read in 2013?
The Distance Between Us by Kasie West (My review)
Got me out of a reading slump — was a great summer read.
26. Book That Made You Cry or Nearly Cry in 2013?
Allegiant by Veronica Roth (My review)
I can't remember the last time I sobbed this much during a book. Like, full-out SOBBED, you guys. It was bad. Thank goodness I was home alone.
27. Book You Read in 2013 That You Think Got Overlooked This Year or When It Came Out?
Where the Stars Still Shine by Trish Doller (My review)
I don't know that this one got overlooked per se, I just love Trish Doller and really enjoyed this book so thought it should get one last shoutout! Read it!
Uhhh somehow I am at the end of this and so many good books didn't get mentioned! AHHH!
the blog
1. New Favorite Book Blog You Discovered in 2013?
I don't follow a TON of people on Twitter, but this year I met a lot of bloggers specifically at BEA whose bookish tweets I love to follow. Just to name a few ladies I got to hang with at BEA for the first time: Gaby @EllaBeeReads, Katie @isolateme, Gillian @mizgillianberry & Jen @JenEllision.
2. Favorite Review You Wrote in 2013?
Um, I am mentioning Richelle Mead way too much on this survey, but my spoiler-free reviews of Richelle Mead's books always got a lot of attention, and I have always been really thankful for the support I've received on the blog from VA fans. So I'm going to pick my review of The Indigo Spell.
3. Best Discussion You Had on Your Blog?
What's the Deal with New Adult Books?
4. Most Thought-Provoking Review or Discussion You Read on Somebody Else's Blog?
This year was a weird year for me in terms of blogging. Everything just seemed abnormally low in terms of interaction, comments and interest. And maybe that's on me, but I thought this blog post my friend Jamie shared with me about book blogging "falling out of fashion" was an interesting perspective from a blogger experiencing something similar.
5. Best Event You Participated In?
Before the City of Bones movie came out (and totally stank, if you ask me), I was invited to a party celebrating the movie and to catch a sneak preview of a scene. Cassie Clare was there, it was a gorgeous/very Mortal Instruments-themed venue, we got runes painted on and a lot of my best bookish friends were there. Such fun!
6. Best Moment of Book Blogging/Your Book Life in 2013?
Meeting Megan McCafferty. I can't even talk about it or I'll get all verklempt.
I may or may not have cried afterward.
It was also a HUGE treat to be featured in the first Goodreads YA newsletter.
7. Most Popular Post This Year On Your Blog (whether it be by comments or views)?
My most popular post in terms of views was about the time I went to casting for the Divergent movie. I was actually called back for four days of filming as a member of the Amity faction…but I was in Europe during films. SO BITTERSWEET. Here's that post and a reminder of how long the FREEZING lines were:
8. Post You Wished Got a Little More Love?
Just my reviews in general. It is a review book blog…but for some reasons there seemed to be less interest in the books themselves this year. I think perhaps I was reviewing them too soon — I'm trying now to do my review posts a little bit closer to the time books come out or preferably even after they've been out for a bit.
9. Best Bookish Discovery (book related sites, book stores, etc.)?
Okay, this isn't bookish, but it's been good for blogging. I used to work as a designer for a living, but my Photoshop skills have gotten rusty in the years since them. I have loved PicMonkey this year for help in making quick blog graphics — like the one at the top of this post!
10. Did you complete any reading challenges or goals that you had set for yourself at the beginning of this year?
Maybe. I certainly didn't read as much (130ish this year vs. 180ish last year) this year. But I did try to be more positive and chill this year…and that worked…to a certain extent. More on that and my goals for 2014 in the next week or so!
Thank you all for another fantastic year and for continuing to visit my blog. It's brought a lot of good books, great friends and unbelievable blessings into my life. Here's to another year of happy reading!
Fri, December 6, 2013
Turns out, I'm into more than just books. So I figured you are, too!
Here's what I've been up to this week…
what i did
Thanksgiving! Two and a half days without Internet! No phone for two weeks!
Basically, living in the Stone Age. BAHAHA. Anyway. No pics to share, but my phone is working again so I'm back at it, baby. Woohoo!
Also…happy St. Nick's Day!
It's today and it's a big deal in my über-German family. It's totally separate from Christmas and is when you wake up to find your stockings filled with fun presents! Do any of you celebrate too?
links i loved
I really liked this New York Times article about how we're all so busy all the time, we hardly take time to just be. This is definitely an issue in my jam-packed life. I need to learn to chill out and to say "no" more often!
The New York Times also named 100 Notable Books of 2013. OMG. I have read none of them. I really fail at being a grownup.
Speaking of…this article on TheBillfold.com (Am I An Adult Woman If I Can't Handle Sephora?) made me happy I'm not the only one who has no clue what's going on in big beauty stores. What should I buy? What works for my coloring or my hair? Why is it so expensive? What do you people do with all these products?!?! I must've missed that day in How to Be a Girl Lessons.
The lovely Trish Doller shared her favorite new adult books. The list is AMAZING. I hadn't heard of this Carrie Pilby book before. Have you guys read it?
Oh, and I thought this was awesome:
And this roundup of JLaw/Josh Hutcherson's friendship made me soooo happy.
Aren't they the cutest?
books i read
137. No Good Duke Goes Unpunished by Sarah MacLean*
138. Pivot Point by Kasie West
Yep, those are books #137-138. Last year I read more than 180. Whoa I am off-pace!!!
books i added to my shelves
None. Which is probably a good thing — I am so behind on my to-read pile.
posts i wrote
- I reviewed the latest Miranda Kenneally book. This one's about horse racing!
- Roomies was one of my new favorite, realistic, non-angsty new adult books. Can't wait for you all to read it.
- I shared a massive list of 2014 releases that I'm dying to read.
- The Fiery Heart by Richelle Mead totally wowed me, per usual with her books. SYDRIAN!!!
All right. That's it for me this week. Happy weekend!