Mon, November 24, 2014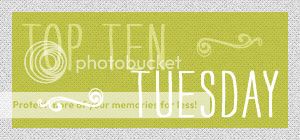 It's Top 10 Tuesday (hosted at The Broke and the Bookish) and the topic is:
Top 10 Books on My Winter Reading List
This Shattered World (Starbound #2) by Amie Kaufman & Meagan Spooner (out in December)
I Was Here by Gayle Forman (out in January)
All Fall Down (Embassy Row #1) by Ally Carter (out in January)
The Mime Order (The Bone Season #2) by Samantha Shannon (out in January)
All the Bright Places by Jennifer Niven (out in January)
Invaded (Alienated #2) by Melissa Landers (out in February)
The Ruby Circle (Bloodlines #6) by Richelle Mead (out in February)
Red Queen (Red Queen #1) by Victoria Aveyard (out in February)
And for ninth and tenth place, two books that have been out for a bit now and I cannot believe I haven't read yet: The Infinite Sea (The Fifth Wave #2) by Rick Yancey and The Young Elites (The Young Elites #1) by Marie Lu. Which of these should I prioritize? Are you looking forward to any of my other picks, too?
Sun, November 23, 2014
I've never been a big book buyer. Instead, I've spent most of my life as a library addict, only buying books on my Kindle if the library didn't have them and certainly NEVER buying physical books I'd already read.
But then…I found myself asking for Amazon cards for holidays and birthdays.
And browsing used book stores.
And hauling bags of books home after the annual library book sale.
I barely have shelf room left as it is, but just found myself making this list:
Yup, I wrote out all the books I'm missing from series so that next time I'm at a book sale, I know which sets I need to "complete." Not because I haven't read them, just because I want to own them. But c'mon, doesn't my Maggie Stiefvater shelf area just look MISERABLE without a copy of Linger at the very least?
It's this mindset that worries me. Have I graduated from "library addict" to all-out book addict?*
If so, I AM CONCERNED ABOUT MY FUTURE FINANCES, not to mention my shelf space. For those of you already there, how do you reign yourselves in? HELP!
*I mean, I guess I should have realized I was a book addict earlier considering I WRITE A WEBSITE COMPLETELY DEDICATED TO BOOKS, but you know, we're all blind to our true selves from time to time.
Fri, November 21, 2014
what i did
Dude…I've been so lax on the posts lately. First it was because my home Internet was out for several days, but then it was because of this:
Yeah! Puerto Rico, baby! I took two surf lessons and got up on the board on my first try (that's me up front in the pic)…
…enjoyed some quality time chillin' on this private beach…
…and took in the most beautiful sunsets.
I actually don't have pictures of the coolest experience from the trip: A swim in a bioluminescent bay. It was pitch black out there, but when you swim and touch the microorganisms in the water, they light up. Anyone remember this from Diana Peterfreund's Across a Star-Swept Sea? It was the prettiest thing I've ever seen — when I lifted my hand out of the water and drops would fall down my arms, it looked like I was GLITTERING. Ah-may-zing.
links i loved
Did you all see the Pitch Perfect 2 trailer? GAH! Cannot wait.
Hmm, that's it for linkage cause I've obviously been on an Internet break. So much to catch up on!
books i added to my shelves
On my Kindle:
More Happy Than Not by my friend Adam Silvera. Oh, it's so exciting to see someone you know and genuinely like a whole bunch have success! Thanks for sharing the book with me, Soho Teen!
From the library:
I picked up The Bane Chronicles by Cassie Clare, Sarah Rees Brennan and Maureen Johnson. On the one hand, it is intimidatingly thick. On the other hand, Magnus.
Also: Yes, Please by Amy Poehler because I think she's such a smarty.
In the mail:
Letting Go by Molly McAdams
Vendetta by Catherine Doyle
The Boy in the Black Suit
Thanks to Harper, Scholastic and Simon & Schuster for these goodies!
books i read
Well, a kajillion, obviously with all that flight time! I definitely went on a romance novel binge…but then got back to some YA titles!
Mistletoe and Mr. Right by Lyla Payne
Merry & Bright by Jill Shalvis
Wild by Sophie Jordan
The Wicked Wallflower by Maya Rodale
The Heir and the Spare by Maya Rodale
A Groom of One's Own by Maya Rodale
The Rosie Effect by Graeme Simsion
Love, Lucy by April Lindner
When by Victoria Laurie
Finding Mr. Brightside by Jay Clark
Okay, that's it for me! Hope you all had a good week. Hang loose!*
*HAHAHAHA trying to keep the Surfer Girl in me alive!
Thu, November 20, 2014
I stopped in my local used bookstore again last night and thought I'd share the books I'd pull from the shelves to recommend if you were there shopping with me. Ahhh, if only! Distance and not actually knowing most of you keeps getting in the way of our friendship!
Haters by Alisa Valdes — I read this book at least five years ago, before I started this blog. Now I can remember NOTHING about it except that I enjoyed it. Soooo maybe not recommended but definitely one where I'd tell you to at least read the back cover and see if it interests you! Heehee.
Next up is The Comeback Season, which is one of Jennifer E. Smith's books before The Statistical Probability of Love at First Sight. I really enjoyed it, plus it's set in Chicago, so want to see it get some more attention!
Then we have another classic, Nick & Norah's Infinite Playlist by Rachel Cohn & David Levithan aka my living literary hero. I love how he writes with partners…plus the book is totally better than the movie.
Last but not least, I pulled North of Beautiful by Justina Chen, because I think it is SO good but doesn't get the attention it should have. More people need to read this one! Plus, it made me want to go geocaching.
Have you guys read any of these? Thoughts?
[DONT READ THIS IF YOU ARE IN MY BOOK CLUB] I did end up going home with a copy of The Rosie Project by Graeme Simsion for my book club's holiday party grab bag. It's a cute adult romcom that's being made into a movie and I knew the other girls would likely pick darker stories or nonfiction so I wanted to lighten things up! And who can resist a good deal? It was just $8!
Tue, November 18, 2014
Black Ice
By Becca Fitzpatrick
Publication date: Oct. 7, 2014
Simon & Schuster Books For Young Readers, 392 pages
Source: Publisher
Sometimes danger is hard to see… until it's too late.

Britt Pfeiffer has trained to backpack the Teton Range, but she isn't prepared when her ex-boyfriend, who still haunts her every thought, wants to join her. Before Britt can explore her feelings for Calvin, an unexpected blizzard forces her to seek shelter in a remote cabin, accepting the hospitality of its two very handsome occupants—but these men are fugitives, and they take her hostage.

In exchange for her life, Britt agrees to guide the men off the mountain. As they set off, Britt knows she must stay alive long enough for Calvin to find her. The task is made even more complicated when Britt finds chilling evidence of a series of murders that have taken place there… and in uncovering this, she may become the killer's next target.

But nothing is as it seems in the mountains, and everyone is keeping secrets, including Mason, one of her kidnappers. His kindness is confusing Britt. Is he an enemy? Or an ally?

BLACK ICE is New York Times bestselling author Becca Fitzpatrick's riveting romantic thriller set against the treacherous backdrop of the mountains of Wyoming. Falling in love should never be this dangerous…

— Goodreads.com description
I figured out the mystery really early on.
This book was clearly going to give me nightmares.
And I was grossed out by how romanticized/sexualized the "bad guys" were.
But I could. Not. Stop. Reading.
So what does that say? While I was annoyed much of the book, something clearly worked in that I wanted to keep reading, to see what happened next and to figure out more about my feelings toward kidnapper Mason.
Which means I am a cruddy reviewer and I don't know what to tell you. I guess if you picked up this book on the shelf of a bookstore I'd tell you that it might be worth your time, but if you're in the mood for wintery survival mystery, you're better off with Survive by Alex Morel.
Has anyone else read this one? I'm curious if you had a similar experience!