Wed, July 30, 2014
The Things You Kiss Goodbye
By Leslie Connor
Publication date: June 24, 2014
Katherine Tegen Books, 368 pages
Source: Publisher
Bettina Vasilis can hardly believe it when basketball star Brady Cullen asks her out, and she just about faints when her strict father actually approves of him.

But when school starts up again, Brady changes. What happened to the sweet boy she fell in love with? Then she meets a smoldering guy in his twenties, and this "cowboy" is everything Brady is not—gentle, caring, and interested in getting to know the real Bettina.

Bettina knows that breaking up with Brady would mean giving up her freedom—and that it would be inappropriate for anything to happen between her and Cowboy. Still, she can't help that she longs for the scent of his auto shop whenever she's anywhere else.

When tragedy strikes, Bettina must tell her family the truth—and kiss goodbye the things she thought she knew about herself and the men in her life.

Leslie Connor has written a lyrical, heartbreaking, and ultimately hopeful story about family, romance, and the immense power of love.

— Goodreads.com description
I respect The Things You Kiss Goodbye for how it depicted a tough and controlling home situation and an abusive relationship. I think it's important that these issues be depicted in YA novels so that teenagers can see how quickly things can go south.
Bettina and Brady's relationship was ADORABLE to start. All cute and fluffy and everything I like to read about in YA. But, wow, did it turn. I think this was a really intense slap in the face for the reader (awful, unfortunate pun not intended).
So, kudos to Leslie Connor on that front.
But the dialogue was so heavy-handed in parts and the drama so overdrawn that I found myself alternating between eye rolls and mental "ughs." And I just cannot get behind a romance between an underage girl and a guy in his mid-20s. Just…no.
All in all, I'm not sure where I fall here. I guess I'd say "respect, but not like."
Mon, July 28, 2014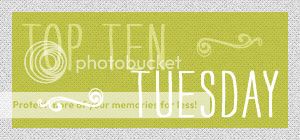 It's Top 10 Tuesday (hosted at The Broke and the Bookish) and the topic is:
Top 10 Authors I Own the Most Books From
Okay first off, it's paining me that this topic ends in a preposition (HA SORRY JAMIE ILU).
Secondly, I HAVE a lot of books, but I do not COLLECT them. Aka, if you perused my shelves, you'd see that I have one or two books from a series, but not the rest…or don't even own copies of some of my favorite books…or loan out the books I do own and then forget to get them back…or lose them (seriously, where are my Harry Potter books?!).
So while in some cases this represents some of my favorite authors…um…don't read too much into this. Either way, have fun looking at my shelves!
11 books: Richelle Mead (plus one more today when Silver Shadows comes on preorder; the spine you can't see is a galley copy of The Indigo Spell and few of these are signed to me!)
10 books: Megan McCafferty (also with a few signed; one of the copies of Sloppy Firsts is a galley)
8 books: L.M. Montgomery
8 books: Cassandra Clare (one signed, but I'm pumped about that one!)
5 books: Stephenie Meyer (don't pretend you don't have them, too)
4 books: Jay Crownover (whatever it's a guilty pleasure, mind your own business)
4 books: Sarah Dessen
4 books: Jennifer Echols (why haven't I met her yet?!)
4 books: Madeleine L'Engle
4 books: Rainbow Rowell (Well, only 3 here because I loaned out Eleanor & Park and forgot who had it, but it's SOMEWHERE. But my copy of Fangirl is signed to me.)
Mon, July 28, 2014
The Prince of Venice Beach
By Blake Nelson
Publication date: June 3, 2014
Little Brown Books for Young Readers, 240 pages
Source: Publisher
Robert "'Cali" Callahan is a teen runaway, living on the streets of Venice Beach, California. He's got a pretty sweet life: a treehouse to sleep in, a gang of surf bros, a regular basketball game…even a girl who's maybe-sorta interested in him.

What he doesn't have is a plan.

All that changes when a local cop recommends Cali to a private investigator who is looking for a missing teenager. After all, Cali knows everyone in Venice. But the streets are filled with people who don't want to be found, and when he's hired to find the beautiful Reese Abernathy, who would do anything to stay hidden, Cali must decide where his loyalties truly lie.

— Goodreads.com description
The Prince of Venice Beach read just like its narrator's personality: straightforward, easygoing and simple — but not in a dumb way.
I love how the voice and tone so perfectly fit Cali, who was a fantastic main character. He doesn't wallow in his circumstances; instead, he makes the best of his situation and finds ways to improve himself.
In terms of plot, it might be a stretch, but I'd almost call it "boy Veronica Mars." It was a bit out of my comfort zone (lack of kissing alert!), but I still enjoyed it. I hate the phrase "boy book" or "girl book" because I don't believe there is such a thing…but I loved finding a book I, as a girly-girl reader, enjoyed and would absolutely recommend to boy readers as well.
Fri, July 25, 2014
what i did
Found my new favorite drink of the summer, Stiegl Radlers. Second runner up: Rosa Hibiscus Ale from Revolution Brewing here in Chicago.
Laughed at this artwork in Bucktown. #chicagogirlproblems
Celebrated my fourth wedding anniversary with Mr. Anna, who bought me these pretty flowers…
…and took me out for some delicious BBQ.
And I painted. A LOT. I redid our guestroom in a gray/blue and our front entry in ORANGE. It's quite bold…
links i loved
Five Fun Facts About Books I Have Written and Abandoned
I loved this post from author Sarah Dessen about, well, failure…and how it helps you grow.
Amazon Starts Netflix-Style Book Service Amid Publisher Spat
I'm intrigued by Amazon's new book subscription service. But, also, um…isn't that what the library's for?
What I Instagrammed vs. What Was Really Happening (Or: My Entire Life Is a Life)
Sort of puts things in perspective. Everyone's "perfect" lives you see on their blogs or Twitter or Instagram? Yeah, they're just showing you the "prettiest" moments. Soooo don't compare yourselves, okay?
Spring 2015 Children's Sneak Previews
Publisher's Weekly shares some book sneak peeks for spring of 2015. Direct result: Anna's to-read list grows MASSIVELY.
Why Readers, Scientifically, Are the Best People to Fall in Love With
Duh. Love it.
And, last but not least: The second If I Stay trailer is out. I can't even.
books i added to my shelves
Thank you to Point, HMH Books for Young Readers, Bloomsbury Children's and Simon Pulse for these new reads for my Kindle:
The Bridge from Me to You by Lisa Schroeder
Can't Look Away by Donna Cooner
Zac and Mia by A.J. Betts
Not in the Script by Amy Finnegan
The Bargaining by Carly Ann West
Remember by Eileen Cook
Let's Get Lost by Adi Alsaid (my friend D.J. sent me this one — thank you!)
The Year of Chasing Dreams by Lurlene McDaniel
100 Sideways Miles by Andrew Smith (thanks, Simon & Schuster)
Hider, Seeker, Secret Keeper by Elizabeth Kiem (thanks, Soho Teen)
Plus, many thanks to Random House for these movie tie-in editions of The Maze Runner and Inside the Maze Runner: The Guide to the Glade. The movie comes out Sept. 19, and I've always meant to read this, so I can't wait to finally give it a try!
And, I got these two books from the library — The Fever by Megan Abbott is our next book club book and friends recommended Riding the Wave by Lorelie Brown.
books i read
I did a reread of If I Stay and Where She Went by Gayle Forman (click for my reviews) and they just slayed me all over again. Can you tell I'm excited for the movie?!
Then I read two NA adult novels that were awful and not worth mentioning. But I read them despite not liking them, so I don't know what that was about.
Okay, on to the new stuff, including two books I got this week and then read straightaway: The Bridge from Me to You by Lisa Schroeder (lovely verse novel) and Can't Look Away by Donna Cooner (I think she's fantastic).
Other reads this week:
The Queen of the Tearling by Erika Johansen (a very pretty book physically speaking and a fantasy lover's fantasy)
The Lonely Hearts Club by Elizabeth Eulberg (pretty cute)
giveaway happy fun time
NOW! On to happy reading news for you. The Chaos Walking trilogy (The Knife of Never Letting Go, The Ask and the Answer and Monsters of Men) is being re-released in paperback with a cool new design plus bonus short stories not previously available in print in the U.S. and Canada. Also, Patrick Ness' More Than This will be released in paperback for the first time.
MANCHEEEEEEEEEE!
If you don't know why I am screaming about Manchee (OH, MANCHEE!), you need to win this giveaway and find out for yourselves. Thanks to my generous friends at Candlewick, one lucky winner in the U.S. or Canada will receive paperback copies of all four books. Comment and enter below for your chance to win. Good luck to you and happy reading!
Thu, July 24, 2014
Dissonance
By Erica O'Rourke
Publication date: July 22, 2014
Simon & Schuster Books for Young Readers, 496 pages
Source: Publisher
Delancy Sullivan has always known there's more to reality than what people see. Every time someone makes a choice, a new, parallel world branches off from the existing one. Eating breakfast or skipping it, turning left instead of right, sneaking out instead of staying in bed ~ all of these choices create an alternate universe in which an echo self takes the road not travelled and makes the opposite decision. As a Walker, someone who can navigate between these worlds, Del's job is to keep all of the dimensions in harmony.

Normally, Del can hear the dissonant frequency that each world emits as clear as a bell. But when a training session in an off-key world goes horribly wrong, she is forbidden from Walking by the Council. But Del's not big on following the rules and she secretly starts to investigate these other worlds. Something strange is connecting them and it's not just her random encounters with echo versions of the guy she likes, Simon Lane.

But Del's decisions have unimaginable consequences and, as she begins to fall for the Echo Simons in each world, she draws closer to a truth that the Council of Walkers is trying to hide ~ a secret that threatens the fate of the entire multiverse.

— Goodreads.com description
Dissonance is set in Chicago, which I loved (in one scene, the characters even walk by my office). And the concept is great — it sort of reminded me of Pivot Point by Kasie West. Del's part of a special group of people who can walk through the multiverse, follow alternative realities that pop up based on the decisions people make.
It was a long book (nearly 500 pages!), but I made it through with no problems and will absolutely read more of the series.
But, and this is a big "but" for me, I think I was a little too slow on the pickup of certain plot points. The science behind the multiverse concept was tricky, and I never quite followed along. Honestly, it made me feel a little stupid as I struggled to keep up.
So, not a total win and "OMG WOW" reading experience, but like I said: It piqued my interest enough that I'd absolutely try the second book.
PS: For those who read it…my notes say "Addie & Monty intrigued, gay thing?" What the heck was I talking about?!?! Must've been a typo?