Fri, April 18, 2014
what i did
I definitely made some progress on the decor of my Reading Room…more on that to come. But these antlers are a bit of a sneak peek at a DIY project I'm working on:
Not much else, except whine a lot about the perpetual Chicago winter. It snowed again!
At least the sun was shining in this view from my living room's picture window.
links i loved
The If I Stay trailer!!! I dare you to watch this and not cry. What's your take on this? I think so far, so good!
First Loves Tumblr
I also wanted to share the link to the Bloomsbury Teen First Love tumblr. Emery Lord, who wrote Open Road Summer, which I adored, is sharing five short first love stories. The first one is AMAZING.
E. Lockhart on Embracing the Young Adult Inside Her
I adore E. Lockhart and thought this L.A. Times piece from her was inspiring. A tidbit:
Leaving academia to write fiction for children and teenagers was a return to that person I had been — the one who laughed easily, who liked makeup and baking and dance. I stopped being afraid of being thought silly or weak and instead pushed myself to be more than competent at the things I loved best to do.

I am true now to what brings me joy and to what I do well — and most of the time, to hell with the rest. — E. Lockhart
Also, public service announcement: If you haven't read her books, you are missing out!
books i added to my shelves
I already wrote this week about the latest loot I scored at my library.
Here are some books I got from my publisher friends:
What We Hide by Marthe Johnson
Infinite Sky by C.J. Flood
Incinerator by Niall Leonard
Deception's Princess by Esther M. Friesner
Many thanks to my friends at Random House, Simon & Schuster and Doubleday for their generosity!
books i read
I devoured the first three Marked Men books by Jay Crownover. Not sure I loved them, but once I started, I couldn't finish.
In terms of YA, I read:
The Summer of Letting Go by Gae Polisner (great)
Suddenly Royal by Nichole Chase (okay)
Wish You Were Italian by Kristin Rae (fantastic!)
Because some of you have asked, I also wanted to share a few books I couldn't finish this week — and that I will therefore not review.
First up is the sequel to Nichole Chase's book above. I didn't love the first one. It was sort of like a grownup, flatter version of The Princess Diaries. But I had the sequel Recklessly Royal, so I thought I'd try it. I couldn't get through it — not emotional enough for me, I think!
Along that same vein, I tried Royally Lost by Angie Stanton. It's about a girl on vacation in Europe with her family who meets a prince. Again, just didn't stir up enough feelings for me. I got halfway through before I put it down.
And last up: Fool Me Twice by Mandy Hubbard. I liked the writing, so I might pick this one up again, but I had to stop because I thought the main character was sort of mean! A girl gets dumped brutally. The guy gets amnesia, and she hides his medical problems from him in order to get some pretty elaborate revenge. Brutal!
Sooo, not the best of luck this week! What about you? What are you guys reading?
Thu, April 17, 2014
New town, new library! One of the first things on my to-do list after the move into our new house was extremely urgent: GET A NEW LIBRARY CARD.
So I went this weekend and wooohoooo is my new library fantastic.
Truly, I walked around the place with a Cheshire Cat smile on my face like a total nerd.
It's gigantic and brand new, the YA section is huge and they have fancy self-checkouts. Walking out with this stack of books made me feel like I was stealing them. Oooh what fun!
So, of all the choices, here's the list of books I chose to get:
Fixing Delilah by Sarah Ockler
Rules of Summer by Joanna Philbin
Karma Club by Jessica Brody
Guitar Notes by Mary Amato
The Lucy Variations by Sara Zarr
Which should I read first? Who else is totally in love with their public library?
Wed, April 16, 2014
What I Thought Was True
By Huntley Fitzpatrick
Publication date: April 15, 2014
Dial Books for Young Readers, 416 pages
Source: Publisher
From the author of My Life Next Door comes a swoony summertime romance full of expectation and regret, humor and hard questions.

Gwen Castle's Biggest Mistake Ever, Cassidy Somers, is slumming it as a yard boy on her Nantucket-esque island this summer. He's a rich kid from across the bridge in Stony Bay, and she hails from a family of fishermen and housecleaners who keep the island's summer people happy. Gwen worries a life of cleaning houses will be her fate too, but just when it looks like she'll never escape her past—or the island—Gwen's dad gives her some shocking advice. Sparks fly and secret histories unspool as Gwen spends a gorgeous, restless summer struggling to resolve what she thought was true—about the place she lives, the people she loves, and even herself—with what really is.

A magnetic, push-me-pull-me romance with depth, this is for fans of Sarah Dessen, Jenny Han, and Deb Caletti.

— Goodreads.com description
Looooooved it. In fact: I liked it better than My Life Next Door and I think you will, too.
Huntley Fitzpatrick's newest book has a million good things going for it: summer, romance, a kick-butt old lady and a Portuguese grandpa, complex family issues, misunderstandings, lies, friendship, class problems, a genuinely GOOD guy, a sweet little brother, humor…I could go on.
The story was equal parts light & summery and serious & layered. I loved the complexity and depth to the relationships depicted, from romance to family to friendship. They were all so incredibly engaging and well-depicted.
The setting too — wow. I could practically smell the salt in the air as I read.
Definitely a great book to kick off your summer reading. I see this one making its way to a lot of people's favorites lists in the coming year (including mine)!
Mon, April 14, 2014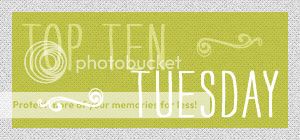 It's Top 10 Tuesday (hosted at The Broke and the Bookish) and the topic is:
Top 10 Bookish Things (That Aren't Books)
That I'd Like to Own
Ack, this was harder than I thought it'd be. I'm such a lucky duck who's gotten so many of the bookish things I've drooled over on this blog in the past, that my wish list is dwindling!
Still, I would certainly love…
1. A Kindle Paperwhite
My Kindle is perfectly fine (note to my mother and husband if they are reading this), but if I had to replace my current one, this is what I'd go for. (buy it)
2. With This Cute Purple Cover
I'm super into purple lately. (buy it)
3 & 4. To Complete My Austen Movie Collection
Because, let's be honest: My copies of Emma (the Jonny Lee Miller version) and Pride & Prejudice (any version) are thoroughly overwatched at this point. (buy them here and here)
5. These Dictionary Shoes
Alas, they're out of stock. (drool over them anyway)
6. A Snuggly Book Sweatshirt
Do you think this would really be as cozy as it looks? (buy it)
7. Yet Another Tote Bag
So I have more totes than I could ever possibly need, but…how cute is this?! (buy it)
8. Lighting Lighting Lighting
What my Reading Room needs most is good lighting. Maybe an adjustable reading lamp sort of like this? (buy it)
9. Just 'Cause
This is super frivolous, but SO PRETTY. (buy it)
10 & 10.5. And I Might Regret This But…
Aren't these candles cute? I'd never buy a candle without smelling it first, obviously. But I am dying to know how these two smell! (buy them here and here)
It would have been so much easier if this were a list of the next 10 books I'd like to purchase. That list goes on and on and on…
Mon, April 14, 2014
The Geography of You and Me
By Jennifer E. Smith
Publication date: April 15, 2014
Little, Brown for Young Readers, 352 pages
Source: Publisher
Lucy and Owen meet somewhere between the tenth and eleventh floors of a New York City apartment building, on an elevator rendered useless by a citywide blackout. After they're rescued, they spend a single night together, wandering the darkened streets and marveling at the rare appearance of stars above Manhattan. But once the power is restored, so is reality. Lucy soon moves to Edinburgh with her parents, while Owen heads out west with his father.

Lucy and Owen's relationship plays out across the globe as they stay in touch through postcards, occasional e-mails, and — finally — a reunion in the city where they first met.

A carefully charted map of a long-distance relationship, Jennifer E. Smith's new novel shows that the center of the world isn't necessarily a place. It can be a person, too.

— Goodreads.com description
Here's what I really enjoy about Jennifer E. Smith: Each of her books has a very different vibe, yet they all have a beautiful sense of thoughtfulness and expanded worldview about them.
This time around, with The Geography of You and Me, I loved how understated and real the story felt, even considering the unlikely "caught in an elevator" scenario. Lucy and Owen's circumstances might be out of the norm, but their experiences felt very true-to-teenage-life.
I loved the travel aspects — I adore a book that can take me on a mental vacation or so perfectly capture what it is I love about a place I've been. And while that was beautifully done here, what really drew me in to The Geography of You and Me was the romance and the family troubles.
Lucy and Owen were faced with tough decisions, distance and wandering hearts. For anyone who has ever gone off to college, moved away, gone through a rough patch with their families or even fallen in love as a teen, these feelings will seem familiar.
Overall, though, like I said: This book is understated. It isn't loud and it isn't very fast-paced. I worry some people will expect this book to be "OMG swoony" and will be put off by this, but I think that's what I loved about it most. That helped the book's main message come through, and that message (or what I took it to be) was quite beautiful.
In the words of The Apache Relay's "Home Is Not Places" (which I really think should be this book's theme song): "Home is not places, it is love."