Fri, October 24, 2014
what i did
LOTS! I went to California to visit my sister/brother-in-law/nephew.
I had a clothes swap with my ladyfriends:
We do these two or three times a year and I HIGHLY recommend them. What we do is we each clean out our closets, then haul our bags over to my friend Courey's house. We talk, drink, have a baked potato bar, then get to digging in.
We separate the clothes by pants/skirts/dresses/sweaters/etc. then go through and hold up each piece Vanna White style. First to speak up is first to try it on. Then, we have a little fashion show and any items that rejected are thrown back in again for the pickin'.
It actually works better than you think even though we're all different sizes, because oftentimes the reason we're giving up the clothes is it's too tight/loose/etc. to begin with. So. Much. Fun.
We had some Book & Wine Club action too. This month we read The Dinner by Herman Koch, which is slow building and disturbing and great for anyone who liked Gone Girl.
And now I'm off to the next round of trips: Nashville and Vegas. Will check back in soon!
links i loved
PEEEETAAAA!
(AKA: Did you see the new Hunger Games trailer?)
Speaking of trailers: The trailer for the Morganville Vampires Web series is out! It premieres Oct. 27 and I gotta say, it looks better than I thought it would for a Web series.
books i added to my shelves
Let's see: For my Kindle I got Most Likely to Succeed by Jennifer Echols (thank you, Simon Pulse) and I got a silly romance novel from the library.
In the mail…
The kind folks at Scholastic shared with me the entire Raven Cycle series. You guys are big fans of this one, right? Let me know!
Plus:
A Thousand Pieces of You by Claudia Gray
Shutter by Courtney Alameda
Save Me by Jenny Elliott
Rogue Wave by Jennifer Donnelly (Waterfire Saga #2)
Thanks to Harper Teen, Feiwel & Friends, Swoon Reads and Disney Press!
books i read
Many of these are coming your way soon as reviews…
Loop by Karen Akins
Snow Like Ashes by Sara Raasch
Black Ice by Becca Fitzgerald
Ugly Love by Colleen Hoover
Stay with Me by J. Lynn/Jennifer Armentrout
The Start of You and Me by Emery Lord
The Dinner by Herman Koch
Top Ten Clues You're Clueless by Liz Czukas
Princess of Thorns by Stacey Jay
Can you tell I've had a lot of airport reading time???
halloween giveaway
And last but not least…it's almost Halloween time, and you know what that means. Tricks? Treats? Nope. SCARY BOOKS!
Little, Brown Books for Young Readers has four great titles for Halloween and I'm excited to give you the chance to win all four!
The giveaway is open to readers in the U.S. and Canada and includes these books:
Blood of My Blood by Barry Lyga (Jasper Dent #3 – OMG SO GOOD serial killer books)
Salt & Storm by Kendall Kulper (witches!)
Unmarked by Kami Garcia (The Legion #2 – ghosts/spirits!)
The Young World by Chris Weitz (mystery sickness that isn't ebola but sounds scary too!)
AHHHHH! Check the widget below for info on how to win these spooky reads. Happy reading and Happy Halloween, my pretties!
Thu, October 23, 2014
Famous in Love (Famous in Love #1)
By Rebecca Serle
Publication date: Oct. 21, 2014
Poppy, 336 pages
Source: Publisher
The romantic story of a girl who gets plucked from obscurity to star in the next major feature film franchise based on a book and the ensuing love triangles she gets entangled in on—-and off screen.

Meet Paige Townsen, Rainer Devon, and Jordan Wilder…

When Paige Townsen, a young unknown, gets cast in the movie adaptation of a blockbuster book series, her life changes practically overnight. Within a month, Paige has traded the quiet streets of her hometown for a crowded movie set on the shores of Maui, and is spending quality time with her co-star Rainer Devon, one of People's Sexiest Men Alive. But when troubled star Jordan Wilder lands the role of the other point in the movie's famous love triangle, Paige's crazy new life gets even crazier.

In this coming-of-age romance inspired by the kind of celeb hookups that get clever nicknames and a million page views, Paige must figure out who she is – and who she wants – while the whole world watches.

— Goodreads.com description
Eep, I keep mixing up this book in my head with Not in the Script by Amy Finnegan!
I loved the concept on this one — how Paige is plucked from obscurity and thrown into stardom and how that affects her current relationships and point of view.
Paige is cast as the star in a movie based on a book trilogy…and I hear Rebecca Serle is going to write that book next. What a fun twist!
As for the book itself, I liked the behind-the-scenes setting, but I just didn't get Paige's romantic motivations. It was a love triangle of the roughest kind: blurred lines, maybe cheating, and an odd ending I still haven't processed.
So: Good concept, fun meta book-in-a-book thing, Hollywood setting. But, blech love triangle and iffy ending. TORN!
Wed, October 22, 2014
The Fine Art of Pretending (The Fine Art of Pretending #1)
By Rachel Harris
Publication date: Sept. 30, 2014
Spencer Hill Contemporary, 256 pages
Source: Publisher
According to the guys at Fairfield Academy, there are two types of girls: the kind you hook up with, and the kind you're friends with. Seventeen-year-old Alyssa Reed is the second type. And she hates it. With just one year left to change her rank, she devises a plan to become the first type by homecoming, and she sets her sights on the perfect date—Justin Carter, Fairfield Academy's biggest hottie and most notorious player.

With 57 days until the dance, Aly launches Operation Sex Appeal and sheds her tomboy image. The only thing left is for Justin actually to notice her. Enter best friend Brandon Taylor, the school's second biggest hottie, and now Aly's pretend boyfriend. With his help, elevating from "funny friend" to "tempting vixen" is only a matter of time.

But when everything goes according to plan, the inevitable "break up" leaves their friendship in shambles, and Aly and Brandon with feelings they can't explain. And the fake couple discovers pretending can sometimes cost you the one thing you never expected to want.

— Goodreads.com description
Well, I can't relate to Aly on the surface: I am not good at being friends with dudes. I never had a lot of guy friends…only my girl friend's boyfriends or my boyfriends' boy friends.
But, you don't have to be "just one of the guys" to connect to Aly's plight — trying to get people to notice you in a new, open way is an all-out toughie. So I enjoyed the comedy and romance of watching Aly try to stumble through that.
Important to note: This book is crazy predictable. Also important to note: When I'm in the mood for a book like this, I couldn't care less about predictability. If you're feeling critical — ALERT ALERT — this book is not for you.
Anytime I started to think critically about this one I did get irked, as I do with any makeover story (cough She's All That cough). I mean, if it takes a makeover (looks AND personality) for a guy to notice you, is he really the guy you want? I don't know.
Regardless, it's cute. Don't think too deeply about it, and you'll have a fun time reading it. But also don't expect a WOW.
Mon, October 20, 2014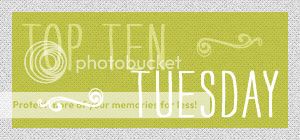 It's Top 10 Tuesday (hosted at The Broke and the Bookish) and the topic is:
Top 10 New Series I Want To Start
All right, these are supposed to be series from the past two years or so. Which was sort of hard for me to come up with, because I'm good at starting series…just not so good at finishing them. Oops!
Anyway, here's a list of 10 new series starters I've been meaning to try. Here's where you come in: I need you to tell me if there are any on this list that I NEED to prioritize. Have you read any of these?
The Young Elites by Marie Lu
Nantucket Blue by Leila Howland
Winger by Andrew Smith
Variant by Robison Wells
Let the Sky Fall by Shannon Messenger
The Testing by Joelle Charbonneau
Black City by Elizabeth Richards
Hemlock by Kathleen Peacock
Falling Kingdoms by Morgan Rhodes
Monument 14 by Emmy Laybourne
OK, where do I start?! Help!
Mon, October 20, 2014

Can you guys believe I — the big fantasy fan — have only read one (gasp! one!) Cinda Williams Chima book? I've heard so many good things about her Seven Realms & The Heir Chronicles series…but I really have no excuse.
Are you a fan? Should I read them? Let me know in the comments!
If you are dying to have your own copies of these books or, like me, haven't tried them yet — you're in luck. In honor of the release of The Heir Chronicles: The Sorcerer Heir by Cinda Williams Chima on Oct. 21, I'm giving aways the COMPLETE Heir Chronicles series.
Yeah, major, I know.
Check below for more info — and remember to let me know what you think about these books. Good luck and happy reading!
OFFICIAL LINKS
Visit Cinda Williams Chima's Official Site
Follow Cinda Williams Chima on Twitter
Follow Disney-Hyperion on Twitter and Instagram
ABOUT THE SORCERER HEIR
The can't-miss finale to the beloved and bestselling Heir Chronicles series.
The delicate peace between Wizards and the underguilds (Warriors, Seers, Enchanters, and Sorcerers) still holds by the thinnest of threads, but powerful forces inside and outside the guilds threaten to sever it completely. Old friends and foes return as new threats arise in this stunning and revelatory conclusion to the beloved and bestselling Heir Chronicles series.
The Sorcerer Heir is a self-contained story, accessible to readers just discovering the Heir series, but loyal fans will be rewarded by visits from characters they love (and love to hate) from the earlier installments.
ABOUT THE HEIR CHRONICLES
The Heir Chronicles series will keep readers glued to their seats through riveting fight scenes, deadly political machinations, burgeoning romance, and the unfolding intrigues of a contemporary magical world.
Series order:
The Warrior Heir
The Wizard Heir
The Dragon Heir
The Enchanter Heir
The Sorcerer Heir
Praise for the series:
"Chima offers a pitch-perfect blend of high fantasy and small-town reality…" –The Bulletin of the Center for Children's Books (starred review)
"Chima uses her pen like a wand and crafts a wonderfully rich web of magic, while thankfully leaving some dangling threads for subsequent tales." –VOYA (starred review)
"A smoldering story soaked in tears, sweat and blood, constantly threatening to blaze into an inferno. Spellbinding." –Kirkus Reviews (starred review)
ABOUT THE AUTHOR
Cinda Williams Chima is the New York Times bestselling author of The Warrior Heir, The Wizard Heir, The Dragon Heir, The Enchanter Heir, and the four books of the Seven Realms series: The Demon King, The Exiled Queen, The Gray Wolf Throne, and The Crimson Crown. Cinda is a graduate of The University of Akron and Case Western Reserve University. She lives in Ohio with her family.
GIVEAWAY
Winner receives the complete The Heir Chronicles series. Prizing & samples courtesy of Disney Hyperion. Giveaway open to U.S. addresses only.