Mon, May 20, 2013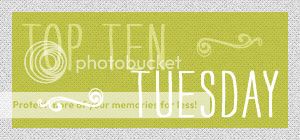 It's Top 10 Tuesday (hosted at The Broke and the Bookish) and the topic is:
Top 10 Covers of Books I've Read
An Abundance of Katherines by John Green
Eleanor & Park by Rainbow Rowell
I'll Be There by Holly Goldberg Sloan
Meant to Be by Lauren Morrill
Shiver by Maggie Stiefvater
The Statistical Probability of Love at First Sight by Jennifer E. Smith
The Disreputable History of Frankie Landau Banks by E. Lockhart
Winter Town by Steve Emond
Love and Other Perishable Items by Laura Buzo
Sweethearts by Sara Zarr
Ack! I'm sure I'm missing so many of them. What are your favorites?
You know, I just realized I haven't written much about book covers on the blog! As you can see from the choices below, I like more simplistic designs and interesting fonts. I REALLY don't like covers with big poofy dresses, girls faces and/or random body parts on them. And, frankly, that covers most of YA. I assume the publishers have tested it and that sells…but I just don't get the appeal.
Mon, May 20, 2013
You Look Different in Real Life
By Jennifer Castle
Publication date: June 4, 2013
HarperTeen, 368 pages
Source: Publisher
For the rest of the world, the movies are entertainment. For Justine, they're real life.

The premise was simple: five kids, just living their lives. There'd be a new movie about them every five years, starting in kindergarten. But no one could have predicted what the cameras would capture. And no one could have predicted that Justine would be the star.

Now sixteen, Justine doesn't feel like a star anymore. In fact, when she hears the crew has gotten the green light to film Five at Sixteen, all she feels is dread. The kids who shared the same table in kindergarten have become teenagers who hardly know one another. And Justine, who was so funny and edgy in the first two movies, feels like a disappointment.

But these teens have a bond that goes deeper than what's on film. They've all shared the painful details of their lives with countless viewers. They all know how it feels to have fans as well as friends. So when this latest movie gives them the chance to reunite, Justine and her costars are going to take it. Because sometimes, the only way to see yourself is through someone else's eyes.

Smart, fresh, and frequently funny, You Look Different in Real Life is a piercing novel about life in an age where the lines between what's personal and what's public aren't always clear.

— Goodreads.com description
Ooooh I definitely enjoyed You Look Different in Real Life by Jennifer Castle.
First of all: The concept. Just imagine how hard it would be to have your whole life displayed for the world to see. Hard as a kid, but even harder as a teen. Blech! No, thank you. So it was really interesting to see how Justine coped (or didn't cope, as the case may be).
Plus: The dynamics between the kids were so spot-on. Okay, sure, the reality movie thing isn't an everyday situation, but the way Castle depicted the drifting friendships was something we can all relate to. It's a natural part of growing up, and I love how well it was addressed here. I've been thinking I'd like to see move of that in books lately — especially in New Adult books because it gets even worse when everyone splits up for college — so I really loved that aspect of the book.
Otherwise, was it a little predictable? Yes. But I was still entertained.
Fri, May 17, 2013
Friends! I am doing a happy dance today because Goodreads just sent out their new YA newsletter…featuring moi!
Sign up to get future newsletters.
And click here to check out this month's, which includes an interview with yours truly.
And let's be friends on Goodreads while you're at it, pretty please!
How fun is this?!
Thu, May 16, 2013
Hi, friends! As you might remember, I was raving about Golden by Jessi Kirby just a little bit ago. (You can read my review here.) I'm so thrilled to be a part of the blog tour this week and to share the excerpt below. Plus, you can enter to win copies of Golden and all of Kirby's books! Love it!
About Golden:
Published by: Simon & Schuster
To be released on: May 14th, 2013
Purchase it from: Simon & Schuster | IndieBound | Amazon | Barnes & Noble
Add it to Goodreads
Love, tragedy, and mystery converge in this compelling novel from "an author to watch" (Booklist).

Seventeen-year-old Parker Frost has never taken the road less traveled. Valedictorian and quintessential good girl, she's about to graduate high school without ever having kissed her crush or broken the rules. So when fate drops a clue in her lap—one that might be the key to unraveling a town mystery—she decides to take a chance.

Julianna Farnetti and Shane Cruz are remembered as the golden couple of Summit Lakes High—perfect in every way, meant to be together forever. But Julianna's journal tells a different story—one of doubts about Shane and a forbidden romance with an older, artistic guy. These are the secrets that were swept away with her the night that Shane's jeep plunged into an icy river, leaving behind a grieving town and no bodies to bury.

Reading Julianna's journal gives Parker the courage to start to really live—and it also gives her reasons to question what really happened the night of the accident. Armed with clues from the past, Parker enlists the help of her best friend, Kat, and Trevor, her longtime crush, to track down some leads. The mystery ends up taking Parker places that she never could have imagined. And she soon finds that taking the road less traveled makes all the difference.
Excerpt:
I haven't completely made up my mind not to tell her about the journal yet, but I'm not sure she'll understand at this point. I couldn't fall asleep last night until I'd decided to go find Shane and Julianna's tree. It doesn't totally make sense to me, why I need to see it so much, but I can't ignore it. Especially now that I need to see it so much, but I can't ignore it Especially now that I know the story behind the carving. It's more evidence that love like theirs actually happens beyond books and movies, in real life. Life that's close to home.

As silly as it seems, it makes me feel like I somehow have a connection to it. To them. I want to see their tree the same way people want to see things that once were connected to famous people[especially once they're gone. Little slivers of their personal pasts, like photos no one has ever seen, or letters that surface years after their deaths. Or journals. Maybe because they are the things that somehow make them more real to us. Or maybe because all of them add to the myth of the person. It's hard to say which, but I need to find that tree. even if it takes me all week.

When I round the corner to Senior Hall, it's empty except for one person. Trevor Collins. Of course. My newfound boldness wavers the tiniest bit when I pass him and catch the mix of laundry detergent and the cologne he always wears thatI always want to ask about so I can buy if for my future boyfriend. It's clean and sexy with a little bit of spice to it, which is how I imagine him to be. The future boyfriend, not Trevor. I know him well enough to know better than to imagine him that way. I don't say anything when I pass, but go straight to my locker, set the box of journals down, and spin the dial like I don't notice him there. That's when I feel him turn and look me over.

"Morning, Frost." He says it like he knows I'm pretending not to see him, which I'm sure he does.
About Jessi:
Jessi Kirby is the author of Golden, which will be released in May of 2013, Moonglass, In Honor. She is also a former English teacher and librarian, wife, mom, beach lover, runner, and lover of Contemporary YA, strong coffee, and dark chocolate. In that order.
The giveaway:
Win a Jessi Kirby prize pack featuring Golden and each of her books!
Wed, May 15, 2013
The Beautiful and the Cursed
By Page Morgan
Publication date: May 14, 2013
Delacorte Books for Young Readers, 352 pages
Source: Blog tour
After a bizarre accident, Ingrid Waverly is forced to leave London with her mother and younger sister, Gabby, trading a world full of fancy dresses and society events for the unfamiliar city of Paris.

In Paris there are no grand balls or glittering parties, and, disturbingly, the house Ingrid's twin brother, Grayson, found for them isn't a house at all. It's an abandoned abbey, its roof lined with stone gargoyles that could almost be mistaken for living, breathing creatures.

And Grayson has gone missing.

No one seems to know of his whereabouts but Luc, a devastatingly handsome servant at their new home.

Ingrid is sure her twin isn't dead—she can feel it deep in her soul—but she knows he's in grave danger. It will be up to her and Gabby to navigate the twisted path to Grayson, a path that will lead Ingrid on a discovery of dark secrets and otherworldly truths. And she'll learn that once they are uncovered, they can never again be buried.

— Publisher description
Just when you think we've seen it all when it comes to teen supernatural books — vampires, werewolves, ghosts, demons, demon killers, angels and more — we have a book about gargoyles. Which, I have to say, is pretty cool.
As someone who is leaning a bit more contemporary and a bit less supernatural/paranormal these days, I was pretty pumped to try out something different. Yay for different! I really applaud Page Morgan for her creativity here.
Where this book really worked for me was in terms of it's creepy factor: I loved the gothic vibe and the grotesque bits (I think that was actually the original name of this book if I'm not mistaken) and the London setting.
Bonus factor: I really enjoyed the two sisters' point of view on this one. Generally, I don't love the bouncing back and forth, but I found both sisters to be tough and interesting in their own rights and was happy to keep checking in with them both.
A few things didn't work for me: Instalove, slow start, some love triangle action.
Ultimately, I was hoping it would be a bit more City of Bones and it ended up more along the lines of Die for Me by Amy Plum or Sweet Evil by Wendy Higgins. Now, that being said, fans of those books will likely want to check it out. For me, though, it wasn't a favorite.
Use the form below to enter to win one of five signed swag packs for the book. Or head to the blogs Books Complete Me and Once Upon a Twilight to correctly pair up as many Team Dispossessed trivia questions and answers and Team Waverly trivia questions and answers as you can. Two winners will be randomly chosen from those who get the most correct. Mine are below and the rest can be found on the blog tour site!
My trivia:
Team WAVERLY Trivia QUESTION: What is the name of the demon hunting society the Waverly siblings are drawn into?
Team DISPOSSESSED Trivia ANSWER: Gargoyle common grounds
About the author:
Page Morgan has been fascinated with les grotesques ever since she came across an old, black-and-white photograph of a Notre Dame gargoyle keeping watch over the city of Paris. The gargoyle mythologies she went on to research fed her imagination, and she became inspired to piece together her own story and mythology for these remarkably complex stone figures. Page lives in New Hampshire with her husband and their three children.