Thu, April 24, 2014
Breakfast Served Anytime
By Sarah Combs
Publication date: April 8, 2014
Candlewick Press, 272 pages
Source: Publisher
A coming-of-age debut evokes the bittersweet joys and pangs of finding independence in one unforgettable summer away at "geek camp."

When Gloria sets out to spend the summer before her senior year at a camp for gifted and talented students, she doesn't know quite what to expect. Fresh from the heartache of losing her grandmother and missing her best friend, Gloria resolves to make the best of her new circumstances. But some things are proving to be more challenging than she expected. Like the series of mysterious clues left by a certain Professor X before he even shows up to teach his class, Secrets of the Written Word. Or the very sweet, but very conservative, roommate whose coal-industry family champions mountaintop removal. Not to mention the obnoxious Mason, who dresses like the Mad Hatter and immediately gets on Gloria's nerves — but somehow won't escape her thoughts. Beautifully told by debut author Sarah Combs, this honest and touching story of growing up is imbued with the serene atmosphere of Kentucky's natural landscape.

— Goodreads.com description
Breakfast Served Anytime is a short little book, one I'm afraid may get overlooked by many readers. But it's big on inspiration, and I'm so glad I picked it up.
Sarah Combs' story struck me as thoughtful, lovely and inspiring, especially for anyone working as or inspiring to become a writer. Something about it seemed reminiscent of the movie Dead Poets Society, which I adore.
Bits of the plot were disjointed for me — at parts, the story would skip ahead quickly and without much fanfare. I frequently found myself lost, pausing to backtrack and get myself back into the correct new time frame.
But, still, I loved watching Gloria and her friends find themselves, expand their perspectives and grow over their summer together. It brought me back to what a "coming of age" story should really be like, and I so appreciated that.
Wed, April 23, 2014
Love Letters to the Dead
By Ava Dellaira
Publication date: April 1, 2014
Farrar, Straus and Giroux, 323 pages
Source: Publisher
It begins as an assignment for English class: Write a letter to a dead person. Laurel chooses Kurt Cobain because her sister, May, loved him. And he died young, just like May did. Soon, Laurel has a notebook full of letters to people like Janis Joplin, Amy Winehouse, Amelia Earhart, Heath Ledger, and more; though she never gives a single one of them to her teacher. She writes about starting high school, navigating new friendships, falling in love for the first time, learning to live with her splintering family. And, finally, about the abuse she suffered while May was supposed to be looking out for her. Only then, once Laurel has written down the truth about what happened to herself, can she truly begin to accept what happened to May. And only when Laurel has begun to see her sister as the person she was; lovely and amazing and deeply flawed; can she begin to discover her own path.

— Goodreads.com description
Love Letters to the Dead is the sort of book that hits you like a punch in the gut.
You're off-kilter from the get-go, a bit woozy as you read…but wow does it make you feel something.
It's a poetic and haunting story that made me feel its highs and lows so very sharply as Laurel shifted between euphoria and depression. It's a difficult and uneasy read, for sure, but if you are in the right mood to accept and appreciate that, it is not to be missed.
The story structure! How beautiful. Each chapter is set up as a new letter from Laurel to a dead person, from Kurt Cobain to Judy Garland. It's quite brilliant and ties in so well with the story.
I loved the depth of emotion this story conveyed, its complexity and, ultimately, its characters' strengths. Highly recommended.
Tue, April 22, 2014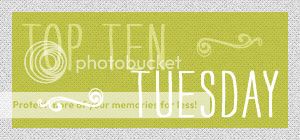 It's Top 10 Tuesday (hosted at The Broke and the Bookish) and the topic is:
Top 10 Characters Who Rock
We got to fill in the blank on this one and pick the top 10 characters who, well, did anything we like! I love books with music themes, so here are my favorite characters who rock!
Bailey from Dirty Little Secrets by Jennifer Echols (fiddle)
Elisa from This Song Will Save Your Life by Leila Sales (DJ)
Jasmine from Amplified by Tara Kelly (guitar)
Sam from Incarnate by Jodi Meadows (every instrument ever)
Devan from The Reece Malcolm List by Amy Spaulding (muuuusicaaaaals!)
Marley from DJ Rising by Love Maia (DJ)
Jeremy from Virtuosity by Jessica Martinez (violin)
Logan from Shade by Jeri Smith-Ready (guitar)
Mia from If I Stay by Gayle Forman (cello)
Adam from Where She Went by Gayle Forman (guitar)
Let's all just take a second to imagine if they formed a YA band! Also: Who did I miss?!
Mon, April 21, 2014
To All the Boys I've Loved Before
By Jenny Han
Publication date: April 15, 2014
Simon & Schuster Books for Young Readers, 288 pages
Source: Publisher
To All the Boys I've Loved Before is the story of Lara Jean, who has never openly admitted her crushes, but instead wrote each boy a letter about how she felt, sealed it, and hid it in a box under her bed. But one day Lara Jean discovers that somehow her secret box of letters has been mailed, causing all her crushes from her past to confront her about the letters: her first kiss, the boy from summer camp, even her sister's ex-boyfriend, Josh. As she learns to deal with her past loves face to face, Lara Jean discovers that something good may come out of these letters after all.

— Goodreads.com description
I think the best way to share my pure LOVE of this book is to share with you the texts I sent to my friend Ginger after we'd both read it:
On the book as a whole…
"This really is gonna be an all-time favorite, I think. Like THAT level. That is huge. I am putting it up there with JD so we are for real. I want every book to be like that!!!!"
"AHHHHHGG it is so good. Like it reminds me of the reasons I love Jessica Darling, right? Like those are the tone of books I just die for."
On the cover…
"Her outfits seemed so cute and that cover is perf."
On the romance…
On one boy: "Oh em gee. He was so funny and sweet and grew on me."
On another: "Ick on him. He is a loser."
On the friendship…
"I love how the BFF is just like how she is. She's different from Lara Jean and there's no judgment there. I think a lot of teens will benefit from reading about that type of relationship."
On the ending…
"The ending was too abrupt!"
Thankfully, Ginger told me there is a second book coming — PHEW. All I wanted was to spend more time with these characters.
Okay, so this is a really silly way to share a review, but I wanted you to get the sense of how I felt after finishing this book this book: I was on a book high. I had to discuss it instantly, to tear apart every bit of it, and to get MORE MORE MORE out of it. Truly, my only thought was: "Why can't every book be like this?!"
A perfect reading experience for me in terms of topic, tone, characterization, humor, dialogue — everything!
So, if you share my taste, you know what to do. READ IT!
PS: Thank you to G for being there for me when I need to talk books like this! Her parts of the convo have obviously been redacted, but for her stellar (and much more coherent!) review of the book, click here.
Fri, April 18, 2014
what i did
I definitely made some progress on the decor of my Reading Room…more on that to come. But these antlers are a bit of a sneak peek at a DIY project I'm working on:
Not much else, except whine a lot about the perpetual Chicago winter. It snowed again!
At least the sun was shining in this view from my living room's picture window.
links i loved
The If I Stay trailer!!! I dare you to watch this and not cry. What's your take on this? I think so far, so good!
First Loves Tumblr
I also wanted to share the link to the Bloomsbury Teen First Love tumblr. Emery Lord, who wrote Open Road Summer, which I adored, is sharing five short first love stories. The first one is AMAZING.
E. Lockhart on Embracing the Young Adult Inside Her
I adore E. Lockhart and thought this L.A. Times piece from her was inspiring. A tidbit:
Leaving academia to write fiction for children and teenagers was a return to that person I had been — the one who laughed easily, who liked makeup and baking and dance. I stopped being afraid of being thought silly or weak and instead pushed myself to be more than competent at the things I loved best to do.

I am true now to what brings me joy and to what I do well — and most of the time, to hell with the rest. — E. Lockhart
Also, public service announcement: If you haven't read her books, you are missing out!
books i added to my shelves
I already wrote this week about the latest loot I scored at my library.
Here are some books I got from my publisher friends:
What We Hide by Marthe Johnson
Infinite Sky by C.J. Flood
Incinerator by Niall Leonard
Deception's Princess by Esther M. Friesner
Many thanks to my friends at Random House, Simon & Schuster and Doubleday for their generosity!
books i read
I devoured the first three Marked Men books by Jay Crownover. Not sure I loved them, but once I started, I couldn't finish.
In terms of YA, I read:
The Summer of Letting Go by Gae Polisner (great)
Suddenly Royal by Nichole Chase (okay)
Wish You Were Italian by Kristin Rae (fantastic!)
Because some of you have asked, I also wanted to share a few books I couldn't finish this week — and that I will therefore not review.
First up is the sequel to Nichole Chase's book above. I didn't love the first one. It was sort of like a grownup, flatter version of The Princess Diaries. But I had the sequel Recklessly Royal, so I thought I'd try it. I couldn't get through it — not emotional enough for me, I think!
Along that same vein, I tried Royally Lost by Angie Stanton. It's about a girl on vacation in Europe with her family who meets a prince. Again, just didn't stir up enough feelings for me. I got halfway through before I put it down.
And last up: Fool Me Twice by Mandy Hubbard. I liked the writing, so I might pick this one up again, but I had to stop because I thought the main character was sort of mean! A girl gets dumped brutally. The guy gets amnesia, and she hides his medical problems from him in order to get some pretty elaborate revenge. Brutal!
Sooo, not the best of luck this week! What about you? What are you guys reading?