Mon, July 21, 2014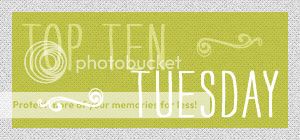 It's Top 10 Tuesday (hosted at The Broke and the Bookish) and the topic is:
Top 10 Characters I Would Want with Me on a Deserted Island
1. Sky from If I Stay by Jillian Cantor
The girl spent her entire childhood on a deserted island — she can handle this.
2. Clary from The Mortal Instruments series by Cassandra Clare
Problem solved: She makes a portal, we get outta there.
3. Neville Longbottom from Harry Potter by J.K. Rowling
So let's say the Clary portal thing doesn't work, and Neville can't work his magic to get us rescued any other way…well, then at least he'd come in handy helping to identify edible plants!
4. Avry from the Touch of Power by Maria V. Snyder
She's a healer, so no need to worry about injuries and such.
5. Day from Legend by Marie Lu
I don't know how he'd come in handy yet, but he's scrappy so I want him around just in case.
6. Alex from Ashes by Ilsa J. Bick
If she can make it through the most intense and violent zombie apocalypse book I've ever read, I think she can pretty much handle anything. I like having some tough cookies on my team.
7. Cricket from Lola and the Boy Next Door by Stephanie Perkins
Say things don't work out with Clary and Neville. Well, then, maybe Cricket can invent something to get us help!
8. Katsa from Graceling by Kristin Cashore
For her combat skills! Maybe to help us fight off wildlife?
9. Po from Graceling by Kristin Cashore
Ditto for Po, plus awww we can't separate the love birds! That'd be too unromantic of me. So Po gets to come too.
10. Peeta from The Hunger Games
He's got the survival thing down pat, plus he can cook me bread. MMMM BREAD.
Mon, July 21, 2014
Boomerang
By Noelle August
Publication date: July 8, 2014
William Morrow Paperbacks, 304 pages
Source: Publisher
The first book in a sensational New Adult trilogy from Noelle August

Welcome to Boomerang.com, the dating site for the millennial gen with its no-fuss, no-commitments matchups, and where work is steamier than any random hook-up

Mia Galliano is an aspiring filmmaker. Ethan Vance has just played his last game as a collegiate soccer star. They're sharp, hungry for success, and they share a secret.

Last night, Ethan and Mia met at a bar, and, well . . . one thing led to another, which led to them waking up the next morning—together. Things turned awkward in a hurry when they found themselves sharing a post hookup taxi . . . to the same place: Boomerang headquarters.

What began as a powerful connection between them is treated to a cold shower courtesy of two major complications. First, Boomerang has a strict policy against co-worker dating. And second, they're now competitors for only one job at the end of summer.

As their internships come to an end, will they manage to keep their eyes on the future and their hands off each other, or will the pull of attraction put them right back where they started?

— Goodreads.com description
First thing you should know: Noelle August = YA fave Veronica Rossi and author Lorin Oberweger.
Second thing: This is the type of new adult read I am sooo into.
Boomerang is more rom-com than your typical NA angst fest, and THANK GOODNESS for that.
It's cute, definitely more grownup than YA (ifyouknowwhatimean) and there's ton of chemistry between Ethan and Mia from the get-go.
If you're ready to graduate from YA and want something a little less dramarama than most other NA books out there, this book is a great one to start with!
PS: I hate this book cover, though. If you turn it around, the dude is wearing some SERIOUSLY high-waisted jeans…
Fri, July 18, 2014
So many reviews, so little time!
For some reason, I never got around to doing full reviews on these books, but wanted to share my brief thoughts with you. Thus, "Mini Reviews" (aka, Anna Is Lazy)!
Fixing Delilah by Sarah Ockler
About the book:
Things in Delilah Hannaford's life have a tendency to fall apart.

She used to be a good student, but she can't seem to keep it together anymore. Her "boyfriend" isn't much of a boyfriend. And her mother refuses to discuss the fight that divided their family eight years ago. Falling apart, it seems, is a Hannaford tradition.

Over a summer of new friendships, unexpected romance, and moments that test the complex bonds between mothers and daughters, Delilah must face her family's painful past. Can even her most shattered relationships be pieced together again?

Rich with emotion, Sarah Ockler delivers a powerful story of family, love, and self-discovery.
My thoughts: A lovely book, and one I'm sad it took me so long to read! The writing was gorgeous, and I totally cried. Loved the family and friendship dynamics. It's a contemporary I'd HIGHLY recommend.
Landline by Rainbow Rowell
About the book:
Georgie McCool knows her marriage is in trouble. That it's been in trouble for a long time. She still loves her husband, Neal, and Neal still loves her, deeply — but that almost seems besides the point now.

Maybe that was always besides the point.

Two days before they're supposed to visit Neal's family in Omaha for Christmas, Georgie tells Neal that she can't go. She's a TV writer, and something's come up on her show; she has to stay in Los Angeles. She knows that Neal will be upset with her — Neal is always a little upset with Georgie — but she doesn't expect to him to pack up the kids and go home without her.

When her husband and the kids leave for the airport, Georgie wonders if she's finally done it. If she's ruined everything.

That night, Georgie discovers a way to communicate with Neal in the past. It's not time travel, not exactly, but she feels like she's been given an opportunity to fix her marriage before it starts . . .

Is that what she's supposed to do?

Or would Georgie and Neal be better off if their marriage never happened?
My thoughts: Definitely not the Rainbow Rowell you associate with YA, which is fine by me, but probably not a good fit for actual young adults. It's a quite dark story about the difficulties of marriage. Her writing is as sharp as ever, but I think you should definitely keep the tone and content in mind!
Sabriel by Garth Nix
About the book:
Sent to a boarding school in Ancelstierre as a young child, Sabriel has had little experience with the random power of Free Magic or the Dead who refuse to stay dead in the Old Kingdom. But during her final semester, her father, the Abhorsen, goes missing, and Sabriel knows she must enter the Old Kingdom to find him. She soon finds companions in Mogget, a cat whose aloof manner barely conceals its malevolent spirit, and Touchstone, a young Charter Mage long imprisoned by magic, now free in body but still trapped by painful memories. As the three travel deep into the Old Kingdom, threats mount on all sides. And every step brings them closer to a battle that will pit them against the true forces of life and death—and bring Sabriel face-to-face with her own destiny.

With Sabriel, the first installment in the Abhorsen trilogy, Garth Nix exploded onto the fantasy scene as a rising star, in a novel that takes readers to a world where the line between the living and the dead isn't always clear—and sometimes disappears altogether.
My thoughts: Everyone loves this book, but like Tamora Pierce's stories, it just didn't pop for me. I think it's the type of book I would have ADORED at, say, age 12. But it just came to me too late in life, I'm afraid.
Strange and Ever After by Susan Dennard (Something Strange and Deadly #3)
About the book:
In the conclusion to the trilogy that Publishers Weekly called "a roaring—and addictive—gothic world," Eleanor Fitt must control her growing power, face her feelings for Daniel, and confront the evil necromancer Marcus…all before it's too late.

He took her brother, he took her mother, and now, Marcus has taken her good friend Jie. With more determination than ever to bring this sinister man to justice, Eleanor heads to the hot desert streets of nineteenth-century Egypt in hopes of ending this nightmare. But in addition to her increasingly tense relationships with Daniel, Joseph, and her demon, Oliver, Eleanor must also deal with her former friend, Allison, who has curiously entangled herself in Eleanor's mission.

With the rising dead chomping at her every move and Jie's life hanging in the balance, Eleanor is convinced that her black magic will see her through to the bitter end. But there will be a price. Though she and the Spirit Hunters have weathered every battle thus far, there will be consequences to suffer this time—the effects of which will be irreversible. And when it's over, only some will be able to live a strange and ever after.

Susan Dennard will leave readers breathless and forever changed in the concluding pages of this riveting ride.
My thoughts: The gothic/steampunk setting for this series never really worked for me. It's just not my thing. But I like Dennard's writing and thoroughly enjoy following her on Twitter, so I'm glad I gave it a go. I'm just hoping her next books have a setting/theme/topic a little more appealing to me. It's not you, book, it's me!
The Sound of Letting Go by Stasia Kehoe Ward
About the book:
For sixteen years, Daisy has been good. A good daughter, helping out with her autistic younger brother uncomplainingly. A good friend, even when her best friend makes her feel like a third wheel. When her parents announce they're sending her brother to an institution—without consulting her—Daisy's furious, and decides the best way to be a good sister is to start being bad. She quits jazz band and orchestra, slacks in school, and falls for bad-boy Dave.

But one person won't let Daisy forget who she used to be: Irish exchange student and brilliant musician Cal. Does she want the bad boy or the prodigy? Should she side with her parents or protect her brother? How can she know when to hold on and when—and how—to let go?
My thoughts: I remember adoring the writing, but I actually remember very little of the plot specifics. If you love verse novels, I'd say absolutely read this one. It was quite well done. But because of my fuzziness on the plot, I wouldn't start here if you're new to the genre.
Have you read any of these books?
Thu, July 17, 2014
Through to You
By Lauren Barnholdt
Publication date: July 8, 2014
Simon Pulse, 256 pages
Source: Publisher
Opposites attract—and then complicate—in this romantic, relatable novel from the author of Two-way Street and Sometimes It Happens.

It starts with a scribbled note in class: I like your sparkle. Harper had casually threaded a piece of blue and silver tinsel through her ponytail in honor of school spirit day. And that carefree, corny gesture is what grabs Penn Mattingly's eye. Penn—resident heartbreaker of the senior class. Reliably unreliable. Trouble with a capital "T." And okay, smolderingly sexy.

Harper's surprised by Penn's attention—and so is Penn. The last thing he needs is a girlfriend. Or even a friend-with-benefits. The note is not supposed to lead to anything.

Oh, but it does. They hang out. They have fun. They talk. They make out. And after a while, it seems like they just click. But Penn and Harper have very different ideas about what relationships look like, in no small part because of their very different family backgrounds. Of course they could talk about these differences—if Penn knew how to talk about feelings.

Harper and Penn understand their attraction is illogical, yet something keeps pulling them together. It's like a crazy roller coaster—exhilarating, terrifying, and amazing all at once. And neither knows how to stop the ride…

— Goodreads.com description
One of my biggest pros about Through to You is also a potential con: Lauren Barnholdt writes a spot-on teenage boy.*
Penn isn't ready for commitment. He doesn't know what he wants. He's hiding things from his parents. And he is certainly not very suave with Harper. With so many YA novels these days writing a glorified teenage dreamboy instead of a realistic one, this was so refreshing.
On the other hand: Old Lady Syndrome. Yup, this old lady was like "OMG, Penn, grown up!" I'm a lame know-it-all when I read sometimes and it ruins everything.
Which is such a shame, because I adore Lauren Barnholdt — especially One Night That Changes Everything. And overall I did like it — I applaud Barnholdt for writing characters who made me remember what it felt like to be a teen. It's just that that isn't always easy to read, you know?
I also would have liked Harper to show a bit more passion. She says she loves dance, but I never quite felt it.
Overall verdict: I'm not raving but still do think it would be worth your time.
*Note: I originally wrote that as "Lauren Barnholdt really nailed the teenage boy here," which has a different meaning entirely and is quite awkward. Ahaha, sorry, Lauren! This is why you always reread something twice before posting it to the Internet.
Wed, July 16, 2014
The Kiss of Deception
By Mary E. Pearson
Publication date: July 8, 2014
Henry Holt, 492 pages
Source: Publisher
In this timeless new trilogy about love and sacrifice, a princess must find her place in a reborn world.

In a society steeped in tradition, Princess Lia's life follows a preordained course. As First Daughter, she is expected to have the revered gift of sight—but she doesn't—and she knows her parents are perpetrating a sham when they arrange her marriage to secure an alliance with a neighboring kingdom—to a prince she has never met.

On the morning of her wedding, Lia flees to a distant village. She settles into a new life, hopeful when two mysterious and handsome strangers arrive—and unaware that one is the jilted prince and the other an assassin sent to kill her. Deception abounds, and Lia finds herself on the brink of unlocking perilous secrets—even as she finds herself falling in love.

— Goodreads.com description
"What? What?! WHAT??!?!??" — me reading The Kiss of Deception.
Okay, so…I read a lot. That's probably an understatement. I read CONSTANTLY. So it's sort of hard to surprise me as a reader. I get a little jaded, like "Been there, done that."
So for me to react to a book that strongly? Gosh, I love it. It's like crack.
Thank you, Mary E. Pearson.
You guys. This book was so creative. Okay, I suppose a slight warning: It's a slow fantasy, with buildup and not a ton of action. I guess if I had to pick anything, that might be a slight holdup for some of you. But, whatever, if you like fantasy at all, read it anyway.*
But DON'T read any other reviews or really look very closely at the book description. Just dive into it. Trust me. I used all caps on that "don't," so you know I mean it.
*Sigh. I can see why I'm never blurbed in books because I get all crazy and ineloquent, but hey at least I have passion!!!