Fri, November 7, 2014
what i did
Um, SO MUCH since the last update that I'm not even gonna cover it all.
To start, I went to Nashville for a girls' weekend. We learned to letterpress at Hatch Show Print…
Went hiking — goodness, I wish there were places to hike in Chicago!
Went to this HUGE used bookstore where I got these four books for less than THREE DOLLARS total!
Ahhh and so much more. It was just what the doctor ordered.
From there, I flew straight to Vegas for a week of work meetings. I tricked all my friends with this picture of Britney from Madame Tussauds, but then when I really DID meet Penn & Teller I'm not sure anyone believed me.
links i loved
Did you watch the Morganville Vampires Web series? Thoughts? I mean, okay, so some of the acting was pretty wonky, but I thought Claire & Shane were spot-on…which is enough to make me want more!
Here's episode one:
Also, did you cast your vote? Okay, for the elections this week, first and foremost, if you're American. But secondly, for the Goodreads Choice Awards! Click here to vote for your fave books of 2014.
And, I found this "Indie Brunch" playlist on Spotify and it's my new favorite, so I had to share:
books i added to my shelves
I had this UNBELIEVABLE stack of books waiting for me when I got home from my travels:
The goodies inside:
Yeah that's right — The Mime Order! AHHH! Plus, these came later in the week:
And these I got for my Kindle:
When by Victoria Laurie
Mistletoe and Mr. Right by Lyla Payne
Read Between the Lines by Jo Knowles
Every Last Promise by Kristin Halbrook
99 Days by Katie Cotugno
Invincible by Amy Reed
Inherit Midnight by Kate Kae Myers
Finding Paris by Joy Preble
Magonia by Maria Dahvana Headley
Thank you to so many lovely publishers for sharing these exciting titles…and if you look below, I might have one to share with you too!
books i read
Even MORE airport reading time = so many books read. I already read the Mistletoe and Mr. Right book I got, which is crazy because I am SO not ready for it to be wintertime. Ack! Plus, I devoured a three-book romance series by Lauren Layne that reminded me of a romcom like "How to Lose a Guy in 10 Days."
I read On the Edge by Allison van Diepen (not my jam), Forbidden by Kimberley Griffiths Little (strange but good), For Real by Alison Cherry (really liked) and I'll Meet You There by Heather Demetrios (LOVED LOVED LOVED).
Aaaand, spurred on by the Web series, I read the 15th (FIFTEENTH! CAN YOU BELIEVE IT?) Morganville book. Can't believe it's over!
quickie giveaway
I have an extra copy of A Thousand of Pieces of You by Claudia Gray, who I've met and think is just lovely. Also, the cover on this book? GOODNESS IT IS PRETTY.
Check out the description and leave me a comment if you're interested…it can be about anything you read this week, why you want to read it, something bookish you did, whatever…and I'll pick one random commenter to win.
About the book:
Every Day meets Cloud Atlas in this heart-racing, space- and time-bending, epic new trilogy from New York Times bestselling author Claudia Gray.

Marguerite Caine's physicist parents are known for their radical scientific achievements. Their most astonishing invention: the Firebird, which allows users to jump into parallel universes, some vastly altered from our own. But when Marguerite's father is murdered, the killer—her parent's handsome and enigmatic assistant Paul—escapes into another dimension before the law can touch him.

Marguerite can't let the man who destroyed her family go free, and she races after Paul through different universes, where their lives entangle in increasingly familiar ways. With each encounter she begins to question Paul's guilt—and her own heart. Soon she discovers the truth behind her father's death is more sinister than she ever could have imagined.

A Thousand Pieces of You explores a reality where we witness the countless other lives we might lead in an amazingly intricate multiverse, and ask whether, amid infinite possibilities, one love can endure.
Happy reading and happy Friday! I hope to hear from you guys…I love your comments and sharing our love of all things reading & beyond. Thanks for making my day by visiting!
Thu, November 6, 2014
Snow Like Ashes
By Sara Raasch
Publication date: Oct. 14, 2014
Balzer + Bray, 422 pages
Source: Publisher
A heartbroken girl. A fierce warrior. A hero in the making.

Sixteen years ago the Kingdom of Winter was conquered and its citizens enslaved, leaving them without magic or a monarch. Now, the Winterians' only hope for freedom is the eight survivors who managed to escape, and who have been waiting for the opportunity to steal back Winter's magic and rebuild the kingdom ever since.

Orphaned as an infant during Winter's defeat, Meira has lived her whole life as a refugee, raised by the Winterians' general, Sir. Training to be a warrior—and desperately in love with her best friend, and future king, Mather — she would do anything to help her kingdom rise to power again.

So when scouts discover the location of the ancient locket that can restore Winter's magic, Meira decides to go after it herself. Finally, she's scaling towers, fighting enemy soldiers, and serving her kingdom just as she's always dreamed she would. But the mission doesn't go as planned, and Meira soon finds herself thrust into a world of evil magic and dangerous politics – and ultimately comes to realize that her destiny is not, never has been, her own.

— Goodreads.com description
Fantasy fans, I'm so pumped to have yet another great book to recommend to you! I can't get over how many awesome high fantasy YA novels we've been lucky to see in the past year.
Snow Like Ashes is a debut novel, a fantasy that — like most fantasies — gets off to a slow start. But, hey, we like our world-building. Once the setting is established, I could NOT put it down.
I knew I was in for a good read when the first page was a map. This is ALWAYS a good sign for me. Only complaint? It was too small in my Kindle version and shuffling pages in a Kindle is so hard, so when the kingdoms were confusing me, I couldn't flip back to check it out.
There IS a love triangle, but it's one of those no-brainer-who-to-pick ones that don't really bother me. Besides, this book is so filled with GIRL POWER and a heroine who kicks butt that you hardly care about the romance.
Read it!
Wed, November 5, 2014
Friends! I told you earlier this week that, though I am a massive Maggie Stiefvater fan, I haven't gotten into the Raven Cycle series yet. Well, that's all about to change for me and for YOU, too.
I'm reading the books, and giving you the chance to win your own copies to read them too. One winner (U.S. only) will receive The Raven Boys, The Dream Thieves and Blue Lily, Lily Blue…
…plus a limited-edition tarot deck. Maggie designed The Raven Cycle Tarot, a Major Arcana 22-card deck inspired by The Raven Cycle series. The cards will be revealed in a 22-stop blog tour running Nov. 1–22. Check the THIS IS TEEN Pinterest page for all of the tour posts.
If you love the series but haven't gotten to the just-released book three yet, click here to read the prologue and or here to get the prologue audio excerpt.
Good luck & happy reading!
Learn more
Visit The Raven Cycle Official Site
Visit Maggie Stiefvater's Official Site
Visit the This is Teen Pinterest page to follow The Raven Cycle Tarot Tour
Follow Maggie on Twitter, Facebook, Tumblr and Instagram
About The Raven Cycle
Mystery, romance and the supernatural combine in this series from #1 New York Times bestselling author Maggie Stiefvater.
Book 1: The Raven Boys
Every year, Blue Sargent stands next to her clairvoyant mother as the soon-to-be dead walk past. Blue never sees them–until this year, when a boy emerges from the dark and speaks to her. His name is Gansey, a rich student at Aglionby, the local private school. Blue has a policy of staying away from Aglionby boys. Known as Raven Boys, they can only mean trouble.

But Blue is drawn to Gansey, in a way she can't entirely explain. He is on a quest that has encompassed three other Raven Boys: Adam, the scholarship student who resents the privilege around him; Ronan, the fierce soul whose emotions range from anger to despair; and Noah, the taciturn watcher who notices many things but says very little.

For as long as she can remember, Blue has been warned that she will cause her true love to die. She doesn't believe in true love, and never thought this would be a problem. But as her life becomes caught up in the strange and sinister world of the Raven Boys, she's not so sure anymore.
Book 2: The Dream Thieves
Now that the ley lines around Cabeswater have been woken, nothing for Ronan, Gansey, Blue, and Adam will be the same. Ronan, for one, is falling more and more deeply into his dreams, and his dreams are intruding more and more into waking life. Meanwhile, some very sinister people are looking for some of the same pieces of the Cabeswater puzzle that Gansey is after….
Book 3: Blue Lily, Lily Blue
There is danger in dreaming. But there is even more danger in waking up.

Blue Sargent has found things. For the first time in her life, she has friends she can trust, a group to which she can belong. The Raven Boys have taken her in as one of their own. Their problems have become hers, and her problems have become theirs.

The trick with found things though, is how easily they can be lost.
About the Author
Entertainment Weekly has called Maggie Stiefvater, "one of the finest YA novelists writing today." Maggie Stiefvater is a writer, artist, and musician and the New York Times bestselling author of Shiver, hailed by Publishers Weekly in a starred review as, "a lyrical tale," and by BookPage as, "beautifully written, even poetic at times, and a perfect indulgence for readers of all ages." There are more than 1.8 million copies of the Shiver trilogy in print. Since publication, rights to thirty-six foreign editions of Shiver have been licensed. Linger, the second book in the Shiver trilogy, debuted at #1 on the New York Times Bestseller list. The Scorpio Races (2011) was named to the following best of the year lists for 2011: Publishers Weekly, School Library Journal, The Horn Book and Kirkus Reviews. In addition, The Scorpio Races was named a 2012 Michael L. Printz Honor Book by the American Library Association and a New York Times Notable Children's Book. Time Magazine called, The Raven Boys, Book #1 in Stiefvater's latest New York Times bestselling series The Raven Cycle, "A flirtier kind of horror-fantasy, aimed at teens clutching tattered Twilight and Sandman paperbacks….Stiefvater's quirky prose has ample nerdy pleasures." Stiefvater lives in Virginia with her family. (Photo credit: Robert Severi)
Praise for the Series
"Equal parts thriller and mystery, with a measured dash of romance sprinkled on top…Maggie has woven such a unique, intriguing narrative that I struggled for comparisons.."— MTV.com

"[A] well-paced neo-Gothic thriller about a teenage fivesome's search for the supernatural . . ."— New York Times Book Review

"Simultaneously complex and simple, compulsively readable, marvelously wrought."— Kirkus Reviews, starred review

"Stiefvater's can't-put-it-down paranormal adventure will leave you clamoring for book 2."— Entertainment Weekly

"[A] tour de force of characterization, and while there is no lack of event or mystery, it is the way Stiefvater's people live in the reader's imagination that makes this such a memorable read."— Publishers Weekly, starred review
Prizing & samples courtesy of Scholastic.
Mon, November 3, 2014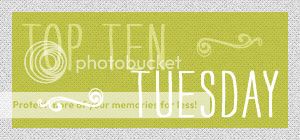 It's Top 10 Tuesday (hosted at The Broke and the Bookish) and the topic is:
Top 10 Books I Want to Reread
OMG SO MANY. I am Queen of Rereading. The number one thing I've been thinking about rereading is The Princess Diaries series, because I never finished. What do you think? Shall I go for it?
Here are nine other books from my shelves I'd love to reread…
(click for my reviews)
Raw Blue by Kirsty Eager
Sweethearts by Sara Zarr
Something Like Normal by Trish Doller
Saving June by Hannah Harrington
The Raven Boys by Maggie Stiefvater
The Statistical Probability of Love at First Sight by Jennifer E. Smith
Such a Rush by Jennifer Echols
Wanderlove by Kirsten Hubbard
Golden by Jessi Kirby
Most of these are just because I loved 'em but am fuzzy on some of the details so want to re-experience them. But The Raven Boys is because I didn't like it. BUT, you all LOVE it apparently, so I think I need a reread to give the series another chance.
Have you guys read all of these?
Mon, November 3, 2014
Mortal Heart (His Fair Assassin #3)
By Robin LaFevers
Publication date: Nov. 4, 2014
Houghton Mifflin Harcourt, 480 pages
Source: Borrowed from a generous friend (ILU!)
Annith has watched her gifted sisters at the convent come and go, carrying out their dark dealings in the name of St. Mortain, patiently awaiting her own turn to serve Death. But her worst fears are realized when she discovers she is being groomed by the abbess as a Seeress, to be forever sequestered in the rock and stone womb of the convent. Feeling sorely betrayed, Annith decides to strike out on her own.

She has spent her whole life training to be an assassin. Just because the convent has changed its mind doesn't mean she has.

But across Brittany, the tides of war are drawing ever nearer, with France pressuring the beleaguered duchess from all sides. Annith's search for answers threatens to rip open an intricate web of lies and deceit that sit at the heart of the convent she serves. Yet to expose them threatens the very fabric of her existence and risks an unforeseen chance at love, one that she can no longer deny. Annith must carefully pick a path and, gods willing, effect a miracle that will see her country—and her heart—to safety.

— Goodreads.com description
If the His Fair Assassins series was never-ending, I'd be quite happy. I truly can't imagine ever getting enough of these books — they are THAT enjoyable.
Ismae, Sybella and Annith are all so different but I love the uniting factor that really makes their stories shine: All three girls are hella strong.
There's cloaks! And horseback rides! And the making of camp! And while there is nothing I'd probably enjoy LESS in real life than being woodsy and wearing heavy, drapey clothes and not having a car…I can't get enough of it in books.
Plus, romance and action and history and SURPRISES and all of my favorite things. I loved Annith just as much as I came to love the other two girls. Friends, put this series on your must-read lists. Trust me.