Sat, May 11, 2013
NOTE: I am ridiculous and started a list called "Things I Like in Books." These are drawings of the things on that list. Truly AWFUL drawings. I am now going to share them with you one at a time. Mostly on Saturdays. Okay, here we go.
I like it when books involve road trips.
Examples: Amy and Roger's Epic Detour by Morgan Matson and Don't Stop Now by Julie Halpern. Now, I don't actually LIKE road trips. Ugh, I get carsick and phantom leg cramps just thinking about it. BUT I LOVE ROAD TRIP BOOKS! Adventure! Cramped quarters! It's delightful. Any road trip books you could recommend?
Fri, May 10, 2013
My book club is, for lack of a better word, eclectic. We've read everything from Fifty Shades of Grey to a Charles Manson bio. Like I said, eclectic. But also up for anything!
So when we were asked to throw a themed book club for Suzanne Young's The Program, all 12+ of us jumped at the chance.
My sister from another mister Tara is sharing how the meeting and book club discussion went today on Fiction Folio, and I'm sharing how I handled hostess duties — aka themed food and drinks!
First up: cocktails.
In The Program, a teenage suicide epidemic is sweeping the country. To deal, adults are sending teens to "The Program" to take happy little pills and get their memories wiped. So, of course, we drank "Forget Me Nots."
That's a wedge of lime juiced into a glass of ice. Add 1 shot of Kurant Vodka, 1/2 shot of apple schnapps, 1/2 shot of cherry brandy and top with cranberry juice. Whoa it was potent and lived up to its name. As my friend Michelle said, "This tastes like college!"
Next up: Snacks!
Katie, posing above, was our champion baker of the night! Katie made us cupcakes with candy "medicine" on top, plus Skittles "pills" that match the color-coded, mind-erasing ones from the book. How cute is this?!
Love it! Don't forget to visit Tara's site for info on the book itself. Plus, enter below for a chance to win a book club party featuring The Program for your very own club!
About The Program
Sloane knows better than to cry in front of anyone. With suicide now an international epidemic, one outburst could land her in The Program, the only proven course of treatment. Sloane's parents have already lost one child; Sloane knows they'll do anything to keep her alive. She also knows that everyone who's been through The Program returns as a blank slate. Because their depression is gone—but so are their memories.
Under constant surveillance at home and at school, Sloane puts on a brave face and keeps her feelings buried as deep as she can. The only person Sloane can be herself with is James. He's promised to keep them both safe and out of treatment, and Sloane knows their love is strong enough to withstand anything. But despite the promises they made to each other, it's getting harder to hide the truth. They are both growing weaker. Depression is setting in. And The Program is coming for them.
About the author
Suzanne Young currently lives in Tempe, Arizona, where she teaches high school English. When not writing obsessively, Suzanne can be found searching her own tragic memories for inspiration. She is the author of several books for teens, including The Program, A Need So Beautiful, and A Want So Wicked.
Find out more
Learn more about The Program
Visit Suzanne Young's Official Site
Follow Suzanne Young on Twitter
Thu, May 9, 2013
Raise your hand if you love Simone Elkeles! I do! So I agreed to participate in the cover reveal of her new book, Wild Cards. I've never done a cover reveal, actually, but I was really curious to see if the cover fit into the kissy-kissy themes of her others, so thought this would be the perfect first time. See for yourself!
I spy some kissing!!!
About the book:
Wild Cards
By Simone Elkeles
Publication date: Oct. 1, 2013
Walker Books for Young Readers
After getting kicked out of boarding school, bad boy Derek Fitzpatrick has no choice but to live with his ditzy stepmother while his military dad is deployed. Things quickly go from bad to worse when he finds out she plans to move them back to her childhood home in Illinois. Derek's counting the days before he can be on his own, and the last thing he needs is to get involved with someone else's family drama. Ashtyn Parker knows one thing for certain–people you care about leave without a backward glance. A football scholarship would finally give her the chance to leave. So she pours everything into winning a state championship, until her boyfriend and star quarterback betrays them all by joining their rival team. Ashtyn needs a new game plan, but it requires trusting Derek—someone she barely knows, someone born to break the rules. Is she willing to put her heart on the line to try and win it all?

— Publisher description
For other pieces, check out these blogs:
The Story Siren
Once Upon A Twilight
Green Bean Teen Queen
Wild Cards Facebook page (Visit on 5/10 to see the full cover!)
For more information:
Simone's FB page
Simone's author page
Wed, May 8, 2013
"Waiting On" Wednesday is a weekly event hosted by Breaking the Spine to shine a spotlight on upcoming releases that we're eagerly anticipating.
This Song Will Save Your Life
By Leila Sales
Farrar, Straus and Giroux (BYR), 288 pages
To be released Sept. 17, 2013
Making friends has never been Elise Dembowski's strong suit. All throughout her life, she's been the butt of every joke and the outsider in every conversation. When a final attempt at popularity fails, Elise nearly gives up. Then she stumbles upon a warehouse party where she meets Vicky, a girl in a band who accepts her; Char, a cute, yet mysterious disc jockey; Pippa, a carefree spirit from England; and most importantly, a love for DJing.

Told in a refreshingly genuine and laugh-out-loud funny voice, THIS SONG WILL SAVE YOUR LIFE is an exuberant novel about identity, friendship, and the power of music to bring people together.

— Goodreads.com description
1. Gorgeous cover
2. Leila Sales
3. Outsider girl
4. Warehouse parties!
5. Music
Um, what isn't there to like about about this book description?!
Mon, May 6, 2013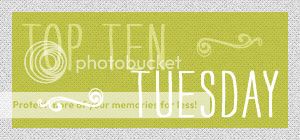 It's Top 10 Tuesday (hosted at The Broke and the Bookish) and the topic is:
Top 10 Books When You Need Something Light & Fun
For a good time, try…
Going Vintage by Lindsey Leavitt
Bittersweet by Sarah Ockler
Past Perfect by Leila Sales
52 Reasons to Hate My Father by Jessica Brody
One Night That Changes Everything by Lauren Barnholdt
Heist Society by Ally Carter
How to Ruin a Summer Vacation by Simone Elkeles
Endless Summer by Jennifer Echols
Ten Things We Did (And Probably Shouldn't Have) by Sarah Mlynowski
Paranormalcy by Kiersten White
Oh, gosh, I feel like this would be the most fun readathon ever. Who's in?