Thu, December 5, 2013
Racing Savannah
By Miranda Kenneally
Publication date: Dec. 3, 2013
Sourcebooks Fire, 304 pages
Source: Publisher
They're from two different worlds.

He lives in the estate house, and she spends most of her time in the stables helping her father train horses. In fact, Savannah has always been much more comfortable around horses than boys. Especially boys like Jack Goodwin—cocky, popular and completely out of her league. She knows the rules: no mixing between the staff and the Goodwin family. But Jack has no such boundaries.

With her dream of becoming a horse jockey, Savannah isn't exactly one to follow the rules either. She's not going to let someone tell her a girl isn't tough enough to race. Sure, it's dangerous. Then again, so is dating Jack…

— Goodreads.com description
I haven't read Things I Can't Forget, but I definitely enjoyed Miranda Kenneally's Catching Jordan and Stealing Parker.
They've fun, they're light, they're humorous, and — best of all — they're about girls who are into sports. I think we don't see that often enough in YA!
That being said — they're not my favorite books of all time. I don't get as committed to the characters as I know other readers who LOOOOVE them do, and I do get a little case of Old Lady Syndrome when I read 'em.
I felt very similarly about the latest in the series, Racing Savannah, though I loved its feature sport best of all: horse racing! I'm a huge horse racing fan,* so I had such fun as I read.
On the downside here, I didn't care for the main boy! Boo! I thought he was a little shady, I guess?
So, I'd say: If you liked the other books, you'll definitely want to check this one out.
* Me at the Derby a few years ago!
Wed, December 4, 2013
Roomies
By Sara Zarr & Tara Altebrando
Publication date: Dec. 24, 2013
Little, Brown Books for Young Readers, 288 pages
Source: Publisher
It's time to meet your new roomie.

When East Coast native Elizabeth receives her freshman-year roommate assignment, she shoots off an e-mail to coordinate the basics: television, microwave, mini-fridge. That first note to San Franciscan Lauren sparks a series of e-mails that alters the landscape of each girl's summer — and raises questions about how two girls who are so different will ever share a dorm room.

As the countdown to college begins, life at home becomes increasingly complex. With family relationships and childhood friendships strained by change, it suddenly seems that the only people Elizabeth and Lauren can rely on are the complicated new boys in their lives . . . and each other. Even though they've never met.

National Book Award finalist Sara Zarr and acclaimed author Tara Altebrando join forces for a novel about growing up, leaving home, and getting that one fateful e-mail that assigns your college roommate.

— Goodreads.com description
Ladies and gentlemen: Finally! Roomies is the New Adult novel I have been waiting for!
It's relatable. It's fun. It's not overly angsty and dramarama. HOORAY!
The story takes place entirely during that scary but wild fun summer between high school and college. I loved seeing a book that took on all the normal but still very valid and BIG feelings that can bring up.
Plus, Zarr and Altebrando swapped between two main characters' points of view. I usually hate this, but in Roomies I adored how well they weaved them together through their emails and interactions.
If, like me, you've been dying to read a true-to-life new adult novel, you have to give Roomies a try.
Mon, December 2, 2013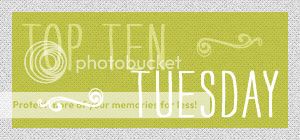 It's Top 10 Tuesday (hosted at The Broke and the Bookish) and the topic is:
Top 10 2014 Releases I'm Dying to Read
AHAHAH and you thought I'd stick to 10? Pshhh!
New-to-Me Authors
The Sound of Letting Go by Stasia Kehoe Ward (Feb. 6)
The Summer I Found You by Jolene Perry (March 1)
Side Effects May Vary by Julie Murphy (March 18)
Open Road Summer by Emery Lord (April 15)
Catch a Falling Star by Kim Culbertson (April 29)
More from Authors I Love
Better Off Friends by Elizabeth Eulberg (Feb. 25)
The Geography of You and Me by Jennifer E. Smith
To All the Boys I've Loved Before by Jenny Han (April 22)
Free to Fall by Lauren Miller (May 13)
Since You've Been Gone by Morgan Matson (May 6)
#scandal by Sarah Ockler (June 17)
Landline by Rainbow Rowell (July 8)
Series
Ignite Me by Tahereh Mafi (Shatter Me #3/Feb. 4)
Isla and the Happily Ever After by Stephanie Perkins (Anna and the French Kiss #3/May 13)
Silver Shadows by Richelle Mead (Bloodlines #5/July 29)
That I've Already Read and Loved
Heartbeat by Elizabeth Scott (Jan. 28)
The Winner's Curse by Marie Rutkoski (March 4)
And a Few More That Don't Have Covers Yet
Shadow Scale by Rachel Hartman (Seraphina #2/March 24)
The Infinite Sea by Rich Yancey (The Fifth Wave #2/May 6)
Sinner by Maggie Stiefvater (The Wolves of Mercy Falls #4/July 1)
Not in the Script by Amy Finnegan (Sept. 2014)
Mortal Heart by Robin LaFevers (His Fair Assassin #3/Sometime in 2014)
The Young Elites by Marie Lu (Sometime in 2014)
Untitled by Sara J. Maas (Throne of Glass #3/Sometime in 2014)
Good Girl by Donna Freitas (sometime in 2014)
Mon, December 2, 2013
The Fiery Heart (Bloodlines #4)
By Richelle Mead
Publication date: Nov. 19, 2013
Razorbill, 438 pages
Source: Purchased for myself!
In The Indigo Spell, Sydney was torn between the Alchemist way of life and what her heart and gut were telling her to do. And in one breathtaking moment that Richelle Mead fans will never forget, she made a decision that shocked even her. . . .

But the struggle isn't over for Sydney. As she navigates the aftermath of her life-changing decision, she still finds herself pulled in too many directions at once. Her sister Zoe has arrived, and while Sydney longs to grow closer to her, there's still so much she must keep secret. Working with Marcus has changed the way she views the Alchemists, and Sydney must tread a careful path as she harnesses her profound magical ability to undermine the way of life she was raised to defend. Consumed by passion and vengeance, Sydney struggles to keep her secret life under wraps as the threat of exposure—and re-education—looms larger than ever.

Pulses will race throughout this thrilling fourth installment in the New York Times bestselling Bloodlines series, where no secret is safe.

— Goodreads.com description
I kept delaying my trip to the bookstore to pick up The Fiery Heart because I didn't want it to be over too quickly. That fear was totally founded: I plowed through it in a day and the painful wait for Silver Shadows, book number 5 in the Bloodlines series, is already on. Is it July 2014 yet?!
I was someone who once judged these books by their names and covers, but I've said it before and I'll say it again: The Vampire Academy/Bloodline books are some of the most engaging, suspenseful and emotionally charged young adult novels I've read.
In The Fiery Heart Adrian and Sydney are as compelling as ever — as are the friendly faces of the full returning cast of characters, from Rose and Dmitri to all our new Bloodlines friends.
I'm going to keep this review spoiler-free for those who haven't read it yet, but I will say it reminded me of Blood Promise. Richelle Mead knows how to rock a fourth book in a series, you guys. This one slayed me: both because of the depth of emotion it made me feel and the turning point it presented in the series.
Page 301: It started out a little cheesy (hey, it IS a Vampire Academy book), but quickly became one of the most meaningful scenes I've read in a long time.
Page 412: GOOSEBUMPS UP AND DOWN MY ARMS.
I know I've gotten a little rave-y over these books, but stick in my mind days, weeks, months after I've finished them. So amazing.
For those new to the series, my previous reviews (all spoiler-free): Bloodlines | The Golden Lily | The Indigo Spell
Fri, November 29, 2013
Turns out, I'm into more than just books. So I figured you are, too!
Here's what I've been up to this week…
what i did
Um, what I did this week was drop my phone in the toilet. HAHAHA.
Turns out, that is an accident equal parts upsetting AND expensive, so I am currently phoneless. AKA also mostly photo-less for this post. Boo!
links i loved
I wasn't REALLY loving the casting for the If I Stay movie, but then Gayle Forman tweeted this set pic from @trevordukemoretz of Mia & Adam and…
…OKAY kissing pictures win me over every time.
Speaking of Gayle: Last week, I meant to post this article she wrote about fans' negative reactions to endings but totally forgot. I think she makes a LOT of great points. Though, I have to say, seriously?! Who had an issue with the ending of Just One Year? I don't get that. I loved it! And the issue with Allegiant, well, over time I realize I'm at peace with the ending but had bigger-picture issues with the book as a whole.
OH! One thing I did this week: I saw Catching Fire! I LOVED IT. Peeta = my fave, even if my husband's reaction was that he was a pansy.
I really want you all to read this article about Peeta and how in the movies he comes across in the role of a traditional "movie girlfriend." It's an interesting look at gender roles.
And my favorite video of the week: Harrison Ford's reaction to having his MIND BLOWN by illusionist David Blaine.*
* Who, by the way, I've seen in person at my old job and is more handsome than you'd think. He also checked our me and my friend's butts on the treadmill a few minutes before he went on to hold his breath for 16 minutes underwater but that's a longer story.
books i read
At the time I wrote this, I'd read all of Being Sloane Jacobs by Lauren Morrill and half of The Fiery Heart by Richelle Mead. I'm sort of weirded out that I didn't read the latest Mead book on the day of its release — who am I? It's sooo good so far. And Being Sloane Jacobs was a cute book — hockey, ice-skating and a bit of The Parent Trap thrown in there. I'll do a full review on both later!
books i added to my shelves
I bought a hardcover copy of The Fiery Heart this week, plus I got No Good Duke Goes Unpunished by Sarah MacLean for my Kindle because I love romance every now and then just as much as a good YA!
Here's what came for me in the email:
Many thanks to the publishers who shared these titles with me!
Have you guys heard of or read these Jay Crownover books? I hadn't heard of them before, but then last week when I was in the airport they were EVERYWHERE. Did I not get the memo? What do you think of them? They look NA-ish/angsty to me?
posts i wrote
- I reviewed Champion by Marie Lu the final book in the Legend series. IT WAS SO GOOD.
- I shared 10 books I'm thankful for (yayyy Thanksgiving)!
- My third annual Holiday Gift Guide came out, featuring tons of gift ideas for the bookish people in your lives.
- And I asked for your suggestions for which books to read over my long weekend.
Hope you all are having a restful and thankful weekend!