Fri, August 15, 2014
what i did
Um, what didn't I do over the past two weeks? They've been super busy, especially in terms of housework. We rewired our dining room and put up this cool new chandelier:
That's me enjoying a beer with my friend Jake afterward — let's be honest, he did most of the hard labor.
And we also got this CRAZY big new couch.
And re-landscaped our front yard. Soooo yeah. LOTS OF WORK.
links i loved
Frozen' Director Jennifer Lee to Adapt 'A Wrinkle in Time'
CALVIN O'KEEFE!
In a Balm of Space and Time, Healing
Just when you think you can't love Gayle Forman any more…her If I Stay origin story.
50 Signs You're Addicted to Reading
True. So, so true.
New Adult: A Book Category For Twentysomethings by Twentysomethings
I thought this article was a really interesting look at NA — well worth the read.
books i added to my shelves
OK, maybe I went a little crazy at my library's book sale. Books were 50 cents! HOW COULD I NOT? It's sort of a big deal — the line to get in was all the way down the block!
Here's my YA stash:
I've actually read most of these but never owned my own copies till now! Oh! And Sixteen a compilation of stories that includes A JESSICA DARLING STORY I NEVER KNEW EXISTED. And I called myself a fan! Sigh!
All of the Harry Potter books
All-American Girl by Meg Cabot (LOVE)
Harmonic Feedback by Tara Kelly
Keeping the Moon by Sarah Dessen
Dreamland by Sarah Dessen
Sixteen
Losing It by Cora Carmack
North of Beautiful by Justina Chen
Avalon High by Meg Cabot
Hex Hall by Rachel Hawkins
Then, Tara and I went a little loco and bought up a BUNCH of romance novels. I mean, at 50 cents…why not?!
HAAAA.
On to the real stuff…
From Jamie:
MCCAFFERTY! JESSICA DARLING! JAMIE! I LOVE YOU!
For my Kindle (thank you to St. Martin's Griffin):
Sway by Kat Spears
My True Love Gave to Me, holiday stories by YA authors compiled by Stephanie Perkins
In the mail:
365 Days of Wonder: Mr. Browne's Book of Precepts by R.J. Palacio
Sublime by Christina Lauren
The Time Fetch by Amy Herrick
Taken by David Massey
Thank you to Knopf Books for Young Readers, Simon & Schuster Books for Young Readers, Algonquin Young Readers and Chicken House!
books i read
The big one: Last week I got an early copy of Isla & the Happily Ever After from a VERY generous book friend. So I read and devoured that immediately. (read my review)
I also read:
The Fever by Megan Abbott (book club pick!)
Silver Shadows by Richelle Mead (read my review)
Let's Get Lost by Adi Alsaid (read my review)
Rites of Passage by Joy N. Hensley (enjoyed, but more to come on that later)
Losing It by Cora Carmack (didn't love it as much as I wanted to — so it goes with me & NA)
Also worth noting: I did the math, and I am reading books at a rate of half a book per day so far this year. GOODNESS.
other fun stuff:
BOOK ACCESSORIES!
I got this for my car:
And this case for my phone to highlight my Pride & Prejudice love:
I think the irony of who is saying the highlighted quote is hilarious…I really hope the people who made thing did it in a tongue-in-cheek way vs. ignorant. I think it's funny to REAL P&P fans.
Hope your week went well. TGIF!
Thu, August 14, 2014
Isla and the Happily Ever After (Anna and the French Kiss #3)
By Stephanie Perkins
Publication date: Aug. 14, 2014
Dutton, 339 pages
Source: Borrowed the galley from a lovely book friend
From the glittering streets of Manhattan to the moonlit rooftops of Paris, falling in love is easy for hopeless dreamer Isla and introspective artist Josh. But as they begin their senior year in France, Isla and Josh are quickly forced to confront the heartbreaking reality that happily-ever-afters aren't always forever.

Their romantic journey is skillfully intertwined with those of beloved couples Anna and Étienne and Lola and Cricket, whose paths are destined to collide in a sweeping finale certain to please fans old and new.

— Goodreads.com description
AHHH I HAVE SO MANY FEELINGS.
GOOD feelings (albeit complex) for those of you who were concerned. I'm happy to report that Isla and the Happily Ever After is well worth our wait for it.
Because I fail at organizing my thoughts, here they are at random:
- Stephanie Perkins is hilarious
- I loved Kurt
- I will never ever ever send my kids to boarding school
- This book is more ADULT than I remember the other being and yes I mean that in the ALL CAPS way
- Barcelona is described perfectly; Stephanie Perkins so wonderfully captures setting in her stories
- Josh cries a lot (not judging, just observing)
- The romance is really overwrought, but um, that's sort of the point; I mean, look at the title of the book
- There were about 100 things about the book and the romance specifically that, as I said above, would have driven me INSANE were it not so damn well done
- Most of this was a big ole case of Old Lady Syndrome, especially when Etienne and Anna came back into the picture
- But again, it was like "This should be bothering me but it ISN'T so maybe Stephanie Perkins is a sorcerer because I don't know what else explains it"
- PS: I don't remember Cricket and Lola being so OUT THERE; I still love them best
- Even though I definitely don't love some of her other characters, Stephanie is so fantastic at making me "get" them — which I think it more important than loving them
Wow. This was probably a very un-useful review if you couldn't follow my train of thought. To sum up: Did I love every little thing? No. Did I love the sum of those parts? Absolutely. If you wanted to you could pick it apart, but the writing is so superb and the tone so perfect that it overwhelms anything else. You guys will not be disappointed.
Wed, August 13, 2014
Let's Get Lost
By Adi Alsaid
Publication date: July 29, 2014
Harlequin Teen, 352 pages
Source: A gift from my friend DJ! Thank you, sir!
Five strangers. Countless adventures. One epic way to get lost.

Four teens across the country have only one thing in common: a girl named LEILA. She crashes into their lives in her absurdly red car at the moment they need someone the most.

There's HUDSON, a small-town mechanic who is willing to throw away his dreams for true love. And BREE, a runaway who seizes every Tuesday—and a few stolen goods along the way. ELLIOT believes in happy endings…until his own life goes off-script. And SONIA worries that when she lost her boyfriend, she also lost the ability to love.

Hudson, Bree, Elliot and Sonia find a friend in Leila. And when Leila leaves them, their lives are forever changed. But it is during Leila's own 4,268-mile journey that she discovers the most important truth— sometimes, what you need most is right where you started. And maybe the only way to find what you're looking for is to get lost along the way.

— Goodreads.com description
I love road trip books. I love love love them.
And Let's Get Lost was a unique one — instead of just following Leila on her road trip to see the Northern Lights, the story follows four people she meets and whose lives she touches along the way.
It's quite lovely how it shows the impact you can have on someone's life if you are as open-minded and as giving of your time as Leila. And I love her spirit — she's a force, that girl!
But we didn't get to know her at all until the very end, which made her too manicpixiedreamgirl for my tastes. I am just not into that. And then when we did get to know her…her story was so far-fetched and underdeveloped that it didn't sit well with me.
I was definitely a fan of the spirit of this book and the creativity in its telling, but my lack of connection to Leila meant I didn't love love love it.
Mon, August 11, 2014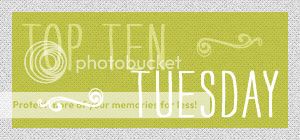 It's Top 10 Tuesday (hosted at The Broke and the Bookish) and the topic is:
Top 10 Books I'm Not Sure I Want to Read
To read or not to read? I need you to weigh in on these books from my "to-read" shelf so I know whether I should move them up my list!
Unremembered by Jessica Brody
Five Summers by Una LaMarche
The List by Siobhan Vivian
Just Like Fate by Cat Patrick & Suzanne Young
Famous Last Words by Jennifer Salvato Doktorski
Smart Girls Get What They Want by Sarah Strohmeyer
When the Stars Go Blue by Caridad Ferrer
Au Revoir, Crazy European Chick by Joe Schreiber
The Miseducation of Cameron Post by Emily M. Danforth
Ruby Red by Kerstin Gier
Can't wait to hear your thoughts — thanks in advance!
Mon, August 11, 2014
Silver Shadows (Bloodlines #5)
By Richelle Mead
Publication date: July 29, 2014
Razorbill, 380 pages
Source: Purchased
Sydney Sage is an Alchemist, one of a group of humans who dabble in magic and serve to bridge the worlds of humans and vampires. They protect vampire secrets—and human lives.

In The Fiery Heart, Sydney risked everything to follow her gut, walking a dangerous line to keep her feelings hidden from the Alchemists.

Now in the aftermath of an event that ripped their world apart, Sydney and Adrian struggle to pick up the pieces and find their way back to each other. But first, they have to survive.

For Sydney, trapped and surrounded by adversaries, life becomes a daily struggle to hold on to her identity and the memories of those she loves. Meanwhile, Adrian clings to hope in the face of those who tell him Sydney is a lost cause, but the battle proves daunting as old demons and new temptations begin to seize hold of him. . . .

Their worst fears now a chilling reality, Sydney and Adrian face their darkest hour in this heart-pounding fifth installment in the New York Times bestselling Bloodlines series, where all bets are off.

— Goodreads.com description
Usually my reviews of the Bloodlines series are spoiler-free. But this time around? ALL SPOILERS ALL THE TIME.
WARNING: Do not read further if you haven't read the book, because I really want to discuss it without tiptoeing around things.
Okay, here we go.
Poor, poor Sydney. And, wow, Richelle Mead you are DARK. This series — and the Vampire Academy books before it — has always been equal parts humor and dark, dark twistiness. As Sydney endured torture at the hands of her fellow Alchemists, it was as dark as ever. And REALLY difficult to read those torture scenes.
Despite being 380 pages, I don't feel like a lot of the plot moved forward in this book, which is hard when we all have such a long, desperate wait between installments. I was a little disappointed — not because I didn't love this book — but because I wanted more more MORE.
It set us up for plenty of "more" to deal with in the books to come — Sydney's PTSD is sure to be a major issue, as is Adrian's bender (more on that later)" — but didn't satisfy any of my Bloodlines cravings NOW. So, yeah, I'm a little pouty.
But, still, any time spent with these lovely characters does feel like a gift. I LOVE THIS SERIES SO MUCH.
Okay, Adrian. Freaking Adrian. I love the guy. I do. But GET YOUR ACT TOGETHER, SON. I was so disappointed by his backslide into partying and booze in Sydney's absence. And Nina. WOW. I am so angry with him about Nina. This better come out to Sydney…I'm so irked it didn't in Silver Shadows.
Actually, I'm irked with both him AND Sydney. They really need to learn to communicate…can't you just see how everything is set up to hit the fan because they're avoiding talking about anything real?
But, okay, that wedding was adorable. I cannot believe that actually happened. I loved it and didn't see it coming at all and this was the big plot point that I was so so so pumped about. Oh, and that cliffie! Where is Jill?! AHHH!
So that's where I'm at with things: Devoured it. Enjoyed it. But felt it left me hanging a bit and sort of served to set up the next book more than anything. And I'm impatient so that is tough for me!
Have you read it? Thoughts? Let's talk!