Mon, October 20, 2014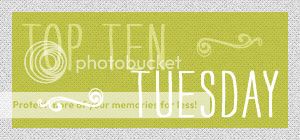 It's Top 10 Tuesday (hosted at The Broke and the Bookish) and the topic is:
Top 10 New Series I Want To Start
All right, these are supposed to be series from the past two years or so. Which was sort of hard for me to come up with, because I'm good at starting series…just not so good at finishing them. Oops!
Anyway, here's a list of 10 new series starters I've been meaning to try. Here's where you come in: I need you to tell me if there are any on this list that I NEED to prioritize. Have you read any of these?
The Young Elites by Marie Lu
Nantucket Blue by Leila Howland
Winger by Andrew Smith
Variant by Robison Wells
Let the Sky Fall by Shannon Messenger
The Testing by Joelle Charbonneau
Black City by Elizabeth Richards
Hemlock by Kathleen Peacock
Falling Kingdoms by Morgan Rhodes
Monument 14 by Emmy Laybourne
OK, where do I start?! Help!
Mon, October 20, 2014

Can you guys believe I — the big fantasy fan — have only read one (gasp! one!) Cinda Williams Chima book? I've heard so many good things about her Seven Realms & The Heir Chronicles series…but I really have no excuse.
Are you a fan? Should I read them? Let me know in the comments!
If you are dying to have your own copies of these books or, like me, haven't tried them yet — you're in luck. In honor of the release of The Heir Chronicles: The Sorcerer Heir by Cinda Williams Chima on Oct. 21, I'm giving aways the COMPLETE Heir Chronicles series.
Yeah, major, I know.
Check below for more info — and remember to let me know what you think about these books. Good luck and happy reading!
OFFICIAL LINKS
Visit Cinda Williams Chima's Official Site
Follow Cinda Williams Chima on Twitter
Follow Disney-Hyperion on Twitter and Instagram
ABOUT THE SORCERER HEIR
The can't-miss finale to the beloved and bestselling Heir Chronicles series.
The delicate peace between Wizards and the underguilds (Warriors, Seers, Enchanters, and Sorcerers) still holds by the thinnest of threads, but powerful forces inside and outside the guilds threaten to sever it completely. Old friends and foes return as new threats arise in this stunning and revelatory conclusion to the beloved and bestselling Heir Chronicles series.
The Sorcerer Heir is a self-contained story, accessible to readers just discovering the Heir series, but loyal fans will be rewarded by visits from characters they love (and love to hate) from the earlier installments.
ABOUT THE HEIR CHRONICLES
The Heir Chronicles series will keep readers glued to their seats through riveting fight scenes, deadly political machinations, burgeoning romance, and the unfolding intrigues of a contemporary magical world.
Series order:
The Warrior Heir
The Wizard Heir
The Dragon Heir
The Enchanter Heir
The Sorcerer Heir
Praise for the series:
"Chima offers a pitch-perfect blend of high fantasy and small-town reality…" –The Bulletin of the Center for Children's Books (starred review)
"Chima uses her pen like a wand and crafts a wonderfully rich web of magic, while thankfully leaving some dangling threads for subsequent tales." –VOYA (starred review)
"A smoldering story soaked in tears, sweat and blood, constantly threatening to blaze into an inferno. Spellbinding." –Kirkus Reviews (starred review)
ABOUT THE AUTHOR
Cinda Williams Chima is the New York Times bestselling author of The Warrior Heir, The Wizard Heir, The Dragon Heir, The Enchanter Heir, and the four books of the Seven Realms series: The Demon King, The Exiled Queen, The Gray Wolf Throne, and The Crimson Crown. Cinda is a graduate of The University of Akron and Case Western Reserve University. She lives in Ohio with her family.
GIVEAWAY
Winner receives the complete The Heir Chronicles series. Prizing & samples courtesy of Disney Hyperion. Giveaway open to U.S. addresses only.
Thu, October 16, 2014
My True Love Gave to Me: Twelve Holiday Stories
Edited by Stephanie Perkins
Publication date: Oct. 14, 2014
St. Martin's Press, 320 pages
Source: Publisher
If you love holiday stories, holiday movies, made-for-TV-holiday specials, holiday episodes of your favorite sitcoms and, especially, if you love holiday anthologies, you're going to fall in love with MY TRUE LOVE GAVE TO ME: TWELVE HOLIDAY STORIES by twelve bestselling young adult writers, edited by international bestselling author Stephanie Perkins.

— Goodreads.com description
There are 12 AWESOME stories in this book, and I wrote down my thoughts as I read…and I didn't even edit them. Yeah! UNFILTERED REVIEW!
Rainbow Rowell:
Oh sweet Jesus that is some hot stuff. Kicking it off with a bang. If the whole book is this good…gah.
Kelly Link:
I have to Google who this is. A very mysterious story and I don't get the ending but I like it. I want to know more.
Matt de la Peña:
Sweet. Made me feel thankful, which is a very X-massy thing. Why haven't I read his books yet? Must remedy this.
Jenny Han:
ELVES! THIS STORY IS ABOUT ELVES! What! Jenny Han, who are you?! Also: Ahhh, the heartbreak begins. There you are, Jenny. It was only a matter of time before this book took a heartache turn…so good, though. Bittersweet! Can this be a Hallmark Channel holiday movie?
Mid-book thought: Can this book please never end?
Stephanie Perkins:
Sooooo her. Love her characters. And their makeouts.
David Levithan:
Ahhh, it reminds me of the uncertainty that comes with being a teenager.
Holly Black:
I should have read this book without knowing who wrote what and then guessed. This felt very Holly Black to me. Strange, but enjoyable.
Gayle Forman:
Finding myself dissatisfied that short stories means so little time with the characters. But I'm enjoying that the writers still get me to latch on to them and CARE so quickly.
Myra McEntire
Another sweet one. I like that she did a boy point-of-view.
Kiersten White:
I'm running out of ways to say these stories are "cute." Again, I want to know more about these characters!!!
Ally Carter:
I liked the Hollywood stuff. These stories are going too fast!
Laini Taylor:
Again, I wish I'd read this blind. I think I'd know this was her in a heartbeat. Quirky ancient world-building.
OMG WHY IS THIS BOOK OVER I WANT 12 MORE STORIES AT LEAST.
Okay, so good. Read this. The end.
Wed, October 15, 2014
Not in the Script (If Only… #3)
By Amy Finnegan
Publication date: Oct. 7, 2014
Bloomsbury USA Childrens, 392 pages
Source: Publisher
Millions of people witnessed Emma Taylor's first kiss—a kiss that needed twelve takes and four camera angles to get right. After spending years performing on cue, Emma can't help but wonder if any part of her life is real anymore . . . particularly her romances. She's been burned by heartthrobs (and the press) one too many times, but there's something about Emma's co-star on her new TV show Coyote Hills that is irresistible. Jake Elliott is gorgeous, smart and actually cares about Emma's charitable foundation. But she's sworn off on-set relationships. They always end badly . . . don't they?

This third novel in the deliciously fun If Only romance line proves that the best kinds of love stories don't follow a script.

— Goodreads.com description
Sure, Not in the Script was predictable, but it was also sweet and fun. And, in my book, "sweet and fun"" rules all. So there!
The romance was Disney Channel movie-esque, which may not be your thing, but frankly it's JUST what I need sometimes. And don't pretend you're too cool for school and don't know what I mean by that.
Bonus: Jake and Emma were both nice and flirty-fun and seemed like genuinely GOOD people…which you don't get too often in books that portray Hollywood.
So I'll keep this short and sweet, just like the book. If you're in the mood for something sugary but not saccharine (there IS a difference), check this one out.
Thu, October 9, 2014
what i did
Did a little fall apple shopping in Wisconsin with the fam…mmm.
…and had all our relatives over for a housewarming party (finally)! Check out the beautiful cookie tray my mom made:
Oh! And I saw Gone Girl with my book club. LOVED it. Have you guys seen it yet?
links i loved
Raise Your Hand If You Were A BOOK IT! Kid
Me!!! Pizza Hut's Book It program is back — alums can sign up and get a personal pan pizza like in the golden olden days. You know I was a kid who read read read, so I was all about this.
Did you see the SNL parody of The Fault in Our Stars? Hilarious!
An Articles Club
Our book club passed around this post about an articles club another group of girls started. It's a great idea, and this part reminded me why I love my book club so darn much:
The fascinating thing about an articles club is how close you get to—and how much you learn about—the women in the group. The conversations get intimate pretty quickly—we've talked about marriage, breakups, parenting, career goals, what success means, the saddest and happiest times in our lives, depression, body image, aging, feminism, religion, everything under the sun. I've learned things about my friends that I hadn't known after years and years of friendship, since we end up talking about such specific, deep topics. It's wonderful.
And last but not least, this is Judy Blume's house for sale. Let's all pitch in and buy it together and summer there and read books and pretend we're Judy. Who's in?
books i added to my shelves
Many thanks to my friends at Delacorte Press, Little Brown Books for Young Readers, Poppy, Balzer + Bray, Henry Holt and Co. for these books for my Kindle:
For Real by Allison Cherry
The Darkest Park of the Forest by Holly Black
Love, Lucy by April Linder
The Pretty App by Katie Sise
Finding Mr. Brightside by Jay Clark
I'll Meet You There by Heather Demetrios
Loop by Karen Akins
And thanks to Feiwel & Friends, Henry Holt and Co., Macmillan, Harper, Bloomsbury, Swoon Reads and Farrar, Straus and Giroux for sending me these goodies in the mail:
The Queen of Bright & Shiny Things by Ann Aguirre
Dream a Little Dream by Kerstin Gier
Skandal by Lindsay Smith (Sektret #2)
Boys Don't Know by T.S. Easton
Endgame: The Calling by James Frey and Nils Johnson-Shelton
Positive: A Memoir by Paige Rawl with Ali Benjamin
Clariel by Garth Nix
Not a Drop to Drink by Mindy McGinnis
And the sequel, In a Handful of Dust
Soulprint by Megan Miranda
The Boy Next Door by Katie Van Ark
The Winner's Crime by Marie Rutkoski (The Winner's Trilogy #2 OMGGGG)
The Secrets We Keep by Trisha Leaver
Ahhh. So MANY. Are you looking forward to reading any of these?
books i read
These three books are coming up in reviews soon — keep an eye out:
Not in the Script by Amy Finnegan
The Fine Art of Pretending by Rachel Harris
Famous in Love by Rebecca Searle