Mon, April 7, 2014
The Last Forever
By Deb Caletti
Publication date: April 1, 2014
Simon Pulse, 336 pages
Source: Publisher
Endings and beginnings sit so close to each other that it's sometimes impossible to tell which is which.

Nothing lasts forever, and no one gets that more than Tessa. After her mother died, it's all she can do to keep her friends, her boyfriend, her happiness from slipping away. And then there's her dad. He's stuck in his own daze, and it's so hard to feel like a family when their house no longer seems like a home.

Her father's solution? An impromptu road trip that lands them in a small coastal town at Tessa's grandmother's. Despite all the warmth and beauty there, Tessa can't help but feel even more lost.

Enter Henry Lark. He understands the relationships that matter. And more importantly, he understands her. A secret stands between them, but Tessa's willing to do anything to bring them together—because Henry may just be her one chance at forever.

— Goodreads.com description
One of my biggest delights as a reader is when a book genuinely shocks me. And oh boy, did that happen with The Last Forever.
It was one of those instances where something about a book just isn't feeling right and something is niggling around in the back of your head when — aha! — it all adds up and you are equal parts mad at yourself for not thinking of it earlier and so very pleased that the author was able to pull one over on you.
Ahh, good times.
Okay, so clearly I enjoyed that feeling. But I can't say I loved what it was about. *Tries to be vague*
Pros: I loved how Deb Caletti starts each chapter with a factoid about a plant. I was thoroughly impressed with how well she was able to tie this in with the story.
Cons: I also had some issues with the latter half of the book, when certain problems were resolved quickly and others were resolved totally unrealistically…but for that "WHOA" moment alone, I have to say I enjoyed this one.
Has anyone else read it? Without spoiling — did you have a similar experience or am I the only slow one out there?
Fri, April 4, 2014
links i loved
Are you on Goodreads? If so, you might want to check out the brand new Penguin Teen Book Club. And be my Goodreads friend while you're at it — here I am!
My fave new quiz: Which TV/Movie High School Would You Attend?
I got the high school from 10 Things I Hate About You, which is perfect because I was totally obsessed with that soundtrack as a teen. Ahhh, ska! JGL! Which one did you get?
Ann Brashares's new YA novel The Here and Now is coming out April 8, and she sat down with her real-life BFF Ana Gasteyer (of SNL fame) for this funny video. Love it!
Also: Check out the giveaway form below for a chance to win these adorable wishing bracelets from author Allison Rushby in honor of her new release, Being Hartley. Cute, huh? I had one of these every summer as a teen!
books i added to my shelves
I received this lovely package from Leigh Bardugo, featuring a sampler from Ruin and Rising and some lovely candles! Thank you, Leigh!
For my Kindle:
Don't Touch by Rachel M. Wilson
Rites of Passage by Joy Hensley
In a Handful of Dust (Not a Drop to Drink #2) by Mindy McGinnis
Searching for Sky by Jillian Cantor
Fool Me Twice by Mandy Hubbard
Allies & Assassins by Justin Somper
Torn Away by Jennifer Brown
Many thanks to my friends at Harper, Bloomsbury and Little Brown for their generosity!
books i read
This Side of Salvation by Jeri Smith-Ready
Since You've Been Gone by Morgan Matson
Hope you all had a great week in reading, too! Happy weekend!
Thu, April 3, 2014
So many books, so little time — it kills me!
The other day, I was working out in my Reading Room (it's multipurpose), staring up at my bookshelves while I did some hardcore Blogilates abs (ouch). Not a bad view, right?
Anyhoo, I kept noticing titles I'd forgotten about, thinking "I NEED TO REREAD THAT!"
So, if I had time to reread…here are my top three choices:
1. If I Stay by Gayle Forman
I'm so excited for the movie, but I want to recapture my love of the books before the movie hype starts up full force!
2. Angelfall by Susan Ee
Next up would be Angelfall. I adored this book, and I've meant to read the sequel World After since it came out last year…I just need a refresher of who's who before I take it on.
3. Saving June by Hannah Harrington
Last but not least, Saving June. This is one of those books where, if someone asked, I'd be like "Holy cow, yes, so good." But if they asked for specifics…I'd be a bit fuzzy. I know I loved it…but I don't quite remember why specifically!
What's on your to-reread list?
Check out my last (and first!) "What I'd Read" — "What I'd Read in an Airport."
Wed, April 2, 2014
Ask Again Later
By Liz Czukas
Publication date: March 11, 2014
Harper Teen, 336 pages
Source: Publisher
Despite what her name might suggest, Heart has zero interest in complicated romance. So when her brilliant plan to go to prom with a group of friends is disrupted by two surprise invites, Heart knows there's only one drama-free solution: flip a coin.

Heads: The jock. He might spend all night staring at his ex or throw up in the limo, but how bad can her brother's best friend really be?

Tails: The theater geek…with a secret. What could be better than a guy who shares all Heart's interests–even if he wants to share all his feelings?

Heart's simple coin flip has somehow given her the chance to live out both dates. But where her prom night ends up might be the most surprising thing of all…

— Goodreads.com description
Cute cute cute!
I read Ask Again Later on an airplane for a work trip and it was the perfect distraction and de-stressor.
Heart's story (yes, that's her real name) flips between two alternate realities, depending on who she chose to go to prom with. Usually I think setups like this are confusing, but it wasn't at all.
It was fun, funny, easy, romantic, light-hearted and wrapped up just perfectly. JUST what I needed. If you want to sink into a book and just escape and relax, I'd absolutely tell you to give this one a try.
PS: This is the first I've heard of Liz Czukas, but I just saw she has another book coming out this year, Top Ten Clues You're Clueless. Check it out too! Sounds cute as well, right?
Tue, April 1, 2014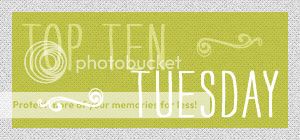 It's Top 10 Tuesday (hosted at The Broke and the Bookish) and the topic is:
Top 10 Gateway Books
Examples include: "a books that got you into reading, an author that got you into reading a genre you never thought you'd read, a book that brought you BACK into reading."
1. Gateway to Verse Books

The Day Before by Lisa Schroeder
I thought these books would be so boring and lifeless and surface-level. Um, Judgey McJudgerson! I couldn't have been more wrong. This was a beautiful book that introduced me to so many other verse books that I adored.
2. Gateway to Fairy Books

The Iron King by Julie Kagawa
I just didn't get the "fairy" thing. But this book taught me that there is a lot of history and beauty and complex trickery to these stories. I'm a sucker for them now, if they're done well. And this is the best of the lot, if you ask me!
3. Gateway to High Fantasy

The Thief by Megan Whalen Turner
Sure, I was always a Lord of the Rings fan — I read that series as a kid. But The Thief was the first YA-esque high fantasy series I read and just fell in love with. And it led me to so many more. I could read fantasy books for the rest of my life and be pretty darn happy.
4. Gateway to New Adult

Charmed Thirds
In case you missed it the MILLION TIMES I mentioned it: Megan McCafferty's Jessica Darling series is my favorite of anything ever. And in Charmed Thirds, when Jessica goes to college, this became the first true, legit, old-school "new adult" book I ever read. If only all the new "new adult" books were as good! Ahh, well.
5. Gateway to Blogging

The Baby-Sitters Club: The Summer Before by Ann M. Martin
Full-circle! The original Baby-Sitters Club books were my favorites as kiddos, and this new addition was the first book I posted on this blog back in 2010. Whoa!
6. Gateway to Survival Stories

Blood Red Road by Moira Young
Okay, so I suppose Lord of the Rings was one and so was The Hunger Games. But, even though I never finished this series, I think it was Blood Red Road that really kicked off a string of excellent, gritty survival stories on my "books read" list: Eve by Anna Carey, Ashes by Ilsa J. Bick, Ashfall by Mike Mullin, Survive by Alex Morel, Not a Drop to Drink by Mindy McGinnis…basically I'm into any story that involves people lost in the woods and/or hiking a loooong way.
7. Gateway to Fairy Tale Retellings

Princess of the Midnight Ball by Jessica Day George
Another one of the first posts on this blog! Based on a Brothers Grimm story, this book led me to a bunch of good fairy tale retellings, like Cinder by Marissa Meyer and Scarlet by A.C. Gaughen.
8. Gateway to LGBT YA

Will Grayson, Will Grayson by David Levithan & John Green
I can't remember really hearing much about a book having LGBT teen characters until this one. Certainly there were plenty before Will Grayson, Will Grayson, but this one sort of pops out to me when I think back. I adored this story.
9. Gateway to Cheating Books

Unbreak My Heart by Melissa Walker
Okay, so "cheating books" isn't really a thing. But this used to be THE ULTIMATE "no way will I ever read books that involve this" holdup for me. Do I still love it? Nope. But can I appreciate it if the story is told well? Yup! Melissa Walker nailed it here and totally changed my perspective.
10. Gateway to Historical Fiction

Revolution by Jennifer Donnelly
I feel like I've read a ton of historical fiction over the years, but this is the first time I stopped and thought to myself: "I'd really like to read more YA books like this."
Which is the whole point of the "gateway" theme, huh? What's on your list — the books that opened up a door to a ton of others? Can't wait to hear your experiences!