Mon, August 11, 2014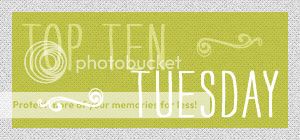 It's Top 10 Tuesday (hosted at The Broke and the Bookish) and the topic is:
Top 10 Books I'm Not Sure I Want to Read
To read or not to read? I need you to weigh in on these books from my "to-read" shelf so I know whether I should move them up my list!
Unremembered by Jessica Brody
Five Summers by Una LaMarche
The List by Siobhan Vivian
Just Like Fate by Cat Patrick & Suzanne Young
Famous Last Words by Jennifer Salvato Doktorski
Smart Girls Get What They Want by Sarah Strohmeyer
When the Stars Go Blue by Caridad Ferrer
Au Revoir, Crazy European Chick by Joe Schreiber
The Miseducation of Cameron Post by Emily M. Danforth
Ruby Red by Kerstin Gier
Can't wait to hear your thoughts — thanks in advance!
Tue, August 5, 2014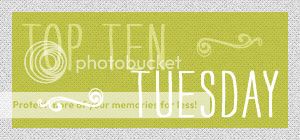 It's Top 10 Tuesday (hosted at The Broke and the Bookish) and the topic is:
Top Ten Books I'd Give to Readers
Who Have Never Read Fantasy
We could fill in the blank however we wanted at the end of this topic, and loving all things fantasy I, of course, had to go that route. I think it's a really hard genre for some people to get into — they've never tried it but because of preconceived notions assume they won't like it.
So, today's list is the "easiest" YA fantasy novels for a non-fantasy reader to check out, ranked in terms of "most accessible" to "work your way up to this one." Still, every book on this list is AMAZING — you can't go wrong and they are excellent tales of adventure, romance, tests of courage and heart, magic and much, much more.
Harry Potter and the Sorcerer's Stone by J.K. Rowling
The Lightning Thief by Rick Riordan
Incarnate by Jodi Meadows
The Iron King by Julie Kagawa
Throne of Glass by Sarah J. Maas
Brightly Woven by Alexandra Bracken
Graceling by Kristin Cashore
Grave Mercy by Robin LaFevers
Finnikin of the Rock by Melina Marchetta
The Lord of the Rings by J.R.R. Tolkien
Mon, July 28, 2014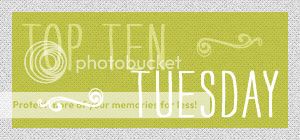 It's Top 10 Tuesday (hosted at The Broke and the Bookish) and the topic is:
Top 10 Authors I Own the Most Books From
Okay first off, it's paining me that this topic ends in a preposition (HA SORRY JAMIE ILU).
Secondly, I HAVE a lot of books, but I do not COLLECT them. Aka, if you perused my shelves, you'd see that I have one or two books from a series, but not the rest…or don't even own copies of some of my favorite books…or loan out the books I do own and then forget to get them back…or lose them (seriously, where are my Harry Potter books?!).
So while in some cases this represents some of my favorite authors…um…don't read too much into this. Either way, have fun looking at my shelves!
11 books: Richelle Mead (plus one more today when Silver Shadows comes on preorder; the spine you can't see is a galley copy of The Indigo Spell and few of these are signed to me!)
10 books: Megan McCafferty (also with a few signed; one of the copies of Sloppy Firsts is a galley)
8 books: L.M. Montgomery
8 books: Cassandra Clare (one signed, but I'm pumped about that one!)
5 books: Stephenie Meyer (don't pretend you don't have them, too)
4 books: Jay Crownover (whatever it's a guilty pleasure, mind your own business)
4 books: Sarah Dessen
4 books: Jennifer Echols (why haven't I met her yet?!)
4 books: Madeleine L'Engle
4 books: Rainbow Rowell (Well, only 3 here because I loaned out Eleanor & Park and forgot who had it, but it's SOMEWHERE. But my copy of Fangirl is signed to me.)
Mon, July 21, 2014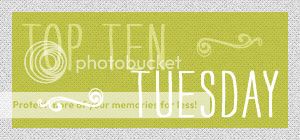 It's Top 10 Tuesday (hosted at The Broke and the Bookish) and the topic is:
Top 10 Characters I Would Want with Me on a Deserted Island
1. Sky from If I Stay by Jillian Cantor
The girl spent her entire childhood on a deserted island — she can handle this.
2. Clary from The Mortal Instruments series by Cassandra Clare
Problem solved: She makes a portal, we get outta there.
3. Neville Longbottom from Harry Potter by J.K. Rowling
So let's say the Clary portal thing doesn't work, and Neville can't work his magic to get us rescued any other way…well, then at least he'd come in handy helping to identify edible plants!
4. Avry from the Touch of Power by Maria V. Snyder
She's a healer, so no need to worry about injuries and such.
5. Day from Legend by Marie Lu
I don't know how he'd come in handy yet, but he's scrappy so I want him around just in case.
6. Alex from Ashes by Ilsa J. Bick
If she can make it through the most intense and violent zombie apocalypse book I've ever read, I think she can pretty much handle anything. I like having some tough cookies on my team.
7. Cricket from Lola and the Boy Next Door by Stephanie Perkins
Say things don't work out with Clary and Neville. Well, then, maybe Cricket can invent something to get us help!
8. Katsa from Graceling by Kristin Cashore
For her combat skills! Maybe to help us fight off wildlife?
9. Po from Graceling by Kristin Cashore
Ditto for Po, plus awww we can't separate the love birds! That'd be too unromantic of me. So Po gets to come too.
10. Peeta from The Hunger Games
He's got the survival thing down pat, plus he can cook me bread. MMMM BREAD.
Mon, June 16, 2014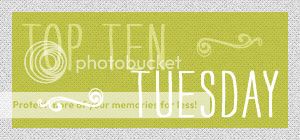 It's Top 10 Tuesday (hosted at The Broke and the Bookish) and the topic is:
Top 10 Books on My Summer Reading List
Silver Shadows by Richelle Mead (Bloodlines #5 OMG SYDRIAN)
Ilsa and the Happily Every After by Stephanie Perkins (Anna & The French Kiss #3. Can. Not. Wait.)
Sinner by Maggie Stiefvater (The Wolves of Mercy Falls #3.5 — WOLVES!)
Through to You by Lauren Barnholdt (gotta throw some summer romance into the mix!)
Dissonance by Erica O'Rourke (oooh, multiple realities)
Breathe, Annie, Breathe by Miranda Kenneally (Hundred Oaks #5. Because my name is in the book title, yes, my family/husband call me Annie)
The Bridge from Me to You by Lisa Schroeder (I <3 her writing)
The Unfinished Life of Addison Stone by Adele Griffin (sounds insanely unique)
Can't Look Away by Donna Cooner (I hate sister books, but I adored her last novel so I'm excited anyway!)
A Little Something Different by Sandy Hall (and one more romance to round out the list 'cause, who are we kidding, this is me)
Now, lucky little me has my grubby little paws on Sinner, Through to You, Dissonance and The Unfinished Life of Addison Stone, so those will be next on my to-read list. For the rest, I cannot wait till they're in bookstores!