Tue, April 22, 2014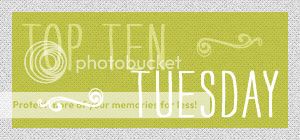 It's Top 10 Tuesday (hosted at The Broke and the Bookish) and the topic is:
Top 10 Characters Who Rock
We got to fill in the blank on this one and pick the top 10 characters who, well, did anything we like! I love books with music themes, so here are my favorite characters who rock!
Bailey from Dirty Little Secrets by Jennifer Echols (fiddle)
Elisa from This Song Will Save Your Life by Leila Sales (DJ)
Jasmine from Amplified by Tara Kelly (guitar)
Sam from Incarnate by Jodi Meadows (every instrument ever)
Devan from The Reece Malcolm List by Amy Spaulding (muuuusicaaaaals!)
Marley from DJ Rising by Love Maia (DJ)
Jeremy from Virtuosity by Jessica Martinez (violin)
Logan from Shade by Jeri Smith-Ready (guitar)
Mia from If I Stay by Gayle Forman (cello)
Adam from Where She Went by Gayle Forman (guitar)
Let's all just take a second to imagine if they formed a YA band! Also: Who did I miss?!
Mon, April 14, 2014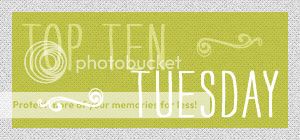 It's Top 10 Tuesday (hosted at The Broke and the Bookish) and the topic is:
Top 10 Bookish Things (That Aren't Books)
That I'd Like to Own
Ack, this was harder than I thought it'd be. I'm such a lucky duck who's gotten so many of the bookish things I've drooled over on this blog in the past, that my wish list is dwindling!
Still, I would certainly love…
1. A Kindle Paperwhite
My Kindle is perfectly fine (note to my mother and husband if they are reading this), but if I had to replace my current one, this is what I'd go for. (buy it)
2. With This Cute Purple Cover
I'm super into purple lately. (buy it)
3 & 4. To Complete My Austen Movie Collection
Because, let's be honest: My copies of Emma (the Jonny Lee Miller version) and Pride & Prejudice (any version) are thoroughly overwatched at this point. (buy them here and here)
5. These Dictionary Shoes
Alas, they're out of stock. (drool over them anyway)
6. A Snuggly Book Sweatshirt
Do you think this would really be as cozy as it looks? (buy it)
7. Yet Another Tote Bag
So I have more totes than I could ever possibly need, but…how cute is this?! (buy it)
8. Lighting Lighting Lighting
What my Reading Room needs most is good lighting. Maybe an adjustable reading lamp sort of like this? (buy it)
9. Just 'Cause
This is super frivolous, but SO PRETTY. (buy it)
10 & 10.5. And I Might Regret This But…
Aren't these candles cute? I'd never buy a candle without smelling it first, obviously. But I am dying to know how these two smell! (buy them here and here)
It would have been so much easier if this were a list of the next 10 books I'd like to purchase. That list goes on and on and on…
Tue, April 1, 2014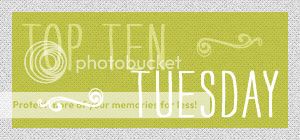 It's Top 10 Tuesday (hosted at The Broke and the Bookish) and the topic is:
Top 10 Gateway Books
Examples include: "a books that got you into reading, an author that got you into reading a genre you never thought you'd read, a book that brought you BACK into reading."
1. Gateway to Verse Books

The Day Before by Lisa Schroeder
I thought these books would be so boring and lifeless and surface-level. Um, Judgey McJudgerson! I couldn't have been more wrong. This was a beautiful book that introduced me to so many other verse books that I adored.
2. Gateway to Fairy Books

The Iron King by Julie Kagawa
I just didn't get the "fairy" thing. But this book taught me that there is a lot of history and beauty and complex trickery to these stories. I'm a sucker for them now, if they're done well. And this is the best of the lot, if you ask me!
3. Gateway to High Fantasy

The Thief by Megan Whalen Turner
Sure, I was always a Lord of the Rings fan — I read that series as a kid. But The Thief was the first YA-esque high fantasy series I read and just fell in love with. And it led me to so many more. I could read fantasy books for the rest of my life and be pretty darn happy.
4. Gateway to New Adult

Charmed Thirds
In case you missed it the MILLION TIMES I mentioned it: Megan McCafferty's Jessica Darling series is my favorite of anything ever. And in Charmed Thirds, when Jessica goes to college, this became the first true, legit, old-school "new adult" book I ever read. If only all the new "new adult" books were as good! Ahh, well.
5. Gateway to Blogging

The Baby-Sitters Club: The Summer Before by Ann M. Martin
Full-circle! The original Baby-Sitters Club books were my favorites as kiddos, and this new addition was the first book I posted on this blog back in 2010. Whoa!
6. Gateway to Survival Stories

Blood Red Road by Moira Young
Okay, so I suppose Lord of the Rings was one and so was The Hunger Games. But, even though I never finished this series, I think it was Blood Red Road that really kicked off a string of excellent, gritty survival stories on my "books read" list: Eve by Anna Carey, Ashes by Ilsa J. Bick, Ashfall by Mike Mullin, Survive by Alex Morel, Not a Drop to Drink by Mindy McGinnis…basically I'm into any story that involves people lost in the woods and/or hiking a loooong way.
7. Gateway to Fairy Tale Retellings

Princess of the Midnight Ball by Jessica Day George
Another one of the first posts on this blog! Based on a Brothers Grimm story, this book led me to a bunch of good fairy tale retellings, like Cinder by Marissa Meyer and Scarlet by A.C. Gaughen.
8. Gateway to LGBT YA

Will Grayson, Will Grayson by David Levithan & John Green
I can't remember really hearing much about a book having LGBT teen characters until this one. Certainly there were plenty before Will Grayson, Will Grayson, but this one sort of pops out to me when I think back. I adored this story.
9. Gateway to Cheating Books

Unbreak My Heart by Melissa Walker
Okay, so "cheating books" isn't really a thing. But this used to be THE ULTIMATE "no way will I ever read books that involve this" holdup for me. Do I still love it? Nope. But can I appreciate it if the story is told well? Yup! Melissa Walker nailed it here and totally changed my perspective.
10. Gateway to Historical Fiction

Revolution by Jennifer Donnelly
I feel like I've read a ton of historical fiction over the years, but this is the first time I stopped and thought to myself: "I'd really like to read more YA books like this."
Which is the whole point of the "gateway" theme, huh? What's on your list — the books that opened up a door to a ton of others? Can't wait to hear your experiences!
Mon, March 24, 2014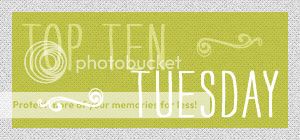 It's Top 10 Tuesday (hosted at The Broke and the Bookish) and the topic is:
Top 10 Things on My Bookish Bucket List
1. Write a book.
2. Design my own reading room. (Partway there!)
3. Be blurbed in in a book. (I've been MENTIONED/had my name printed in books, but not blurbed. I've been excited to see this happen for many of my blogging friends, and it would mean the world for it to happen to me.)
4. Return to Wizarding World of Harry Potter for the new rides.
5. Meet more of my favorite authors. (I've been lucky to meet so many, but I'd still be thrilled to meet Jennifer Echols, Jessi Kirby, Morgan Matson, Kristin Cashore, Jodi Meadows and Gayle Forman. Check out this link for pics with those I've met thus far.)
6. Keep this blog going as long as possible. (More than three years and goin' strong!)
7. Me + beach + book. (Okay, so I've done this one before and this is easy, but HOLY COW I WOULD DO ANYTHING RIGHT NOW FOR A BEACH AND A BOOK. Booooo, winter.)
8. Make a difference in someone's reading life. (I've gotten a few emails about how I've influenced someone's reading habits, and it's all little things, really, but it means the world to me to hear.)
9. Visit England. (It's been my longtime happy place to imagine walking through the countryside to Netherfield. I want to make this Pride & Prejudice moment happen, but in a very un-Austenland-ish way.)
10. Teach someone to read. (For when I have kiddos someday.)
What's on your bookish bucket list?
Tue, March 18, 2014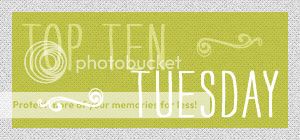 It's Top 10 Tuesday (hosted at The Broke and the Bookish) and the topic is:
Top 10 Books on My Spring Reading List
Ooh, I love this one. I actually have a running list of books to read, and here are 10 that jump out at me and are coming out between now and the end of May:
Ask Again Later by Liz Czukas
City of Heavenly Fire (The Mortal Instruments #6) by Cassandra Clare
Love Letters to the Dead by Ava Dellaira
The Assassin's Blade by Sarah J. Maas
The Here and Now by Ann Brashares
The Last Best Kiss by Claire LaZebnick
The Chapel Wars by Lindsey Leavitt
Boys Like You by Juliana Stone
Since You Been Gone by Morgan Matson
The One by Kiera Cass