Wed, April 16, 2014
What I Thought Was True
By Huntley Fitzpatrick
Publication date: April 15, 2014
Dial Books for Young Readers, 416 pages
Source: Publisher
From the author of My Life Next Door comes a swoony summertime romance full of expectation and regret, humor and hard questions.

Gwen Castle's Biggest Mistake Ever, Cassidy Somers, is slumming it as a yard boy on her Nantucket-esque island this summer. He's a rich kid from across the bridge in Stony Bay, and she hails from a family of fishermen and housecleaners who keep the island's summer people happy. Gwen worries a life of cleaning houses will be her fate too, but just when it looks like she'll never escape her past—or the island—Gwen's dad gives her some shocking advice. Sparks fly and secret histories unspool as Gwen spends a gorgeous, restless summer struggling to resolve what she thought was true—about the place she lives, the people she loves, and even herself—with what really is.

A magnetic, push-me-pull-me romance with depth, this is for fans of Sarah Dessen, Jenny Han, and Deb Caletti.

— Goodreads.com description
Looooooved it. In fact: I liked it better than My Life Next Door and I think you will, too.
Huntley Fitzpatrick's newest book has a million good things going for it: summer, romance, a kick-butt old lady and a Portuguese grandpa, complex family issues, misunderstandings, lies, friendship, class problems, a genuinely GOOD guy, a sweet little brother, humor…I could go on.
The story was equal parts light & summery and serious & layered. I loved the complexity and depth to the relationships depicted, from romance to family to friendship. They were all so incredibly engaging and well-depicted.
The setting too — wow. I could practically smell the salt in the air as I read.
Definitely a great book to kick off your summer reading. I see this one making its way to a lot of people's favorites lists in the coming year (including mine)!
Wed, July 10, 2013
Second Chance Summer
By Morgan Matson
Publication date: May 8, 2013
Simon & Schuster Children's Publishing, 468 pages
Source: Library
From the Flying Start author of Amy & Roger's Epic Detour, a powerful novel about hope in the face of heartbreak.

Taylor Edwards' family might not be the closest-knit—everyone is a little too busy and overscheduled—but for the most part, they get along just fine. Then Taylor's dad gets devastating news, and her parents decide that the family will spend one last summer all together at their old lake house in the Pocono Mountains.

Crammed into a place much smaller and more rustic than they are used to, they begin to get to know each other again. And Taylor discovers that the people she thought she had left behind haven't actually gone anywhere. Her former best friend is still around, as is her first boyfriend…and he's much cuter at seventeen than he was at twelve.

As the summer progresses and the Edwards become more of a family, they're more aware than ever that they're battling a ticking clock. Sometimes, though, there is just enough time to get a second chance—with family, with friends, and with love.

— Goodreads.com description
Oh, golly, this book.
When Second Chance Summer came out last summer, I knew I should read it — friends were raving, and I absolutely adored Morgan Matson's writing in Amy & Roger's Epic Detour.
But I didn't read Second Chance Summer, even though I checked it out from the library at least twice. Why? Well, at the time the subject matter hit a bit too close to home — much like Taylor and her dad, I knew my father-in-law had just a few months to live. So it put it off because I was scared, and then, after his death, because I thought it would be too soon, too fresh.
But finally I picked it up and I'm so glad I did.
It was serious, and it was a difficult book for me personally, but the tough subject matter was so, so well handled. Even the smallest details of watching a disease take control over a loved one, from smart to finish, were eerily spot-on. Like, seriously, I don't want to spoil it, but one of the final scenes? Disturbingly real to life. And when you're tackling a subject matter like this, you need to nail it.
Plus, it was a lovely mix of romance, family and friend drama — all the teenagery fluff mixed right in with the big-picture issues in Second Chance Summer, just like it does in real life. That's what I loved about Amy & Roger's Epic Detour too!
Did I cry? No, because I purposely steeled myself and disconnected from the characters — sort of a self-protection mechanism. But anyone else: Have your tissues nearby.
Truly, Morgan Matson is quickly becoming one of my favorite authors, and at this point I'd happily read anything she writes.
Mon, June 11, 2012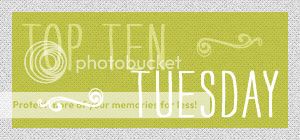 It's Top 10 Tuesday (hosted at The Broke and the Bookish) and the topic is:
Top 10 Books I Wish I Had in My Beach Bag
I've already done a few lists on my favorite beach reads. Check out my 2011 list here, and my latest 2012 list (with SUBCATEGORIES!) here.
So I decided to do a twist on this week's "Top Beach Reads" theme, as there are still a ton I'm dying to read. Here are the top 10 most recently released or soon-to-be-released beachy-lookin'* reads I'm most looking forward to:
Perfect Escape
By Jennifer Brown
On Goodreads
Kendra has always felt overshadowed by her older brother, Grayson, whose OCD forces him to live a life of carefully coordinated routines. The only way Kendra can stand out next to Grayson is to be perfect, and she has perfection down to an art — until a cheating scandal threatens her flawless reputation.

Behind the wheel of her car, with Grayson asleep beside her, Kendra decides to drive away from it all — with enough distance, maybe she'll be able to figure everything out. But eventually, Kendra must stop running and come to terms with herself, her brother, and her past.

With undeniable grace and humor, acclaimed author Jennifer Brown explores OCD, the pressure for perfection, and the emotional highs and lows of a complex sibling relationship.

— Goodreads.com description
From What I Remember
By Stacy Kramer and Valerie Thomas
On Goodreads
KYLIE: Tijuana WHAT? I should be putting the finishing touches on my valedictorian speech. Graduation is TODAY, and is this a wedding band on my finger.

MAX: It all started with Kylie's laptop and a truck full of stolen electronics Okay, it was kind of hot, the way she broke us out like some chick in an action movie. But now we're stranded in TIjuana. WIth less than twenty-four hours before graduation. Awesome.

WILL: Saving Kylie Flores from herself is kind of a full-time occupation. Luckily, I, Will Bixby, was born for the job. And when I found out she was stuck in Mexico with dreamy Max Langston, sure, I agreed to bring thier passports across the border–but there's no reason to rush back home right away. This party is just getting started.

LILY: I just walked in on my boyfriend, Max Langston, canoodling with Kylie Flores, freak of the century. Still, I can't completely hold it against him. He NEEDS me. It's even clearer now. And I'm not giving him up without a fight.

— Goodreads.com description
When You Were Mine
By Rebecca Serle
On Goodreads
What's in a name, Shakespeare? I'll tell you: Everything.

Rosaline knows that she and Rob are destined to be together. Rose has been waiting for years for Rob to kiss her—and when he finally does, it's perfect. But then Juliet moves back to town. Juliet, who used to be Rose's best friend. Juliet, who now inexplicably hates her. Juliet, who is gorgeous, vindictive, and a little bit crazy… and who has set her sights on Rob. He doesn't even stand a chance.

Rose is devastated over losing Rob to Juliet. This is not how the story was supposed to go. And when rumors start swirling about Juliet's instability, her neediness, and her threats of suicide, Rose starts to fear not only for Rob's heart, but also for his life. Because Shakespeare may have gotten the story wrong, but we all still know how it ends…

— Goodreads.com description
The Summer of No Regrets
By Katherine Grace Bond
On Goodreads
The day Brigitta accidentally flings herself into the lap of a guy she's never met, her friend Natalie is convinced he's Trent Yves, egotistical heartthrob-in-hiding. When the boy, who calls himself Luke, is nearly eaten by a cougar, Brigitta finds herself saving his life, being swept into his spectacular embrace and wondering if she wants Natalie's fantasy to be true.

As the two spend the summer together raising orphaned cougar cubs, Brigitta still can't be sure of his true identity. But then again, since her grandparents' death, her father's sudden urge to give away all their possessions and become a shaman, and her own awkward transition from girlhood into a young woman, she isn't sure of anything. What is the truth? More importantly, can she accept it?

— Goodreads.com description
The Almost Truth
By Eileen Cook
On Goodreads
Sadie can't wait to get away from her backwards small town, her delusional mom, her jailbird dad, and the tiny trailer where she was raised…even though leaving those things behind also means leaving Brendan. Sadie wants a better life, and she has been working steadily toward it, one con at a time.

But when Sadie's mother wipes out Sadie's savings, her escape plan is suddenly gone. She needs to come up with a lot of cash—and fast—or she'll be stuck in this town forever.

With Brendan's help, she devises a plan—the ultimate con—to get the money. But the more lies Sadie spins, the more she starts falling for her own hoax…and perhaps for the wrong boy. Sadie wanted to change her life, but she wasn't prepared to have it flipped upside down by her own deception. With her future at stake and her heart on the line, suddenly it seems like she has a lot more than just money to lose…

— Goodreads.com description
Love and Other Perishable Items
By Laura Buzo
On Goodreads
Love is awkward, Amelia should know.

From the moment she sets eyes on Chris, she is a goner. Lost. Sunk. Head over heels infatuated with him. It's problematic, since Chris, 21, is a sophisticated university student, while Amelia, 15, is 15.

Amelia isn't stupid. She knows it's not gonna happen. So she plays it cool around Chris—at least, as cool as she can. Working checkout together at the local supermarket, they strike up a friendship: swapping life stories, bantering about everything from classic books to B movies, and cataloging the many injustices of growing up. As time goes on, Amelia's crush doesn't seem so one-sided anymore. But if Chris likes her back, what then? Can two people in such different places in life really be together?

Through a year of befuddling firsts—first love, first job, first party, and first hangover—debut author Laura Buzo shows how the things that break your heart can still crack you up.

— Goodreads.com description
Going Vintage
By Lindsey Leavitt
On Goodreads
The story of a girl figuring out the truths and illusions of life and love, both in the nostalgic past and in the very real now. Laugh-out-loud humor combines with a hint of romance in this delightful contemporary novel.

The cure for a broken heart? Go vintage and live like it's 1962!
Mallory's boyfriend, Jeremy, isn't just cheating on her. He's cheating with an online girlfriend. So Mallory decides to swear off boys and modern technology. Inspired by a list of goals her grandmother made in 1962, Mallory decides to "go vintage" and return to a simpler time. She sets out to complete grandma's list: run for pep club secretary, host a dinner party, sew a homecoming dress, find a steady, do something dangerous.
The list proves to be trickier than it looks. Obviously finding a steady is out . . . no matter how intriguing she finds Oliver (er, Jeremy's cousin). But with the help of her sister, Mallory will finish the list and find peace.
Somehow.

— Goodreads.com description
Size 12 and Ready to Rock
By Meg Cabot
On Goodreads
Summer break . . . and the livin' ain't easy!

Just because the students at New York College have flown the coop doesn't mean assistant residence hall director Heather Wells can relax. Fischer Hall is busier than ever, filled with squealing thirteen- and fourteen-year-old girls attending the first ever Tania Trace Teen Rock Camp, hosted by pop sensation Tania Trace herself—who just happens to be newly married to Heather's ex-boyfriend, heartthrob Jordan Cartwright. But the real headache begins when the producer of a reality TV show starring Tania winds up dead . . . and it's clear that the star was the intended victim.

Grant Cartwright, head of Cartwright Records, wants to keep his daughter-in-law (and his highest-earning performer) alive. So he hires his oldest son, black sheep of the family and private investigator Cooper Cartwright—who just happens to be Heather's new fiancÉ. Heather should leave the detecting to Cooper. But with a dorm full of hysterical mini-divas-in-training, she can't help but get involved. And after Tania shares a really shocking secret with her, this reality suddenly becomes more dangerously real than anyone ever anticipated.

— Goodreads.com description
Tokyo Heist
By Diana Renn
On Goodreads
Sixteen-year-old Violet loves reading manga and wearing scarves made from kimono fabric, so she's thrilled that her father's new painting commission means a summer trip to Japan. But what starts as an exotic vacation quickly turns into a dangerous treasure hunt.

Her father's newest clients, the Yamada family, are the victims of a high-profile art robbery: van Gogh sketches have been stolen from their home, and, until they can produce the corresponding painting, everyone's lives are in danger — including Violet's and her father's.

Violet's search for the missing van Gogh takes her from the Seattle Art Museum, to the yakuza-infested streets of Tokyo, to a secluded inn in Kyoto. As the mystery thickens, Violet's not sure whom she can trust. But she knows one thing: she has to solve the mystery — before it's too late.

— Goodreads.com description
Over You
By Emma McLaughlin & Nicola Kraus
On Goodreads
After the grand explosion of her relationship, seventeen-year-old Max Scott developed what every girl in the history of the world has been waiting for: a way to get over being dumped. Now Max is the go-to guru for heartbroken high-school girls all over NYC. But when her ex unexpectedly shows up in her neighborhood, Max's carefully controlled world starts to unravel. With her clients' hearts hanging in the balance, Max will have to do the seemingly impossible: get over him once and for all.

Brilliant at bringing humor to the trials and tribulations of the lovestruck, #1 New York Times bestselling authors Emma McLaughlin and Nicola Kraus have crafted a tale that will resonate with any girl who has ever been in love or had her heart broken. It brims with smart observations, features a pitch-perfect teen voice, and will attract fans of Jenny Han, Sarah Mlynowski, and Lauren Barnholdt. Readers are sure to fall head-over-heels for this sharp spin on breaking up, making up, and getting even.

— Goodreads.com description
The Wrap-Up List
By Steven Arntson 
On Goodreads
In this modern-day suburban town, one percent of all fatalities come about in the most peculiar way. Deaths—eight-foot-tall, silver-gray creatures—send a letter ("Dear So-and-So, your days are numbered") to whomever is chosen for a departure, telling them to wrap up their lives and do the things they always wanted to do before they have to "depart." When sixteen-year-old Gabriela receives her notice, she is, of course devastated. Will she kiss her crush Sylvester before it's too late? Friendship, first love, and fantasy artfully mesh in this magically realistic world that ultimately celebrates life.

— Goodreads.com description
* Beachy-lookin' = road trips, romance, adventure or (duh) beaches.
Fri, May 25, 2012
My Life Next Door
By Huntley Fitzpatrick
Publication date: June 14, 2012
Dial Books for Young Readers, 385 pages
Source: Publisher, via NetGalley
A gorgeous debut about family, friendship, first romance, and how to be true to one person you love without betraying another

"One thing my mother never knew, and would disapprove of most of all, was that I watched the Garretts. All the time."

The Garretts are everything the Reeds are not. Loud, numerous, messy, affectionate. And every day from her balcony perch, seventeen-year-old Samantha Reed wishes she was one of them . . . until one summer evening, Jase Garrett climbs her terrace and changes everything. As the two fall fiercely in love, Jase's family makes Samantha one of their own. Then in an instant, the bottom drops out of her world and she is suddenly faced with an impossible decision. Which perfect family will save her? Or is it time she saved herself?

A dreamy summer read, full of characters who stay with you long after the story is over.

— Goodreads.com description
Oh, my word. Parts of My Life Next Door by Huntley Fitzpatrick made me wish I had a glass of Sam's mom's famous lemonade to help me cool down.
If you are a fan of kissing books – and ooh, boy, you know I am – this is THE ULTIMATE.
My Life Next Door had everything I like in a good contemporary romance: class conflicts, forbidden love, cool cars, beaches, trellis-climbing, country clubs AND MORE.
Plus, the Garretts were, hands down, my FAVORITE book family, ever. By far. I want them to be real.
But…you just know shit is going to hit the fan, right? Romances like this would be a snoozefest if something didn't go down. And when it did go down…oooh I don't quite know how I feel about it. I'm still reeling.
I loved this book, but I'm so shocked and upset about the ending and there's so much to digest that I have to admit I'm not quite sure how I feel about it. I do know that certain aspects of the storyline moved too quickly for me at this point, and I think that some major plot points were left hanging.
So be warned about the end. But read it anyway! I MEAN IT!
Sun, May 20, 2012
This is how I spent my weekend. Refreshing beverage in one hand, Kindle in the other, beach as far as the eye can see!
Which means one thing: IT'S TIME FOR YA SUMMER BOOKS.
What makes a book a "summer book"? Well, for me, summer is the time of the contemporary YA novel. That means:
1. Beaches
2. Boys
3. Road trips
OH YEAH. So, without further ado, your 2012 summer reading list:
Best YA Summer Books 2012
Road Trip Books
Amy & Roger's Epic Detour by Morgan Matson
In Honor by Jessi Kirby
Saving June by Hannah Harrington
Boys
Lola and the Boys Next Door by Stephanie Perkins
Perfect Chemistry by Simone Elkeles
Pants on Fire by Meg Cabot
Beaches
Moonglass by Jessi Kirby
Endless Summer by Jennifer Echols
The Summer I Turned Pretty by Jenny Han
Vacations
Caribbean Cruising by Rachel Hawthorne
Anna and the French Kiss by Stephanie Perkins
Wanderlove by Kirsten Hubbard
Funny Stuff
Sloppy Firsts by Megan McCafferty
The Boyfriend List by E. Lockhart
Ten Things We Did (And Probably Shouldn't Have) by Sarah Mlynowski
Summer in a New Town
Along for the Ride by Sarah Dessen
Lovestruck Summer by Melissa Walker
A Little More Serious
13 Little Blue Envelopes by Maureen Johnson
Twenty Boy Summer by Sarah Ockler
The Sky Is Everywhere by Jandy Nelson
Adventure/Mischief
Inside the Shadow City by Kirsten Miller
Heist Society by Ally Carter
The Disreputable History of Frankie Landau-Banks by E. Lockhart
Girls Gone "Wild"
Stealing Heaven by Elizabeth Scott
Going Too Far by Jennifer Echols
Fame
L.A. Candy by Lauren Conrad
Secrets of My Hollywood Life by Jen Calonita
All-American Girl by Meg Cabot
BFF Books
Peaches by Jodi Lynn Anderson
The Sisterhood of the Traveling Pants by Ann Brashares
Keep Your Eyes Peeled For…
Such a Rush by Jennifer Echols
My Life Next Door by Huntley Fitzpatrick
Unbreak My Heart by Melissa Walker
We all know there's nothing better than to kick back on a pretty day, relax and read a good book. So, enjoy! Happy summertime and happy reading!