Mon, June 2, 2014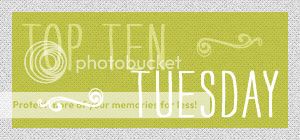 It's Top 10 Tuesday (hosted at The Broke and the Bookish) and the topic is:
Top 10 Books That Should Be in Your Beach Bag
Every summer, the top books in my beach bag are contemporary reads. Something about summer screams beaches and best friends and romance and all things realistically great to me. This year, my top beach picks are all new or upcoming releases this summer — to help you keep your summer reading fresh!
Since You've Been Gone by Morgan Matson | read my review
To All the Boys I've Loved Before by Jenny Han | read my review
What I Thought Was True by Huntley Fitzpatrick | read my review
Open Road Summer by Emery Lord | read my review
On the Fence by Kasie West
Wish You Were Italian by Kristin Rae | read my review
We Were Liars by E. Lockhart | read my review
The Art of Lainey by Paula Stokes | read my review
Ask Again Later by Liz Czukas | read my review
Bright Before Sunrise by Tiffany Schmidt | read my review
I've read and enjoyed all of these, and hope you do too. Happy summer reading!
Tue, May 13, 2014
Rules of Summer
By Joanna Philbin
Publication date: June 4, 2013
Poppy, 352 pages
Source: Library
There are two sides to every summer.

When seventeen-year-old Rory McShane steps off the bus in East Hampton, it's as if she's entered another universe, one populated by impossibly beautiful people wearing pressed khakis and driving expensive cars. She's signed on to be a summer errand girl for the Rules — a wealthy family with an enormous beachfront mansion. Upon arrival, she's warned by other staff members to avoid socializing with the family, but Rory soon learns that may be easier said than done.

Stifled by her friends and her family's country club scene, seventeen-year-old Isabel Rule, the youngest of the family, embarks on a breathless romance with a guy whom her parents would never approve of. It's the summer for taking chances, and Isabel is bringing Rory along for the ride. But will Rory's own summer romance jeopardize her friendship with Isabel? And, after long-hidden family secrets surface, will the Rules' picture-perfect world ever be the same?

— Goodreads.com description
You guys, I'm not gonna lie. I'm sort of on a summer books bender and they're all starting to blend together and I waited too long to write this review and now I forgot what I was going to say.
Soooo, I will just vaguely tell you that I enjoyed this book, but didn't love it. I thought the ending was a bit abrupt and not wrapped up, but it is a series and I definitely put it down thinking, "Hmm, I'd read more of that."
Things I DO remember:
– Philbin is Regis' daughter! That wasn't in the book. But, hey, cool to know.
– Class wars. I really enjoy a book about the haves vs. have nots.
– Any summer book that transports you to the beach is a good summer book for me. Love it when a book makes you smell summer and saltwater in the air.
– The "surprises" weren't as exciting as I wanted them to be.
– Rory and Isabel didn't get along at first…but I liked how Philbin didn't drag that out for the entire book. I'd rather read about female friendships than female fights.
– I don't like this book cover because I think her bathing suit blends in with the white lettering and she looks naked.
Okay, maybe that wasn't as useless as I thought; it was more disorganized than anything. Have you guys read this one yet?
Mon, May 5, 2014
Since You've Been Gone
By Morgan Matson
Publication date: May 6, 2014
Simon & Schuster, 464 pages
Source: Publisher
The Pre-Sloane Emily didn't go to parties, she barely talked to guys, she didn't do anything crazy. Enter Sloane, social tornado and the best kind of best friend—the one who yanks you out of your shell.But right before what should have been an epic summer, Sloane just… disappears. No note. No calls. No texts. No Sloane. There's just a random to-do list. On it, thirteen Sloane-selected-definitely-bizarre-tasks that Emily would never try… unless they could lead back to her best friend. Apple Picking at Night? Ok, easy enough.Dance until Dawn? Sure. Why not? Kiss a Stranger? Wait… what?

Getting through Sloane's list would mean a lot of firsts. But Emily has this whole unexpected summer ahead of her, and the help of Frank Porter (totally unexpected) to check things off. Who knows what she'll find?

Go Skinny Dipping? Um…

— Goodreads.com description
Since You've Been Gone is a layered and lovely story that did exactly what I think a good book should: gave me a fresh perspective on my own life.
I'm sure everyone will take away something of their own, but for me, reading Since You've Been Gone filled me with a very enriching sense of appreciation for certain aspects of my life.
This book highlights what I think Morgan nails, time and time again:
– Fun storytelling techniques (playlists and lists)
– A perfect summer setting (you could just feel the heat and taste the ice cream while you read)
– And plenty of character growth
That last one was perhaps my favorite part of this book, aside from the sweet romance. It was such a treat to watch each and every character in this story come out of his or her shell.
It's definitely one of my favorite books of the year so far, and I know I'll be recommending it again and again in the coming months. A "must" for your summer reading lists!
PS: If you can finish this book without wanting to IMMEDIATELY hug your BFF, you are not human.
PPS: Join Morgan Matson in the #BFFchallenge by entering the giveaway below, provided by my friends at Simon & Schuster. By entering, you could win:
– 1 Fujifilm Instax Mini 9 Camera (color will vary)
– A copy of all of Morgan's books (OMGOMGOMGJEALOUS) — Since You've Been Gone, Amy & Roger's Epic Detour and Second Chance Summer
– And a pair of heart sunglasses (I have a pair of these and cannot wait to rock 'em all summer long!)
Good luck and happy reading!
Visit morgansbffchallenge.com for an excerpt of the book & more info about the #bffchallenge.
Thu, April 24, 2014
Breakfast Served Anytime
By Sarah Combs
Publication date: April 8, 2014
Candlewick Press, 272 pages
Source: Publisher
A coming-of-age debut evokes the bittersweet joys and pangs of finding independence in one unforgettable summer away at "geek camp."

When Gloria sets out to spend the summer before her senior year at a camp for gifted and talented students, she doesn't know quite what to expect. Fresh from the heartache of losing her grandmother and missing her best friend, Gloria resolves to make the best of her new circumstances. But some things are proving to be more challenging than she expected. Like the series of mysterious clues left by a certain Professor X before he even shows up to teach his class, Secrets of the Written Word. Or the very sweet, but very conservative, roommate whose coal-industry family champions mountaintop removal. Not to mention the obnoxious Mason, who dresses like the Mad Hatter and immediately gets on Gloria's nerves — but somehow won't escape her thoughts. Beautifully told by debut author Sarah Combs, this honest and touching story of growing up is imbued with the serene atmosphere of Kentucky's natural landscape.

— Goodreads.com description
Breakfast Served Anytime is a short little book, one I'm afraid may get overlooked by many readers. But it's big on inspiration, and I'm so glad I picked it up.
Sarah Combs' story struck me as thoughtful, lovely and inspiring, especially for anyone working as or inspiring to become a writer. Something about it seemed reminiscent of the movie Dead Poets Society, which I adore.
Bits of the plot were disjointed for me — at parts, the story would skip ahead quickly and without much fanfare. I frequently found myself lost, pausing to backtrack and get myself back into the correct new time frame.
But, still, I loved watching Gloria and her friends find themselves, expand their perspectives and grow over their summer together. It brought me back to what a "coming of age" story should really be like, and I so appreciated that.
Wed, April 16, 2014
What I Thought Was True
By Huntley Fitzpatrick
Publication date: April 15, 2014
Dial Books for Young Readers, 416 pages
Source: Publisher
From the author of My Life Next Door comes a swoony summertime romance full of expectation and regret, humor and hard questions.

Gwen Castle's Biggest Mistake Ever, Cassidy Somers, is slumming it as a yard boy on her Nantucket-esque island this summer. He's a rich kid from across the bridge in Stony Bay, and she hails from a family of fishermen and housecleaners who keep the island's summer people happy. Gwen worries a life of cleaning houses will be her fate too, but just when it looks like she'll never escape her past—or the island—Gwen's dad gives her some shocking advice. Sparks fly and secret histories unspool as Gwen spends a gorgeous, restless summer struggling to resolve what she thought was true—about the place she lives, the people she loves, and even herself—with what really is.

A magnetic, push-me-pull-me romance with depth, this is for fans of Sarah Dessen, Jenny Han, and Deb Caletti.

— Goodreads.com description
Looooooved it. In fact: I liked it better than My Life Next Door and I think you will, too.
Huntley Fitzpatrick's newest book has a million good things going for it: summer, romance, a kick-butt old lady and a Portuguese grandpa, complex family issues, misunderstandings, lies, friendship, class problems, a genuinely GOOD guy, a sweet little brother, humor…I could go on.
The story was equal parts light & summery and serious & layered. I loved the complexity and depth to the relationships depicted, from romance to family to friendship. They were all so incredibly engaging and well-depicted.
The setting too — wow. I could practically smell the salt in the air as I read.
Definitely a great book to kick off your summer reading. I see this one making its way to a lot of people's favorites lists in the coming year (including mine)!