Mon, July 7, 2014
Wildflower
By Alecia Whitaker
Publication date: July 1, 2014
Poppy, 320 pages
Source: Publisher
The best songs come from broken hearts.

Sixteen-year-old Bird Barrett has grown up on the road, singing backup in her family's bluegrass band, and playing everywhere from Nashville, Tennesee to Nowhere, Oklahoma. One fateful night, Bird fills in for her dad by singing lead, and a scout in the audience offers her a spotlight all her own.

Soon Bird is caught up in a whirlwind of songwriting meetings, recording sessions, and music video shoots. Her first single hits the top twenty, and suddenly fans and paparazzi are around every corner. She's even caught the eye of her longtime crush, fellow roving musician Adam Dean. With Bird's star on the rise, though, tradition and ambition collide. Can Bird break out while staying true to her roots?

In a world of glamour and gold records, a young country music star finds her voice.

— Goodreads.com description
Wildflower by Alecia Whitaker is perfect for fans of Open Road Summer by Emery Lord or Dirty Little Secret by Jennifer Echols.
That is to say: If you like music and Nashville and country in your books, you'll want to read this.
Personally, I love those things in books so it was up my alley. Plus, there were tons of interesting family dynamics that really caught my interest.
Still, I do have to say the ending was too abruptly tied up for me and got me thinking that maybe I was more attached to the setting and music aspects of the story than to the characters themselves.
Excellent bonus factor: I hear the finished version includes the sheet music to Bird's song. How fun is that?!
Tue, May 20, 2014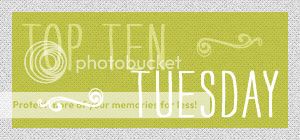 It's Top 10 Tuesday (hosted at The Broke and the Bookish) and the topic is:
Top 10 Books About Friendship
I thought this list was going to be a toughie…but I came up with these books — all featuring lovely friendships — quite quickly and had to viciously chop it down to 10, chosen for the variety in friendships they represent:
Since You've Been Gone by Morgan Matson | read my review
Love the takeaways on friendship at the end of the book
Sisterhood of the Traveling Pants by Ann Brashares
ALWAYS the prime example of friendship books and how they those relationships evolve and/or expand over time
Code Name Verity by Elizabeth Wein | read my review
The friendship in this one slays me
Speechless by Hannah Harrington | read my review
This one does a great job of showing toxic vs. uplifting friendships
How to Say Goodbye in Robot by Natalie Standiford | read my review
Heartbreaking platonic love
Will Grayson, Will Grayson by John Green & David Levithan| read my review
Tiny Will Grayson + Original Will Grayson = BFFs 4eva and I love it
Maybe One Day by Melissa Kantor | read my review
Brutal! Made me want to hug my bestie
Vampire Academy by Richelle Mead | read my review
Rose and Lissa are a great example of loyalty & self-sacrifice in friendship
Open Road Summer by Emery Lord | read my review
A sweet lady friendship where disloyalty is never an option
The entire Harry Potter series
Need I say more? The bravery and loyalty and trust shown in this series is epic
Mon, April 28, 2014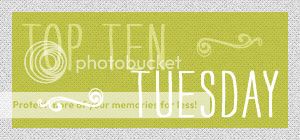 It's Top 10 Tuesday (hosted at The Broke and the Bookish) and the topic is:
Top 10 Books If You Like Star-Crossed
Another "pick your own ending" topic today where we could select a TV show/movie/comic/etc. to prompt book choices.
Well, if you're like me, you loved Roswell and wanted to love the new CW show Star-Crossed…but didn't.
Sure, it's got alien/human forbidden love, and teen angst, and Julie Taylor, and actually some interesting messages to share on acceptance and race and sexuality.
But it's also got that one guy from The Nine Lives of Chloe King and a version of Aimee Teegarden that is soooo not Julie Taylor. So, yeah. Boo.
To make up for it, here are some books I think you'll love that are delightfully alien!
These Broken Stars by Amie Kaufman and Meagan Spooner
Alienated by Melissa Landers
Obsidian by Jennifer Armentrout
Across the Universe by Beth Revis
The 5th Wave by Rick Yancey
For Darkness Shows the Stars by Diana Peterfreund
The Host by Stephanie Meyer
Cinder by Marissa Meyer
The Knife of Never Letting Go by Patrick Ness
Inside Out by Maria V. Snyder
Bonus shoutout to A Wrinkle in Time, which I adore but always think of as more middle-grade. And okay, I know the Peterfreund book was a bit of a stretch, but I heard it called "Jane Austen in space" once so it stuck.
PS: Bonus friendship points to any of you who read the Roswell books in addition to the TV show. I may or may not still have my copies…
Tue, April 22, 2014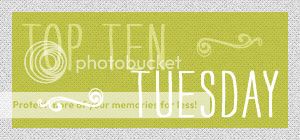 It's Top 10 Tuesday (hosted at The Broke and the Bookish) and the topic is:
Top 10 Characters Who Rock
We got to fill in the blank on this one and pick the top 10 characters who, well, did anything we like! I love books with music themes, so here are my favorite characters who rock!
Bailey from Dirty Little Secrets by Jennifer Echols (fiddle)
Elisa from This Song Will Save Your Life by Leila Sales (DJ)
Jasmine from Amplified by Tara Kelly (guitar)
Sam from Incarnate by Jodi Meadows (every instrument ever)
Devan from The Reece Malcolm List by Amy Spaulding (muuuusicaaaaals!)
Marley from DJ Rising by Love Maia (DJ)
Jeremy from Virtuosity by Jessica Martinez (violin)
Logan from Shade by Jeri Smith-Ready (guitar)
Mia from If I Stay by Gayle Forman (cello)
Adam from Where She Went by Gayle Forman (guitar)
Let's all just take a second to imagine if they formed a YA band! Also: Who did I miss?!
Thu, September 19, 2013
This Song Will Save Your Life
By Leila Sales
Publication date: Sept. 17, 2013
Farrar, Straus and Giroux (BYR), 288 pages
Source: Publisher
Making friends has never been Elise Dembowski's strong suit. All throughout her life, she's been the butt of every joke and the outsider in every conversation. When a final attempt at popularity fails, Elise nearly gives up. Then she stumbles upon a warehouse party where she meets Vicky, a girl in a band who accepts her; Char, a cute, yet mysterious disc jockey; Pippa, a carefree spirit from England; and most importantly, a love for DJing.

Told in a refreshingly genuine and laugh-out-loud funny voice, THIS SONG WILL SAVE YOUR LIFE is an exuberant novel about identity, friendship, and the power of music to bring people together.

— Goodreads.com description
What a melancholy, beautiful and real story this is! I've adored Leila Sales for ages — Past Perfect and Mostly Good Girls are both amazing – but This Song Will Save Your Life really took things to a new level.
This Song Will Save Your Life is about finding an escape — something to help lift the weight from your shoulders and broaden your horizons.
For Elise, that escape is music, which makes this book a must for you music lovers. It celebrates music's transformative and healing powers in a really lovely way.
It also celebrates being different, which is partly why it felt like such a "real" story. Everything Elise experience was amplified for the sake of storytelling, but it still reminded me of what it felt like to be a teenager. I had a lot of emo teen feelings as I read: anxiety, annoyance, excitement, judgment, anger.
Very well done, Leila Sales! Check this one out for sure, you guys.