Thu, February 17, 2011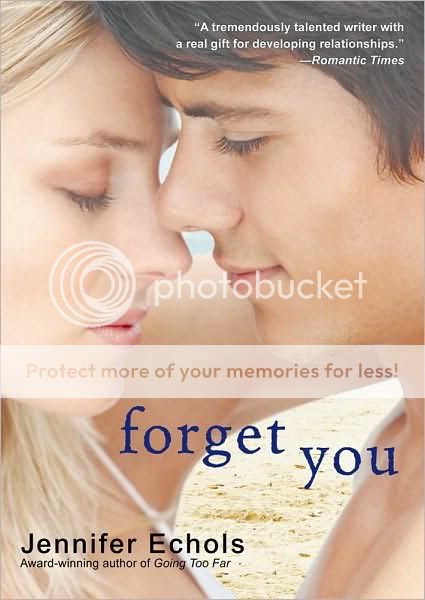 Forget You
By Jennifer Echols
July 20, 2010
MTV, 304 pages
WHY CAN'T YOU CHOOSE WHAT YOU FORGET . . . AND WHAT YOU REMEMBER? There's a lot Zoey would like to forget. Like how her father has knocked up his twenty-four-year-old girlfriend. Like Zoey's fear that the whole town will find out about her mom's nervous breakdown. Like darkly handsome bad boy Doug taunting her at school.
Feeling like her life is about to become a complete mess, Zoey fights back the only way she knows how, using her famous attention to detail to make sure she's the perfect daughter, the perfect student, and the perfect girlfriend to ultra-popular football player Brandon. But then Zoey is in a car crash, and the next day there's one thing she can't remember at all—the entire night before. Did she go parking with Brandon, like she planned? And if so, why does it seem like Brandon is avoiding her? And why is Doug—of all people— suddenly acting as if something significant happened between the two of them?
Zoey dimly remembers Doug pulling her from the wreck, but he keeps referring to what happened that night as if it was more, and it terrifies Zoey to admit how much is a blank to her. Controlled, meticulous Zoey is quickly losing her grip on the all-important details of her life—a life that seems strangely empty of Brandon, and strangely full of Doug.
— Amazon.com description
How do I love thee, Jennifer Echols? Let me count the ways.
It's sort of a travesty to me that she doesn't have 5 million books out there in the marketplace. You know, like Meg Cabot or Sarah Dessen? I'd liken her to them, for those unfamiliar with her work. But, you know, not to pressure Jennifer to, like, start churning out books left and right if she happens to be reading this. You keep doing what you're doing, girlfriend!
Anyway, her book Going Too Far rocked my socks off. And so did Forget You!
So you know when main characters make stupid decisions and you just want to shake them, so instead you just sort of shake the book a little? Yeah, I totally wanted to do that with this book. Like, a lot.
But while that usually makes me want to scream, I came out of this book thinking, "Hey, it's pretty cool that Jennifer Echols can let her character be a teenager and make some pretty stupid decisions." I KNOW. I never think that way.
I don't know what it was about this book, but it really succeeded in getting me to put aside my grown-up hat and live in the moment of Zoey's story for a while. Plus, the steamy scenes didn't hurt. Nope, didn't hurt at all.
Okay, thus ends my Jennifer Echols gush post. Next up? Her latest book, Love Story, comes out in July. WANT!
Sun, January 30, 2011
You know how sometimes you love a book so much that written reviews just don't do your feelings justice? And so you're forced to make potentially embarrassing videos to convey your feelings instead?
Oh? No? That's just me? *Shrugs*
My thoughts on the Vampire Academy series by Richelle Mead, told through stick figure drawings, 'cause…why not?
Thu, January 27, 2011
The Iron Queen (Iron Fey Book 3)
By Julie Kagawa
January 25, 2011
Harlequin, 368 pages

My name is Meghan Chase.
I thought it was over. That my time with the fey, the impossible choices I had to make, the sacrifices of those I loved, was behind me. But a storm is approaching, an army of Iron fey that will drag me back, kicking and screaming. Drag me away from the banished prince who's sworn to stand by my side. Drag me into the core of conflict so powerful, I'm not sure anyone can survive it.
This time, there will be no turning back.
— Amazon.com description
Told through vivid descriptions and Meghan's relatable voice (yes, relatable, even though she's a faery princess and all that), get ready for a ton of emotional highs and lows in this book. Yeah, I didn't think it was possible, but the third book in this series brings even more EPICNESS.


The characters continue to grow and evolve, which is more than can be said for many series. Their stories reach new levels of emotion and—yes—romance. Ooh-la-la!
Reading too many descriptions of the book, and perhaps even its title, spoiled a bit for me, so I'll leave it at that. Fans at the series will be gasping at the ending, ready to count down for the release of Book 4.
Before I go, can we discuss casting? I love love love Ash, and all I can picture when reading is Ben Barnes. Does anyone agree?
If you like this book, you might also like: Fire by Kristin Cashore
Thu, January 13, 2011
The Absolutely True Diary of a Part-Time Indian
By Sherman Alexie
September 12, 2007
Little, Brown Books for Young Readers, 240 pages

In his first book for young adults, bestselling author Sherman Alexie tells the story of Junior, a budding cartoonist growing up on the Spokane Indian Reservation. Determined to take his future into his own hands, Junior leaves his troubled school on the rez to attend an all-white farm town high school where the only other Indian is the school mascot. Heartbreaking, funny, and beautifully written, The Absolutely True Diary of a Part-Time Indian, which is based on the author's own experiences, coupled with poignant drawings by acclaimed artist Ellen Forney, that reflect the character's art, chronicles the contemporary adolescence of one Native American boy as he attempts to break away from the life he was destined to live.

— Amazon.com description
This book was a true dream to read.
Junior Spirit is a lively, brave kid who keep me laughing nonstop, even through the heartbreaking bits. Sherman's short sentences are packed to the brim with attitude, angst and ALL CAPS, which perfectly captures the spirit of the teen voice.
Yes, teen boys are going to use the word "boner" and talk mostly in hyperbole. Sherman gets it.
"I grabbed my book and opened it up.
I wanted to smell it.
Heck, I wanted to kiss it.
Yes, kiss it.
That's right, I am a book kisser.
Maybe that's kind of perverted or maybe it's just romantic and highly intelligent." — Junior
Oh, Junior, you would hate me for saying it, but you are just so precious. You can't help but love him.
This book is a heartbreaking look at life on a reservation, but it is also written with the awareness that ALL teens feel like outsiders, regardless of their family backgrounds. As Junior says, "The world is only broken into two tribes: The people who are assholes and the people who are not."
Bonus: Illustrator Ellen Forney filled the book with wonderful cartoons drawn from Junior's hilarious point of view.
If you like this book, you might also like: The Brief Wondrous Life of Oscar Wao by Junot Diaz (Though, I prefer Part-Time Indian! But my book club made me read this one and I actually finished it, so give me a pat on the back.)
Mon, January 10, 2011
The Iron King
By Julie Kagawa
February 1, 2010
Harlequin, 368 pages
The Iron Daughter
By Julie Kagawa
August 1, 2010
Harlequin, 304 pages
Meghan Chase has a secret destiny—one she could never have imagined…
Something has always felt slightly off in Meghan's life, ever since her father disappeared before her eyes when she was six. She has never quite fit in at school…or at home.
When a dark stranger begins watching her from afar, and her prankster best friend becomes strangely protective of her, Meghan senses that everything she's known is about to change.
But she could never have guessed the truth—that she is the daughter of a mythical faery king and is a pawn in a deadly war. Now Meghan will learn just how far she'll go to save someone she cares about, to stop a mysterious evil no faery creature dare face…and to find love with a young prince who might rather see her dead than let her touch his icy heart.
— Amazon.com description of The Iron King
(NOTE: MINOR SPOILERS? MAYBE?)
In her Iron Fey series, Julie Kagawa has created a world that is equal parts beautiful and frightening. The dichotomy of it all is completely delicious! At any moment, the most important people in Meghan's life could turn evil, or her biggest enemy could become her closest ally.
Don't get me wrong, people aren't "changing roles midseason," as my best friend Dana puts it. There's a rhyme and reason to everything, and the confusion is all part of the journey.
And it really is a journey. It's a modern mix of Lord of the Rings and The Odyssey to me—an epic quest. Just with more kissing and pining after boys. Yay!
Julie Kagawa has clearly researched her faery lore. The typical components of this genre are all there—Mab, Titania, nixies and kelpies…you name it. Puck aka Robin Goodfellow is even a main character. But what Kagawa nails (that some of these other faery books do not) is the teen voice. In between the sweeping descriptions of the faery realm, Meghan's voice is still spot-on 20th century. She curses and is full of sarcasm and emo-teenager-ness.
"Oh, damn. I was stuck. If I said no, I would insult the faery queen of the Unseelie Court. I'd also be on the shit lists of both Mab and Titania, and between them, my chances of survival were easily and completely nil."
To me, it creates a fun contrast in the writing.
Sure, there's a bad boy vs. best friend love triangle. It's typical, but the tension between Meghan and Ash is so smoldering from the get-go that any problems I would normally have were easily overlooked.
The cliff-hangers between the books will leave you craving more. The third book, The Iron Queen is out later this month. Read an excerpt here.
If you like this book, you might also like: Wondrous Strange by Leslie Livingston