Mon, April 28, 2014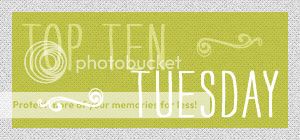 It's Top 10 Tuesday (hosted at The Broke and the Bookish) and the topic is:
Top 10 Books If You Like Star-Crossed
Another "pick your own ending" topic today where we could select a TV show/movie/comic/etc. to prompt book choices.
Well, if you're like me, you loved Roswell and wanted to love the new CW show Star-Crossed…but didn't.
Sure, it's got alien/human forbidden love, and teen angst, and Julie Taylor, and actually some interesting messages to share on acceptance and race and sexuality.
But it's also got that one guy from The Nine Lives of Chloe King and a version of Aimee Teegarden that is soooo not Julie Taylor. So, yeah. Boo.
To make up for it, here are some books I think you'll love that are delightfully alien!
These Broken Stars by Amie Kaufman and Meagan Spooner
Alienated by Melissa Landers
Obsidian by Jennifer Armentrout
Across the Universe by Beth Revis
The 5th Wave by Rick Yancey
For Darkness Shows the Stars by Diana Peterfreund
The Host by Stephanie Meyer
Cinder by Marissa Meyer
The Knife of Never Letting Go by Patrick Ness
Inside Out by Maria V. Snyder
Bonus shoutout to A Wrinkle in Time, which I adore but always think of as more middle-grade. And okay, I know the Peterfreund book was a bit of a stretch, but I heard it called "Jane Austen in space" once so it stuck.
PS: Bonus friendship points to any of you who read the Roswell books in addition to the TV show. I may or may not still have my copies…