Mon, April 22, 2013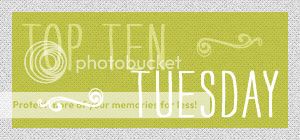 It's Top 10 Tuesday (hosted at The Broke and the Bookish) and the topic is:
Top 10 Books I Thought I'd Like MORE/LESS Than I Did
Today, I'm going to go with the list of books I was feeling a little iffy about…but that pleasantly surprised me in the end!
1. Vampire Academy by Richelle Mead: A vampire school? Scratch that: ANY vampire books at this point? Eww, right? Um, no. 1. It's not about a school. 2. It's full of suspense and tension and ALL THE GOOD THINGS EVER.
2. Shade by Jeri Smith-Ready: I knew there was a love triangle going in, which to me = gross. Plus, I figured it out be fluffy ghosty angsty stuff. No, Silly Past Anna, you fool! This series is actually very deep and emotionally challenging — there were lots of tears shed on my part!
3. Love and Other Perishable Items by Laura Buzo: Hmm, how do I put this non-spoilery…hmm. I guess I'll just say that as someone who likes closure, I never thought I would so thoroughly adore a book with an ambiguous ending.
4. The Day Before by Lisa Schroeder: Why I was scared of verse novels, I'll never know. This book won me over — it's sooooo good.
5. Matched by Ally Condie: I'd read a few mixed reviews, but this book was a total win for me, grabbing my attention from start to finish. So, yeah, obviously I think book reviews are useful (hello!), but that being said, everyone reads and reacts differently, so make up your own mind on what you want to pick up. In instances like this, you may be pleasantly surprised!
6. If I Stay by Gayle Forman
7. The Survival Kit by Donna Freitas
8. The Fault in Our Stars by John Green
I used to insist I didn't like books about death. Books 6 through 8 proved me forever wrong.
9. Code Name Verity by Elizabeth Wein: Ditto what I said about death books. War books? Eesh, no, right? WRONG. So good. If you've read this: You know that thing that you realize midway through the book? I used to hate that too but I actually realized now it's quite brilliant. Vague bwahaha sorry everyone either you get it or you don't.
10. Dragonswood by Janet Lee Carey: This book marks the point when I realized it was time to embrace my inner nerd and admit it: I like dragon books.