Tue, October 2, 2012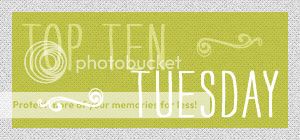 It's Top 10 Tuesday (hosted at The Broke and the Bookish) and the topic is:
Top 10 "Older" Books You Don't
Want People to Forget About
Ack. What does "older book" mean for YA?! I mean, I could tell you to read Forever by Judy Blume, because everyone should read Forever by Judy Blume just to say they did…but that's not really my style.

So I gave myself a challenge: Go to the library and pick out 10 YA novels that I think you should read, but you might have overlooked. Why the library? Well, God bless the Chicago Public Library, but they don't always have the NEWEST books on the shelves. I love browsing my library for titles I might have missed. All 10 of these were on the shelves last weekend and were books I actually first discovered on the library shelves back in the day…and thank goodness I did because they are all AWESOME.
1. Love on the Lifts by Rachel Hawthorne
2. Glass Houses by Rachel Caine
3. A Map of the Known World by Lisa Ann Sandell
4. Inside the Mind of Gideon Rayburn by Sarah Miller
5. Dairy Queen by Catherine Murdock
6. Secrets of My Hollywood Life by Jen Calonita
7. How to Be Popular by Meg Cabot
8. Into the Wild Nerd Yonder by Julie Halpern
9. North of Beautiful by Justina Chen
10. The Disreputable History of Frankie Landau-Banks by E. Lockhart