Mon, September 24, 2012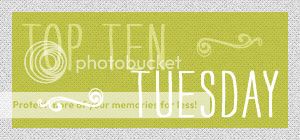 It's Top 10 Tuesday (hosted at The Broke and the Bookish) and the topic is:
Top 10 Series I Haven't Finished
Dude, I feel like I'm opening myself up for ridicule with this one, a la "What?! HOW COULD YOU NOT FINISH THAT?!" But whatever, I'll probably be commenting the same way on other blogs. Sorry, I'm a hypocrite! So here we go:
The Chaos Walking series by Patrick Ness
Loved The Knife of Never Letting Go…but I never read the following books. Maybe I blame it on Manchee?
Wicked Lovely series by Melissa Marr
Again, liked book one…at one point I even read book two. But that was in 2007, and suddenly it's five years later and I don't remember a bit of it. I'll have to start over again at some point…
Fallen series by Lauren Kate
It was a bit too emo and dark for me at the time I tried reading it. Again, I'll give it a go again when I am in the right mood.
Hush, Hush series by Becca Fitzpatrick
Patch just didn't do it for me. SORRY!
The Forest of Hands and Teeth series by Carrie Ryan
Goodness, I loved these books. Why didn't I read this third one?!
The Sisterhood of the Traveling Pants series by Ann Brashares
Loved these books, loved the movies…but I don't want to read the adult followup of the series. I just don't want to imagine these characters depressed and sad and struggling! In my mind they are young and light and happy!
The Gallagher Girls series by Ally Carter
I adore Ally Carter. And I loved this series…but then I just felt a little too old for it. OK, obviously I'm too old for any YA, but it was too middle grade-ish maybe?
The Chemical Garden series by Lauren DeStefano
I'm too scared she's going to fall in love with her captor! SORRY BUT MY HEART CANNOT HANDLE IT. I can't bring myself to read book two.
The Princess Diaries series by Meg Cabot
Gasp. I feel like this is so sacrilegious of me to admit. But, truly, I was so appalled by the second movie version of these books that, several books in the series, I just couldn't move on. Mia and Michael NEED to be together, and I can't bring myself to read on just in case it doesn't work out! I'm a sissy.
The Caster Chronicles books by Kami Garcia and Margaret Stohl
I loved the first two. But too much time elapsed and I forgot a lot…again, a series I will eventually reread all the way through so I can get to the end!
All right, so where have I gone wrong? Which series should I work on finishing first? Enlighten me, friends!