Mon, September 10, 2012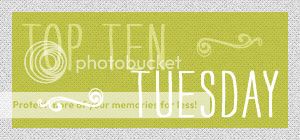 It's Top 10 Tuesday (hosted at The Broke and the Bookish) and the topic is:
Top 10 Books That Make You Think
Oh man, so much goodness, so many issues that'll leave you thinking everything from "NO! WHYYYY!?!?!" to "HOW DID THIS AUTHOR PULL THAT OFF?" Love it!
1. If I Stay by Gayle Forman
2. The Sky Is Everywhere by Jandy Nelson
3. I'll Be There by Holly Goldberg Sloan
4. Awaken by Katie Kacvinsky
5. The Knife of Never Letting Go by Patrick Ness
6. Code Name Verity by Elizabeth Wein
7. The Fault in Our Stars by John Green
8. Miracle by Elizabeth Scott
9. Unbreak My Heart by Melissa Walker
10. XVI by Julia Karr