Tue, September 18, 2012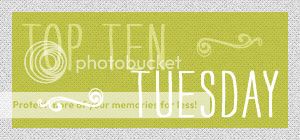 It's Top 10 Tuesday (hosted at The Broke and the Bookish) and the topic is:
Top 10 Bookish People You Want to Meet
Guys, I just had a moment.
Like, a serious MOMENT.
I was trying to think of the bookish people that I haven't met but am dying to. And I realized, I'm ALMOST through with my author bucket list. OH MY GOSH THAT GAVE ME GOOSEBUMPS.
This list will never be complete, though, without Megan McCafferty and Jennifer Echols.
Have you heard the story of when Carla met Maggie Stiefvater? We met Maggie at a party in NYC in 2011, and Carla started shaking like a leaf. Normally the life of the party, Ms. Carla was left speechless. I can only imagine I'd react the same if I ever met Megan. You know my feelings about the Jessica Darling books!
I also will not be satisfied till I meet Jennifer. She's one of the authors I most consistently adore, and it would be a HUGE treat for me to meet her.
Also on the list? I'd LOVE to meet Kristin Cashore, Jennifer E. Smith, E. Lockhart and Gayle Forman.
Crazy-never-gonna-happen authors are J.K. Rowling and Suzanne Collins, but they HAVE to be mentioned.
Plus, a shoutout to my bloggy friends I have yet to meet in person, including Magan & Estelle, Capillya and Lisa. OK, technically we're at 12 so now I'll stop. Here's to another year of meeting some fantastic bookish people!