Mon, September 3, 2012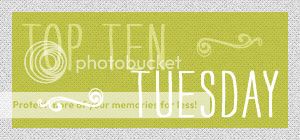 It's Top 10 Tuesday (hosted at The Broke and the Bookish) and the topic is:
Top 10 Books on My Fall TBR List
TBR list = to-be-read list. I just got through a ton on my list this weekend while in Wisconsin.
That's me on the porch at our cottage, reading with my cousin. I finished Level 2 by my friend Lenore, Shadows by Ilsa J. Bick, Skinny by Donna Cooner and What's Left of Me by Kat Zhang. Speed reading! What what.
So, now it's the next 10 I hope to tackle!
1. Burn for Burn by Siobhan Vivian & Jenny Han
2. The Blessed by Tonya Hurley
3. Crewel by Ginnifer Albin
4. Magisterium by Jeff Hirsch
5. A Fractured Light by Jocelyn Davies
6. Eve & Adam by Katherine Applegate & Michael Grant
7. Ashen Winter by Mike Mullin
8. Beta by Rachel Cohn
9. Black City  by Elizabeth Richards
10. Venom by Fiona Paul
Now, if I only had three more days off work to get 'em read!