Tue, August 28, 2012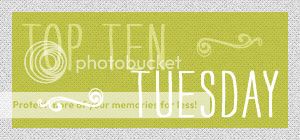 It's Top 10 Tuesday (hosted at The Broke and the Bookish) and the topic is:
Top 10 Bookish Confessions
Oooh, this is the perfect time to re-share this video featuring my Top 4 confessions:
The rest?
5. I fold over the corners of my books to mark the good parts, and I'm not ashamed of it.
6. When I can't fall asleep at night, I retell myself the plots of my favorite books — just like a bedtime story!
7. I say I love Austen and the Brontë sisters, but I haven't read Wuthering Heights or Persuasion.
8. I'm not afraid to DNF (Do Not Finish) a book. Seriously, I'm brutal in my ability to stop reading midway through.
9. I typically won't read books about: 1) Cheating. 2) Death. 3) Three sisters. There are, of course, exceptions, but those tend to be my generic dislikes.
10. I have absolutely no order to my bookshelves, and I have no desire to order it. I can appreciate those who order their books by color, date read, alphabetical, etc. but me? Haphazard all the way!