Mon, August 13, 2012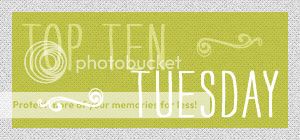 It's Top 10 Tuesday (hosted at The Broke and the Bookish) and the topic is:
Top 10 Book Romances That You Think Would Make It in the Real World
Oh my gosh. Pardon the large amount of text below, but I just got really unexpectedly serious. Okay, so let's get into this…
First of all, would Bella and Edward have fallen in love if they were both human? No! He might not have even noticed her, had her blood not called to him.
Would Sam and Grace have ever met if his wolfy friends hadn't tried to chow down on her when she was a little kid? Probably not.
Would Rose and Dimitri and countless others have been drawn together if they weren't FORBIDDEN ROMANCES? Who knows!
You can't answer that stuff, so I immediately have to rule out any non-contemp or non-classic romance. Sorry, paranormal, dystopian, sci-fi and so on fans…
And even in terms of classics, I mean Romeo and Juliet are so screwed. You crazy kids, you barely know each other. Not gonna make it.
And yeah, okay, I love a love story, but in reality most of the YA books I read are about first loves. Can I picture myself with my high school boyfriend? HELL NO. So, frankly, despite all the lovey-doveyness, 99% of them aren't going to last.
So, here's what WILL work:
Anyone with a solid relationship from the olden days. Because people didn't really date around, you know? So they were stuck with each other.
Example: Mr. Darcy and Elizabeth Bennet are golden. People didn't divorce back then, so they don't really have a choice but to stick it out. Plus, those two Judgy McJudgersons were MFEO.
Anyone whose story followed more than just their teen years.
Example: Marcus Flutie and Jessica Darling, after all the shit they've gone through in five books – that's like 10 years of fictional angst and strife, people – have proven that they are hopeless together but they're also hot messes alone. So, they've put in the time. They're solid.
And, um, yeah, that's about all I can think of.
So, if I'm going to be that much of a Debbie Downer, why is it that I love YA romances? Good question, you! I think that we have to be honest that teen romances just aren't going to last most of the time, but damn if I don't love the start of their journey, at least. First love! Who doesn't want to remember that feeling? Just leave out all the messy breakup parts that come afterward. Ick!
Lord, Broke and Bookish, y'all just made a pessimist out of this romantic. Whomp wha. SADDEST TTT EVAR!