Mon, July 30, 2012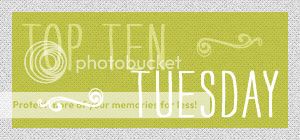 It's Top 10 Tuesday (hosted at The Broke and the Bookish) and the topic is:
Top 10 Characters I'd Like to Switch Places With
This was actually really, really hard. Because most of the main characters I read about have miserable lives. Like, they're constantly being attacked (by people from other Districts, by demons, by fairies, you name it), are on the run, are starving, are psychotic, the list goes on. But, alas, here are a few I'd like to swap with, just ever so briefly!
Jessica Darling (Sloppy Firsts by Megan McCafferty), obviously, so I could kiss Marcus Flutie. (Husband, if you're reading this, I'm just kidding! Mostly!)
Hermione Granger (Harry Potter by J.K. Rowling), so I could do some magic. Avada ked…I mean, um, wingardium leviosa!
Celaena Sardothien (Throne of Glass by Sara J. Maas), not so I could be an assassin, but just so I could feel really, truly kick-ass and strong for a day.
Beatrice "Tris" Prior (Divergent by Veronica Roth), so I can be fearless for a day.
Lola Nolan (Lola and the Boy Next Door by Stephanie Perkins), so I can wear an outrageously fabulous dress/costume for the day and feel no shame.
Elizabeth Bennet (Price and Prejudice by Jane Austen), so I can take a long, invigorating walk to Netherfield and dirty the bottom few inches of my dress, scandalizing everyone in sight.
Hannah Ward (Bunheads by Sophie Flack), so I could dance dance dance!
Jasmine (Amplified by Tara Kelly), because I am so tone deaf, it'd be nice to be a rock star for a day.
Carly (Raw Blue by Kirsty Eagar), so I could ride the waves (wayyy too uncoordinated to manage this in real life).
Amelia Mignonette Grimaldi Thermopolis Renaldo, Crown Princess of Genovia (The Princess Diaries by Meg Cabot), so I could have access to the jewels, obvs.