Mon, July 16, 2012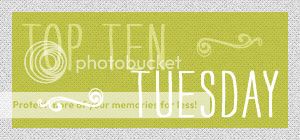 It's Top 10 Tuesday (hosted at The Broke and the Bookish) and the topic is:
Top 10 Books for People Who Like Graceling
This week, we got to pick a book and recommend 10 books you might also like. So, if you're a fan of Kristin Cashore's Graceling, Fire and Bitterblue…these are the books for you!
The Girl of Fire and Thorns by Rae Carson
Grave Mercy by R.L. LaFevers
Poison Study by Maria V. Snyder
Incarnate by Jodi Meadows
Dragonswood by Janet Lee Carey
Brightly Woven by Alexandra Bracken
The Thief by Megan Whalen Turner
Shadows on the Moon by Zoe Marriott
As we speak, I'm reading Seraphina by Rachel Hartman, and it's definitely along these lines as well.
Plus, I haven't read these, but they're high up on my wish list after I've seen other readers compare them to Cashore's works:
Shadow and Bone by Leigh Bardugo
Finnikin of the Rock by Melina Marchetta
Falling Kingdoms by Morgan Rhodes
Castles! Romance! Maybe even some dragons! Hurrah for fantasy!