Mon, May 7, 2012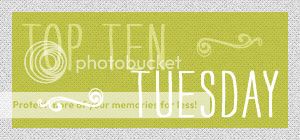 It's Top 10 Tuesday (hosted at The Broke and the Bookish) and the topic is:
Top 10 Quotes from Books
Let me put a disclaimer on this. MANY OF THESE QUOTES ARE SPOILERS. Why? Because my favorite quotes are, without fail, the moments the character declare their love for one another. Sigh.
So, yeah. Be warned! My top quotes from YA books…
ONE: Richelle Mead, Blood Promise
"That's what I was supposed to say. . ."
TWO: Jane Austen, Pride and Prejudice
"In vain have I struggled. It will not do. My feelings will not be repressed. You must allow me to tell you how ardently I admire and love you."
THREE: Gayle Forman, Where She Went
"Her hands were freezing, just like they always were, so I warmed them, just like I always did."
FOUR: Megan McCafferty, Second Helpings
"What is it about him that makes you, like, totally lose your shit?"
FIVE: John Green, The Fault in Our Stars
"Sometimes, you read a book and it fills you with this weird evangelical zeal, and you become convinced that the shattered world will never be put back together unless and until all living humans read the book."
SIX: Julie Kagawa, The Iron Queen
"My name is Ashallyn'darkmyr Tallyn, third son of the Unseelie Court…Let it be known–from this day forth, I vow to protect Meghan Chase, daughter of the Summer King, with my sword, my honor, and my life. Her desires are mine. Her wishes are mine. Should even the world stand against her, my blade will be at her side. And should it fail to protect her, let my own existence be forfeit. This I swear, on my honor, my True Name, and my life. From this day on…" His voice went even softer, but I still heard it as though he whispered it into my ear. "I am yours."
SEVEN: Kristin Cashore, Graceling
"I know you don't want this, Katsa. But I can't help myself. The moment you came barreling into my life I was lost. I'm afraid to tell you what I wish for, for fear you'll… oh, I don't know, throw me into the fire. Or more likely, refuse me. Or worst of all, despise me," he said, his voice breaking and his eyes dropping from her face. His face dropping into his hands. "I love you," he said. "You're more dear to my heart than I ever knew anyone could be. And I've made you cry; and there I'll stop."
EIGHT: Cassandra Clare, City of Glass
"There is no pretending," Jace said with absolute clarity. "I love you, and I will love you until I die, and if there is life after that, I'll love you then." –
NINE: Suzanne Collins, The Hunger Games
"Winning…won't help in my case," says Peeta.
"Why ever not?" says Caesar, mystified.
Peeta blushes beet red and stammers out. "Because…because…she came here with me."
TEN: J.K. Rowling, Harry Potter and the Prisoner of Azkaban
"I solemnly swear that I am up to no good."