Mon, May 14, 2012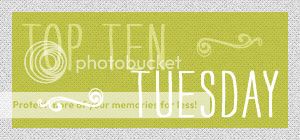 It's Top 10 Tuesday (hosted at The Broke and the Bookish) and the topic is:
Top 10 Authors I'd Like to See on a Reality Show
This is the true story… of 10 authors… picked to live in a house…work together and have their lives taped… to find out what happens… when people stop being polite… and start getting BOOKISH…The Book World.
Ahahaha. The authors would debate on plot structure and whether vampires are still cool. And drink lots of tea. And type. THRILLING, but I would still totally watch that show.
Let's start with the obvious: Maureen Johnson.
The woman has made a name for herself with her fabulous books, but also by being a total whackjob (I say it with love) on Twitter. She'd bring the entertainment FOR SURE.
Same for Tahereh Mafi. She makes me laugh. Add it Kirsten Hubbard because she's just so darn pretty.
And let's get J.K. Rowling in there. Who says we can't? I'm the Casting Director God in this Top 10 Tuesday, and I do as I please. Don't tell me you don't want to know what she's REALLY like!
Okay, I need some boys. Hmm. Well, David Levithan, obvs. Oh, you thought I'd say John Green, didn't you? Well, he can come too. We need the star power to get viewers. But David, he seems so nice and shy. But who knows what will come out when people DO stop being polite…
Can LC please be on my show too? She's an author! It's legit. What reality show is complete without Lauren Conrad, aka my style icon I love her.
I need a house mama to sort of just roll her eyes at the antics…but who is hilarious too…which is obviously going to be Rachel Caine. She's the best.
Oh, I need some boys. I'm trying to think of the male counterpart to LC and failing. You need a frat boy like Max Tucker or something, but no way would he be invited on my reality show. Who is the frat boy of YA?! HELP!
Well…um…failing all else…Rick Riordan, c'mon down!
Hmm, last but not least, let's invite Beth Revis on the show. I saw her at a bookstore event once and was like "What? Who knew she was so hilarious?"
Okay, phew done. Now, if only it could actually happen!