Mon, May 21, 2012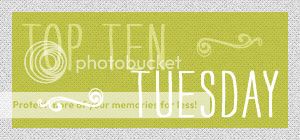 It's Top 10 Tuesday (hosted at The Broke and the Bookish) and the topic is:
Top 10 Sites You Read That AREN'T about Books
First of all: What? There are blogs about things other than books?! Ahaha, I kid.
I used to read a lot of music blogs. But then I graduated from college and lost my "cool."
Then, it was all about the gossip blogs. But then I realized they were mean and stopped.
And, finally, I got really into home design blogs. But then all the home bloggers had kids and…well, I couldn't relate to the kajillion posts about their kids. (I'm looking at you, Young House Love!) So no more of that either.
Instead, I mostly read entertainment sites and some food sites. Here's the rundown of the blogs/sites I check daily:
1. Entertainment Weekly (Let's be honest: I check this a few times a day.)
2. People (Ditto.)
3. Chicago Tribune (I used to work in newspapers, and it's a habit I'll never break!)
4. Facebook (Daily updates on who's knocked up and who got drunk over the weekend!)
5. Pinterest (Click here to follow me!)
6. Iowa Girl Eats (I love to cook, and her recipes are super easy for busy work nights.)
7. Budget Babe (A fashion blog written by my friend Dianna on how to look hot on the cheap.)
8. What Should We Call Me (Funny GIFs never get old. NEVER!)
9. The tumblrs of people I know. (Okay, but obviously I don't want these people to know I read them. I just like to anonymously stalk them. C'mon, don't pretend you don't have a few of those in your Google Reader.)
10. Oprah.com (I used to work there and can't help but check up on how they're doing. Oprah habits die hard!)