Tue, May 29, 2012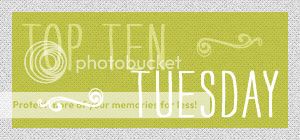 It's Top 10 Tuesday (hosted at The Broke and the Bookish) and the topic is:
Top 10 Books Written in the Past 10 Years
That I Hope People Are Still Reading in 30 Years
THIS IS SO HARD. First of all, I don't really read a lot of books that are, like, "worthy to be studied in English class" books. I mean, just being honest.
Secondly, some of my favorite picks are more than 10 years old and I don't wanna cheat. So let's say Speak by Laurie Halse Anderson gets the honorary 10-spot on my list, even though it technically doesn't count. Meanwhile, the other nine that should stand the test of time…
1. The Hunger Games by Suzanne Collins
Obvs..
2. Harry Potter books 5-7.5 by J.K. Rowling
Well, I'd say the whole series, but only these were in the 10-year span. I'm following the rules, yo!
3. The Absolutely True Story of a Part-Time Indian by Sherman Alexie
An equally delightful and heartbreaking look at life on a reservation.
4. Thirteen Reasons Why by Jay Asher
Such an important and timeless subject matter.
5. Code Name Verity by Elizabeth Wein
The story is surprising and beautiful, and the history lesson here should be carrier through the ages.
6. The Fault in Our Stars by John Green
Maybe someday cancer will be cured and this book will lose some of its poignancy. I hope so. In the meantime…this book is a must-read.
7. Before I Fall by Lauren Oliver
You don't know what you got till its gone. And that will be true for teens ALWAYS. We're selfish beasts by nature in our adolescence, what can I say?
8. If I Stay by Gayle Forman
A beautiful story about loss and survival.
9. The Lightning Thief by Rick Riordan
Okay, maybe it's not as serious as the others. But it gets boys (and girls, but I feel there are more books geared toward girls) to read, and the Greek mythology? ALREADY A CLASSIC! This is a great series that I hope stays popular.