Tue, April 3, 2012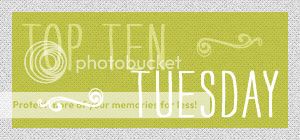 It's Top 10 Tuesday (hosted at The Broke and the Bookish) and the topic is:
Top 10 Books to Read in One Sitting
Oh, this one is EASY. You wouldn't believe how often I do this (speed reader, holla!), so off the top of my head, here's a list of a just a few I devoured this way:
1. Virtuosity by Jessica Martinez
2. The Statistical Probability of Love at First Sight by Jennifer E. Smith
3. How to Ruin a Summer Vacation by Simone Elkeles
4. Freshman Year & Other Unnatural Disasters by Meredith Zeitlin
5. DJ Rising by Love Maia
6. Such a Rush by Jennifer Echols
7. Chopsticks by Jessica Anthony and Rodrigo Corral
8. In Honor by Jessi Kirby
9. The Selection by Kiera Cass
10. Wanderlove by Kirsten Hubbard
Plus, all of the Vampire Academy books by Richelle Mead, the Morganville Vampire books by Rachel Caine and the Stephanie Plum books by Janet Evanovich!